The overseas kidnapping of foreign citizens for ransom or other concessions is not new. Each year, an estimated two dozen Americans are reported kidnapped abroad. Two notable cases in the past year—those of Wall Street Journal reporter Daniel Pearl in Pakistan and New Tribes missionaries Martin and Gracia Burnham in the Philippines—have attracted attention to the issue.
Even before these recent high-profile cases, the U.S. government was revisiting its policy on ransom negotiations. After a lengthy debate between the State Department and the Pentagon, the Bush administration in February signed a new policy that in two ways substantially changed the government's response to cases of kidnapped American citizens.
Dating to a Clinton-era study, the new policy states that the government will review each case in which an American is kidnapped to determine suitable action. An official told The New York Times, "What the new policy ensures is that the government will no longer ignore cases simply because a private citizen is involved, or because the kidnapping seems to be motivated primarily by money rather than political goals."
The February policy also drops the former blanket ban on ransom payments in favor of a case-by-case approach in which the government can cooperate with individuals or private companies choosing to pay. CNN reports the shift is modeled on a 2000 Colombian case where American oil companies paid millions to retrieve workers held hostage. The government then worked with local authorities to recover the money and capture those responsible.
Christian mission organizations are yet unsure what implications the policy shift will have on cases in which missionaries are kidnapped for ransom. Christian organizations typically have strict policies against ransom payments in order to avoid encouraging more abductions.
"The real challenge will come if the U.S. government in a particular case desires an action that conflicts with the policies and core values of the sending organization," says Bob Klamser, executive director of Crisis Consulting International. "There are few [types] of organizations that hold fast to the no-ransom standard."
Groups that do traditionally maintain a no-ransom policy, he says, are international Christian organizations, humanitarian relief and development agencies, and media companies. Klamser says these groups are now concerned that government officials may not understand their convictions.
"Everybody that deals with kidnapping is used to people who say, 'We don't pay ransom,' but then they do anyway," Klamser told Christianity Today. "So when another group like missionaries or relief organizations or journalists say it, it becomes a task sometimes to educate the person that we really mean it."
Charles Rogers, World Vision's director of corporate security, worries that the government may pursue an independent course of action and muddy the waters as to who is heading the negotiations. Says Rogers: "If there is a World Vision staff person taken hostage, who is taking the lead here? Our preference, of course, is for us to do that."
Klamser says the best practice to avoid such entanglements in crisis situations is to create a detailed plan before a situation arises. He says several Christian organizations are now meeting with federal officials responsible for the policy shift to determine how it applies to them. "I have worked on cases where the cooperation with the government has been outstanding," Klamser says. "In cases where it hasn't been, it's usually because there hasn't been an understanding of who the organization was and what their motivations were."
Such communication is important in preparing for a hostage situation, observers say. Clear policies need to be developed before a crisis develops, and missionaries and their families must understand what actions to expect in such an instance. Unclear expectations with families or governments can cause disparate messages. "What never works is more than one negotiator coming from more than one perspective," Klamser says. "Kidnappers pick up on that real fast. Now we have an auction, not negotiations."
Bob Creson, associate executive director of field operations for SIL International, says, "Whatever decision the U.S. government makes is not going to change the way we deal with this issue or our value system." However, his concern is that the change in policy could cause a potential appearance of a "liberal environment." Kidnappers may expect American organizations to pay ransom, even if it is not actually the case.
Is it ever morally acceptable for Christian organizations to pay ransom? Those interviewed for this story compare the problem with the "just war" theory. Former University of Miami's North/South Center think-tank member Richard Millet says, "The church must look at the collective good instead of the individual good—is the evil caused less than the evil prevented?"
Mission representatives say the line is drawn at whether anyone else will be put at risk. Klamser says that if a missionary couple is ransomed for $20,000 seven days after their abduction, "that's not bad for a week's wages, and [paying it] probably would encourage future kidnappings."
But if there were a case where $20,000 is paid after 18 months of captivity, Klamser says, the payment becomes little more than a means to save face for the kidnappers who would actually lose money on the deal. "That doesn't even meet the standard of a ransom," he told CT. "I know that the kidnappers would not be motivated to kidnap again based on how that one worked out."
Gustavo Crocker, senior vice president of programs for World Relief, says that in missionary settings, local organizations are extremely leery about even the impression that organizations will consider paying ransom. "Once the word gets out, then missionaries are going to be the target of kidnappers," he told CT. "It doesn't merit us to even consider ransom."
Crocker said that with World Relief's policy to not participate in ransom negotiations, the organization respects the government's policy. "It gives us peace … because we know that the U.S. government is not going to allow the kidnappers to enjoy the benefit of ransom," he says. "And yet, we know they will do anything in their power to bring people back to the nation."
Todd Hertz is assistant online editor for Christianity Today.
Related Elsewhere
Recent Christianity Today articles on missionary security include:
Big, Soft Targets | Christian relief agencies no longer work in war zones—they are the war zones. (Feb. 4, 2002)
Flying Unfriendly Skies | Recent tragedy highlights courage, risks of mission aviators. (June 11, 2001)
Articles on kidnapping cases include:
Missionaries Defy Terrorist Threat in Colombia | U.S. Embassy says North Americans are guerrilla targets. (April 30, 2002)
Missionaries May Be Target Of FARC Guerrillas | U.S. embassy in Colombia issues warning to missionaries and churches. (March 8, 2002)
Families of Hostage Couple Wait | Men's prayer group for Burnhams perseveres six days a week. (Feb. 26, 2002)
Article continues below
Agency Disputes Rumors about Burnhams | All indications say the hostages are still being held captive in the jungles of Basilan Island. (Feb. 26, 2002)
Missionary Couple Remains in Limbo | The apparently poor condition of the Burnhams has given the case a new urgency. (Jan. 17, 2002)
Kidnapped Missionaries Reported Safe | But danger increasing for Burnhams—and for workers around the world. (June 26, 2001)
New Tribes Missionaries Kidnapped in 1993 Declared Dead | Mission concludes Colombian guerrillas shot the three men in 1996. (Sept. 27, 2001)
Risking Life for Peace | Caught between rebels, paramilitaries, and crop-dusters, peacemaking Christians put their lives on the line in violent Colombia. (September 7, 2001)
Hostage Pastor Released Unharmed In Colombia | Wife pledges to stay in Colombia because the kidnappers cannot stop the Lord's work. (August 20, 2001)
Fate of Kidnapped Colombian Pastor Still Unknown | FARC suspected, but so far there has been no word from Gomez's abductors. (March 13, 2001)
New Tribes Missionaries Kidnapped | Muslim rebels in Philippines threaten to kill Martin and Gracia Burnham and 18 others if military intervenes. (May 29, 2001)
Colombian Guerilla Offers No Clues to Missionaries' Fate | FBI says that Medina has no information on kidnapped New Tribes missionaries. (Feb. 23, 2001)
Another Prominent Pastor Kidnapped in Colombia | Family believes kidnapping is God's will so that Gomez's can witness to his abductors. (Feb. 23, 2001)
Christian Recovering from Grozny Kidnapping | All of Chechnya's believers must overcome the "dreadful worries of the past." (Jan. 15, 2001)
Break in Missionary Kidnapping Case | Captured Colombian guerilla may hold key to U.S. missionaries' fate. (Dec. 4, 2000)
Colombian Pastor Released After Paying Ransom | Ransom arrangement a tough decision for churches and missions. (Sept. 9, 2000)
Death in the Night | Colombia's pastors endure extortion, kidnappings, and threats as they plant churches and help the poor in a war zone. (June 6, 2000)
Fate of Kidnapped Missionaries Still Unresolved | Colombia remains thought to end questions are not human after all. (Mar. 29, 2000)
Kidnapped Girl from Grozny Church Found | Refugees from Chechnya take in abused child. (Jan. 10, 2000)
Twenty-five Pastors Killed This Year (Oct. 4, 1999)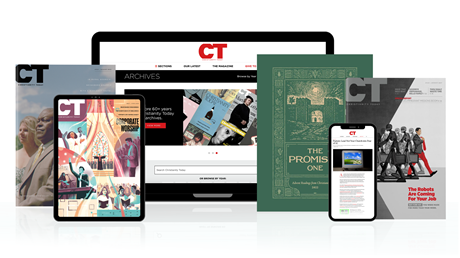 Annual & Monthly subscriptions available.
Print & Digital Issues of CT magazine
Complete access to every article on ChristianityToday.com
Unlimited access to 65+ years of CT's online archives
Member-only special issues
Subscribe
Missions Evaluate New US Kidnapping Policy
Missions Evaluate New US Kidnapping Policy