The band Jars of Clay can fairly be called a Christian success story. The four former students from evangelical Greenville College have made their mark on popular music with innovative, intelligent music animated by a faith that is neither preachy nor shy. Their 1995 eponymous album went platinum in a year. This fall they've been touring with pop rocker Sheryl Crow and enjoying critical acclaim for their latest recording.
But the most astonishing current example of Christians winning a hearing in secular pop culture are four musicians whose second album—released, by coincidence or providence, on September 11, 2001—went platinum in one month, double platinum in five months, and triple platinum in a year. At the 2002 MTV Video Music Awards, they were the only serious rivals to foul-mouthed rapper Eminem. And while you might not want this heavy metal-hip-hop-reggae-rock band playing a concert next door while you're trying to lead a Bible study, P.O.D. represents a bright future for Christian witness in America. Actually—given that P.O.D.'s Satellite has also gone gold in Ireland, Singapore, Malaysia, and the Philippines, and platinum in Canada, Germany, and Indonesia—make that the world.
There is no way to account for popular success; nor is it a foolproof index of cultural influence, let alone faithfulness. Still, lessons can be learned, and encouragement found, in the stories of both Jars of Clay and P.O.D. And perhaps the most important lesson comes in the striking difference between the two bands.
The four white guys in Jars of Clay would fit right in at any Gap-clad gathering of evangelical Christians. The four guys in P.O.D., with roots in gritty South San Diego, look like the world (with a few extra tattoos). Between them, Wuv, Marcos, Traa, and Sonny can claim half a dozen ethnic heritages, from African American to Mexican to Filipino. Their music is an electrifying gumbo. And their audience, every bit as culturally diverse as the performers and the music, is a picture of the future of North America. It's a picture that evangelicals need to examine closely.
For by the time this generation dies, people of strictly northern European descent will make up less than half of the population. White Americans are not being supplanted by another homogeneous ethnic group. Rather, for the foreseeable future, the United States will become more polyglot and multiethnic. A few years ago, salsa replaced ketchup as the number one condiment in America; in the 1990s, P.O.D.'s hip-hop dethroned Jars of Clay's rock as the dominant musical genre among youth. America's ethnic blender is set to high.
Meanwhile, 50 years after Billy Graham courageously desegregated his crusades, the face of evangelicalism struggles to display one of God's greatest gifts to humanity—melanin. In part this is because many evangelical denominations were founded to serve the needs of European immigrants. As the face of America changes, evangelicalism risks once again becoming simply a collection of ethnic churches—this time reaching a declining rather than a growing segment of the population. And when some of the most vibrant expressions of faith in America come from communities like South San Diego, evangelicals risk missing out on much of American Christianity's vitality.
Individual churches, of course, are embedded in neighborhoods, which are often ethnically homogeneous—though not as much as church leaders assume. (One megachurch explains its homogeneity by saying its surroundings are largely white, even though thousands of its members drive through ethnically diverse areas to attend its services.) But many parachurch enterprises, from seminaries to media to evangelistic ministries, seek to serve a national or global audience. It is they who should worry most about looking like Jars of Clay instead of P.O.D., with the attenuated credibility and influence that will follow.
The world outside the church is falling over itself to court bicultural people with talent and potential. Few of them want to be token representatives in an organization where leadership stays in the hands of one cultural group. Leaders in the evangelical community are made, and often born, by being inducted into a complex array of opportunities and relationships. Will evangelicals choose to open doors for those whose ministry will look very different from their own? The next C. S. Lewis or Billy Graham is likely to be multicultural. Will evangelical leaders put their money where the demographics are?
To be sure, we could do worse than to inspire another generation of cultural missionaries like Jars of Clay. But wouldn't it be a shame not to create more like P.O.D. instead?
Related Elsewhere
Christianity Today'sMusic channel has artist profile pages for both P.O.D. and Jars of Clay that includes artist interviews, reviews, and biographical information.
Previous Christianity Today coverage of Jars of Clay and P.O.D. includes:
Article continues below
Rock's Real RebelsChristians (and the god-haunted) make inroads into new territory. (January 18, 2001)
Hymns on MTVCombining mainstream appeal with spiritual depth, Jars of Clay is shaking up Contemporary Christian Music. (Nov. 15, 1999)
Jar Boys Meet Sgt. PepperIf I Left the Zoo is even more daring than Jar's first two recordings. (Nov. 15, 1999)
An Education with a BackbeatThe next Jars of Clay may be in class right now, taking notes on the art of Amy Grant or doing lab work on the science of dc Talk. (Nov. 15, 1999)
Jars of Clay's official site has all the information about Jars of Clay anyone could possibly want. Jars World is among the best of the unofficial Jars of Clay sites.
The official site for P.O.D. includes news, history, pictures, sound and video clips and message board.
You can listen to and purchase P.O.D. and Jars of Clay music at ChristianBook.com, among other online stores.
Christianity Today articles on multicultural outreaches and racial unity include:
You Can Take the Boy out of the Barrio … But nothing has been able to take the barrio out of Jesse Miranda, the uniting force for Hispanic Protestants in the U.S. (September 13, 2002)
The Hispanic ChallengeIt's not easy growing Christian leaders for Dallas's fastest-growing population. (May 16, 2002)
Sunday ColorsDallas churches continue to challenge the racial divide. (May 15, 2002)
The Forgotten FounderThe man who altered the course of black Baptist history finally has his say. (March 28, 2002)
Catching Up with HispanicsNew census data on the Latinos in our midst presents a reality check for cross-cultural outreach. (Nov. 12, 2001)
Separate and EqualMartin Luther King dreamed of an integrated society. Boston minister Eugene Rivers thinks it was the wrong dream. (August 7, 2001)
Lost Common CauseChristian focus on racial reconciliation is set back after Cincinnati's riots. (July 14, 2001)
Shoulder to Shoulder in the SanctuaryA profile in racial unity. (Oct. 2, 2000)
Different WorldsInterviewing blacks and whites in the same cities makes an author realize that these followers of Christ were speaking separate languages. (Oct. 2, 2000)
The Lord in Black SkinAs a white pastor of a black church, I found the main reason prejudice and racism hurt so much: because we are so much alike. (Sept. 25, 2000)
Divided by Faith?A recent study argues that American evangelicals cannot foster genuine racial reconciliation. Is our theology to blame? (Sept. 22, 2000)
Color-BlindedWhy 11 o'clock Sunday morning is still a mostly segregated hour. An excerpt from Divided by Faith. (Sept. 22, 2000)
Article continues below
Confessions of a RacistIt wasn't until after Martin Luther King, Jr.'s death that I was struck by the truth of what he lived and preached. (Jan. 17, 2000)
Catching Up With a DreamEvangelicals and Race 30 Years After the Death of Martin Luther King, Jr." (Jan. 17, 2000)
Wanted: Young, Dedicated LeadersHispanic Ministry Center and Latino Leadership Network provide informal training to equip emerging Latino youth-work leaders. (Oct. 4, 1999)
Reaching Out to LatinosChurch networks are cooperating to launch congregations in unlikely U.S. locations. (Sept. 6, 1999)
Breaking the Black/White StalemateJesse Miranda and William Pannell discuss the next step in racial reconciliation. (March 2, 1998)
She Has a Dream, TooBernice King talks about her father's death, her call to ministry, and what the church still needs to do about racism. (June 16, 1997)
Will the Walls Fall Down?Promise Keepers draws a bead on the 'giants' of racism, family breakdown, and church disunity. (Nov. 17, 1997)
RacismYouth Are Key in Moving Past 'Feel Good' Reconciliation. (Nov. 11, 1996)
Crouch is editor-in-chief of re:generation quarterly.
Many of Crouch's other writings are available at his and his wife's website.
Earlier Andy Crouch columns for Christianity Today include:
Rekindling Old FiresWe can resist technology's chilling effects on how we spend time together. (August 2, 2002)
Interstate NationThe national highway system is a lesson in how to transform a nation. (June 21, 2002)
Amplified VersionsWorship wars come down to music and a power plug. (April 17, 2002)
Thou Shalt Be CoolThis enduring American slang leaves plenty out in the cold. (March 18, 2002)
Borrowing Against TimeWe live in a fallen world. We will die. We need to face that. (Jan. 17, 2002)
GroundedOur technologies give us an illusion of omnipresence—most of the time. (Nov. 15, 2001)
Zarathustra ShruggedWhat apologetics should look like in a skeptical age. (Sept. 5, 2001)
Consuming PassionsOne man's "testimony" from the First Great Mammon Awakening. (July 10, 2001)
Generation MisinformationForget the latest PowerPoint seminars on Generations X-Z. (May 16, 01)
Dead Authors SocietyWe're no longer interested in tasting death but only little morsels of cheer. (Mar. 28, 2001)
Promises, PromisesOur technology works. But all idols do at first. (Feb. 21, 2001)
A Testimony in ReverseI have discovered how inconvenient it can be when God actually does speak. (Feb. 5, 2001)
Crunching the NumbersA modest proposal for measuring what really matters in church life. (Dec. 20, 2000)
Have something to add about this? See something we missed? Share your feedback here.
Always in Parables
Andy Crouch is an editor at large for Christianity Today. Before working for CT, Crouch was chief of re:generation quarterly, a magazine which won the Utne Reader's Alternative Press Award for spiritual coverage in 1999. He was formerly a campus minister with InterVarsity Christian Fellowship at Harvard University. Crouch and his wife, Catherine, a postdoctoral fellow at Harvard, have two children. His column, "Always in Parables," ran from 2001 to 2006.
Previous Always in Parables Columns:
Our digital archives are a work in progress. Let us know if corrections need to be made.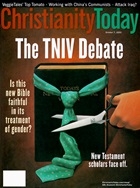 This article is from the October 7 2002 issue.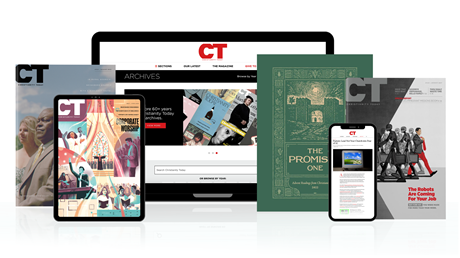 Annual & Monthly subscriptions available.
Print & Digital Issues of CT magazine
Complete access to every article on ChristianityToday.com
Unlimited access to 65+ years of CT's online archives
Member-only special issues
Subscribe
Read These Next
Trending

American Christians Should Stand with Israel under Attack

While we pray for peace, we need moral clarity about this war.

From the Magazine

God's Promises Are Clearest When We Turn Out the Lights

Christians have every reason to reduce light pollution.

Editor's Pick

Don't Miss These African Christmas Hits

Jam out this season to highlife, Afrobeats, jazz, a cappella, R & B, rap, dance, and hip-hop artists from Nigeria, South Africa, and more.
The Future Is P.O.D.
The Future Is P.O.D.