John Sloan is the executive editor at Zondervan Publishing House, and author of The Barnabas Way: An Unexpected Path to God (Waterbrook).
After 23 years of editing, what made you decide that you had to write a book?
I feel like we've talked an awful lot about blessings in this day and age, and talk about prayer directed to God and God answering. And I certainly think that God answers prayer and that he does bless us. But there are many of us who haven't received blessings that we pray for, or many of us that are running through hard times. What about those people? What about those of us who look at ourselves like a failure?
The New Testament served up that answer in the person of Barnabas, who appears in the book of Acts. His claim to fame is that he took two guys that nobody else wanted a piece of and he put them back up on their feet. The first one was the apostle Paul. The other was John Mark.
But as you point out in your book, his role is a bit at odds with "the man who would be king" view of blessing. You say that the real issue is whether we're going to pray to be a blessing or to be blessed. How did we get so, well, would you call it off track the way we've put such a focus on the idea of us being blessed and seeking a direct blessing from God?
I think we live in a day and age in which everything is instant. Asking God for an immediate answer to some prayer is pretty natural. But after September 11, a lot of us looked at ourselves and asked, Should we be focused inward like this? On what we can get? Or should we look outward on what we can give?
Changing the culture is almost always delivered with this great language of power and overcoming. But healing the culture can be delivered by everyday people in simple, small, often unseen ways. It comes out of the language of servanthood. You comment that maybe we should look for broken hearts instead of blessings.
In the book I identify four people that I think can lead us to God, meaning that can show us the blessing: those who have failed, those who have lost, those who have suffered tragedy, and those who are in need of a helping hand. Well, guess what? All of us fit in one of those categories.
In Matthew 5, Jesus said, "Blessed are the merciful, for they shall be shown mercy. Blessed are the pure in heart, for they will see God." What's the biggest blessing? The biggest blessing is getting nearer to God, and that is where Barnabas got by showing mercy.
I told one story in the book of a business person who I dealt with quite regularly. He had a wife and four children, and in a tragic air accident he was killed. Everybody who knew him mourned him because he really was a great Christian man who happened to be a businessman, too. But I knew this family, and I knew that they prayed that their family would be blessed. What happened? Why did this happen to this person? There's got to be something that goes beyond what we're seeing right now in terms of asking for things and getting things.
Some people may not be that familiar with Barnabas. Who was he?
Barnabas was a property owner who ended up giving all his stuff to the church when he became a Christian. He was there with Peter, James, the guys at Jerusalem, in the founding church, ready to do almost anything. And that's the kind of assignments he got. And the first one that we really can sit in on, or can see, is his one with Saul, who had been converted. A lot of people in Jerusalem didn't believe this had really happened, because this guy had been persecuting, and killing — holding the cloak of Stephen while he got stoned. He was a bad guy. He was like a Southern racist. And Barnabas's role was very much comparable to a person who worked for integration and wanted to see integration happen in the South. And then all of a sudden one night this guy shows up at your doorstep and says "I've changed. Now, I need somebody to go stand for me." And Barnabas did that at Jerusalem when James and Peter wouldn't accept Paul. Then he went to Antioch and stood up for Paul again.
He also was a part of the reclamation of John Mark, who had been on that first missionary journey and dropped out. We don't know why, but Paul said, "That's it. I'm not taking him again." He grabbed Silas and headed north again. And Barnabas and he got into quite a discussion. Barnabas put his arm around John Mark and went with him back to Cyprus. If he had not done that, if he had not stayed with John Mark, John Mark probably would have fallen away completely. We wouldn't have the Gospel of Mark.
Barnabas's approach, you say, is the headhunter's nightmare, if a headhunter's dream is to find the brightest and best person and invest our lives in them. Barnabas was really out looking for the opposite.
That's called redemption. We've got the opportunity to participate in the creator God's wonderful manner of taking things that seem like they're messed up and turning them around and turning them into something beautiful. We are in the business as princesses kissing frogs—what is more fulfilling than getting a frog and watching them turn into a prince?
Related Elsewhere
Visit DickStaub.com for audio and video of his radio program (4-7 p.m. PST), media reviews, and news on "where belief meets real life." The full text of this interview will be for sale on the website soon.
Earlier Dick Staub Interviews include:
Nancy Guthrie | Two years after sharing her story of Hope with Christianity Today, the modern Job tells of losing another child to Zellweger Syndrome (Sept. 10, 2002)
Stephen L. Carter | The Yale University law professor and author of The Emperor of Ocean Park talks about the lack of religious characters in modern fiction (Sep. 3, 2002)
Francine Rivers | The fiction writer says she starts each book with a question that she doesn't know the answer to. God provides the ending. (Aug. 27, 2002)
Ben Heppner | The acclaimed dramatic tenor speaks about getting into opera, his faith, and P.O.D. (Aug. 20, 2002)
Morton Kondracke | The political commentator talks about how being saved from alcoholism, and trying to save his wife from the ravages of Parkinson's. (Aug. 13, 2002)
Mike Yaconelli | The author of Messy Spirituality discusses God's "annoying love." (Aug. 6, 2002)
David Brooks | The Weekly Standard senior editor talks about the spiritual life of Bobos. (July 30, 2002)
Calvin Miller | The author of Jesus Loves Me: Celebrating the Profound Truths of a Simple Hymn talks about childlike faith (July 23, 2002)
Kathleen Norris | The author of The Virgin of Bennington talks about being found by God in the midst of sex, drugs, and poetry. (July 16, 2002)
Thomas Moore | "To really live a secular life and enjoy it is part of being a religious person," says the author of Care of the Soul and The Soul's Religion (July 9, 2002)
Os Guinness | Whether we're seeking or have already been found, we're all on a journey. (July 2, 2002)
Oliver Sacks | The physician author of Awakenings talks about his Orthodox Jewish upbringing, order in the universe, and testing God. (June 25, 2002)
David Myers | People say they know money can't buy happiness, says the Hope College psychology professor. But they don't truly believe it. (June 18, 2002)
Richard Lewis | The comedian, actor, and author talks about his humor, addiction, and spiritual journey. (June 11, 2002)
The Dick Staub Interview
Dick Staub was host of a eponymous daily radio show on Seattle's KGNW and is the author of Too Christian, Too Pagan and The Culturally Savvy Christian. He currently runs The Kindlings, an effort to rekindle the creative, intellectual, and spiritual legacy of Christians in culture. His interviews appeared weekly on our site from 2002 to 2004.
Previous The Dick Staub Interview Columns: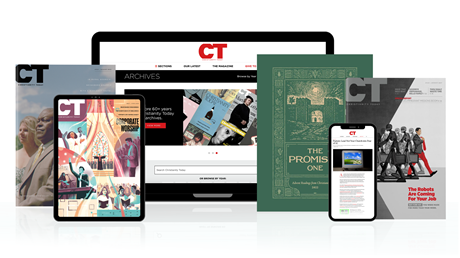 Annual & Monthly subscriptions available.
Print & Digital Issues of CT magazine
Complete access to every article on ChristianityToday.com
Unlimited access to 65+ years of CT's online archives
Member-only special issues
Subscribe
John Sloan
John Sloan