Faith-based initiative hits campaign trail
"Republicans are using the prospect of federal grants from the Bush administration's 'faith-based initiative' to boost support for GOP candidates, especially among black voters in states and districts with tight congressional races this fall," The Washington Post said Sunday.
The Post bases this assertion on the appearance of "top government officials overseeing the program … at Republican-sponsored events and with GOP candidates in at least six states." But these were hardly party fundraisers. They were meetings designed to explain to church leaders how their churches and organizations providing social services could apply for federal grants.
Those "GOP candidates," by the way, are also known as current members of the U.S. Congress. The paper doesn't cite any appearances with nonincumbents.
White House spokeswoman Ann Womack told the paper that Jim Towey, director of the White House Office of Faith-Based and Community Initiatives, has also appeared with Democratic members of Congress, "although she could not cite an example of joint appearances with Democrats facing tough election fights," the Post says.
Well, maybe that's because a lot of Democrats keep insisting that the faith-based initiative is some kind of insidious evil designed to turn America into a medieval theocracy. Democrats in the Senate, for example, are making sure that if any bill even slightly resembling Bush's faith-based initiative proposal passes at all, it will be almost meaningless. Womack told the Post that "Towey will talk to anyone about the initiative, regardless of political affiliation." The Post suggests that's untrue, but fails to ask the most important question: Has Towey ever turned down an offer by Democrats?
Sorry for Weblog's brevity today
More stories and links tomorrow.
Related Elsewhere
See our past Weblog updates:
September 16
September 13 | 12 | 11 | 10 | 9
September 6 | 5 | 4 | 3
August 30 | 29 | 28 | 27 | 26
August 23 | 22 | 21 | 20 | 19
August 16 | 15 | 14 | 13 | 12
August 9 | 8 | 7 | 6 | 5
August 2 | 1 | July 31 | 30 | 29
July 26 | 25 | 24 | 23 | 22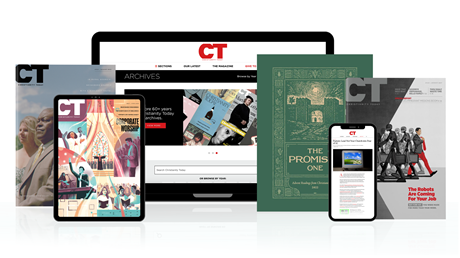 Subscribe to Christianity Today and get access to this article plus 65+ years of archives.
Home delivery of CT magazine
Complete access to articles on ChristianityToday.com
Over 120 years of magazine archives plus full access to all of CT's online archives
Subscribe Now
Faith-Based Initiative Is Republican Ploy, Says Washington Post
Faith-Based Initiative Is Republican Ploy, Says Washington Post