Stephen L. Carter is a Yale University law professor, author, and Christianity Today
columnist. Carter is a well established nonfiction writer, having written books like The Culture of Disbelief and Civility. He has now turned to fiction with a much publicized $4 million advance for two works of fiction, the first being The Emperor of Ocean Park (Knopf).
Why did you decide to start writing fiction?
I don't know if I could call it a decision as much as almost an obsession. I'd wanted to write fiction from the time I was pretty small. I used to go down to the corner store and buy little spiral notebooks when I was a little kid, in which I would write my science fiction and mystery stories and so on, usually fill in all the pages without any paragraph breaks or anything like that. And even as an adult I had for many years the yearning to write. I had these characters in mind and wanted to find the life space and vehicle to let them tell their stories. And finally it seemed to be time to do it.
How was it to write fiction?
Well, everybody seems to think that writing fiction is liberating. But I actually found it confining in a way. As a scholar, when I write nonfiction I have footnotes. I have sources. I have things I rely on. And that structure for me has always been very liberating. What cramped me in was recognizing that for everything I wrote, in the end, the authority was me. It was my imagination as opposed to some source I could point to. And that was an eerie feeling and sometimes a very scary one.
And so writing a novel, I put in these various asides, those little provocative thoughts to jog people about—issues about race or religion or class or a thousand other things. Even doing that I felt a little uneasy to have one of my characters make an argument and not have a footnote in the argument. To me it was uncomfortable.
But you pretty much include footnotes, anyway.
My author's note at the end of the book is absurdly long. And I spent a lot of time in there trying to say to the readers, yes, I know this staircase is not where I described it.
I had to do that for my own comfort. I don't think I could have written a novel, as a scholar, without making sure I got my facts right and making sure the reader knew. I was worried about people thinking that I knew less than I did. That doesn't mean there's no mistakes in the book, but those things that I intentionally changed I wanted the reader to know.
You dedicate the book to your mother and father but make it clear that the dad in this story is not yours.
You have to remember that the first five words of this book are, "When my father finally died." And because it's in the first person and it says father, people would say, "Oh, Carter must be describing his relationship with his father." I had to make it clear that that certainly wasn't the case.
What was your family like?
I'm the second of five children. I was born in Washington, D.C. We moved to Harlem when I was almost two years old. We lived there until second grade and then went back to Washington, D.C. I went to high school in Ithaca, New York. My father was by training a lawyer, although in the '60s, he worked in the Kennedy and Johnson administrations. A little later he taught at Cornell and became an administrator. And my mother for most of the time, although she was a college graduate, stayed home and took care of the kids.
We were not a church going family, but my parents had been raised—actually both in the Episcopal church—and there were a couple of things that were always really very important to them. One of the values that was really important when I was growing up was honesty.
How did you decide on law?
My dad was an attorney. My grandmother was an attorney. And yet I never wanted to be a lawyer when I was younger. I went to law school in 1976 because I couldn't think of anything else to do. I didn't know what I was going to do with life, and somewhere in those three years I decided I really liked it.
I was interested younger in being a writer, and when I went to law school I was still thinking about being a writer, although I didn't know quite what that meant. I knew I wanted to do something where I would put words on a page.
How did you become a Christian?
I always had religious yearnings when I was younger. And I began attending church when I was a kid with a neighbor, one of my playmates, and that was my first experience with church. But really my Christianity, in a profound sense, didn't come until after my marriage.
My wife is a believer. And my really strong Christian commitment, my own personal commitment to Christ didn't come until some years into my marriage at a time when we—my wife and I—were having troubles of various kinds. We were having financial and other troubles, and it was at that point that I committed myself to Christ and have found a great change in my life since then.
How does your Christianity affect your writing?
I didn't think of it as an explicitly Christian novel in the genre sense. Yet, as a committed Christian, I could hardly avoid important questions. And some of them are kind of interesting. So people tease me because there's no explicit sex in the novel. And nobody takes the Lord's name in vain.
I couldn't even write those words on a page.
There is sin in the book. We're sinful creatures. There's also redemption in the book. And hope. But there's something else also. For all of the attention that is paid nowadays by writers to giving us characters who are fully rounded, the characters very rarely have religious lives as part of the story. So I was determined that my characters would have religious lives and even, occasionally, religious conversations.
We live in a country where 90 percent of the people say they believe in God and 30 or 40 percent of people say they attend religious services regularly. But if you look at fiction it must be less than five percent.
My main character, Misha Garland, is a Christian searcher. That is, he's very clear in his mind that he believes in God, and he's very clear that as a Christian he has a kind of hazy understanding of what that means. And in the book we see him going through this process of struggling before he begins to be attracted to this Baptist preacher who then becomes a kind of counselor to him.
The issue of race is a profound presence in this book.
Well, Misha is a law professor. He's black, he's well-educated, he's been very successful. But as he tries to move in an integrated world, he's constantly faced with situations in which he wonders what people are thinking about him.
He gets angry a lot, and he suppresses his anger, which is when he begins to "see red." A lot of the dilemmas he faces, a lot of the situations he faces, are situations that I know a lot of black professionals face. A lot of the questions he raises, a lot of the suspicions he has are suspicions and questions I know a lot of black professionals have. And I raise them in the book not so much to say that the people who have these fears and worries are right, but just to suggest that the work of integration has a long way to go, because there are still these gulfs between the ways that different races often look at the same situation.
Related Elsewhere
Visit DickStaub.com for audio and video of his radio program (4-7 p.m. PST), media reviews, and news on "where belief meets real life." The full text of this interview will be for sale on the website soon.
Article continues below
Earlier Dick Staub Interviews include:
Francine Rivers | The fiction writer says she starts each book with a question that she doesn't know the answer to. God provides the ending. (August 27, 2002)
Ben Heppner | The acclaimed dramatic tenor speaks about getting into opera, his faith, and P.O.D. (Aug. 20, 2002)
Morton Kondracke | The political commentator talks about how being saved from alcoholism, and trying to save his wife from the ravages of Parkinson's. (Aug. 13, 2002)
Mike Yaconelli | The author of Messy Spirituality discusses God's "annoying love." (Aug. 6, 2002)
David Brooks | The Weekly Standard senior editor talks about the spiritual life of Bobos. (July 30, 2002)
Calvin Miller | The author of Jesus Loves Me: Celebrating the Profound Truths of a Simple Hymn talks about childlike faith (July 23, 2002)
Kathleen Norris | The author of The Virgin of Bennington talks about being found by God in the midst of sex, drugs, and poetry. (July 16, 2002)
Thomas Moore | "To really live a secular life and enjoy it is part of being a religious person," says the author of Care of the Soul and The Soul's Religion (July 9, 2002)
Os Guinness | Whether we're seeking or have already been found, we're all on a journey. (July 2, 2002)
Oliver Sacks | The physician author of Awakenings talks about his Orthodox Jewish upbringing, order in the universe, and testing God. (June 25, 2002)
David Myers | People say they know money can't buy happiness, says the Hope College psychology professor. But they don't truly believe it. (June 18, 2002)
Richard Lewis | The comedian, actor, and author talks about his humor, addiction, and spiritual journey. (June 11, 2002)
The Dick Staub Interview
Dick Staub was host of a eponymous daily radio show on Seattle's KGNW and is the author of Too Christian, Too Pagan and The Culturally Savvy Christian. He currently runs The Kindlings, an effort to rekindle the creative, intellectual, and spiritual legacy of Christians in culture. His interviews appeared weekly on our site from 2002 to 2004.
Previous The Dick Staub Interview Columns: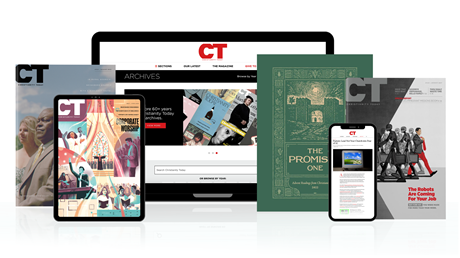 Annual & Monthly subscriptions available.
Print & Digital Issues of CT magazine
Complete access to every article on ChristianityToday.com
Unlimited access to 65+ years of CT's online archives
Member-only special issues
Subscribe
Stephen L. Carter
Stephen L. Carter