Roy Moore's Ten Commandments battle gets personal and ugly
Regular Weblog and Christianity Today readers will be familiar with the case of Roy Moore, Chief Justice of the Alabama Supreme Court. Moore is probably best known for his postings of the Ten Commandments around his workplaces, and one display — a 5,300-pound granite version in the Judicial Building — is the subject of a trial in U.S. District Court.
Moore's lawyers are understandably upset about a letter by the justice's opponents that they mistakenly received. "You might remember that, from the start, I was laying our trial theme, i.e., how this was the act of a lone religious nut in partnership with a fanatical church," Morris Dees, a lawyer challenging the monument, wrote to Ayesha Khan, a lawyer with Americans United for Separation of Church and State. "This is the story that will make this case so dirty that no appeals court will reverse [the district court judge] to make new law."
Moore's lawyers first filed the letter with the court in opposing Dees's motion to order removal the monument without a trial. The letter, Moore's lawyers say, shows the plaintiffs are playing "hard, loose and dirty with the facts in this case to fit their contrived theme."
Now Moore's lawyers are going further, using the letter in their own motion to have the district court judge removed from the case. They say the letter suggests that Dees knows how Judge Myron Thompson is going to rule.
"I am convinced that Judge Thompson has a pervasive and personal bias and prejudice against me in favor of plaintiffs, that Judge Thompson's impartiality might reasonably be questioned, and that there exists an appearance of impropriety in these cases warranting Judge Thompson's recusal," Moore wrote in a statement filed with the motion.
And the trial doesn't even start for another two weeks. This could get ugly.
Meanwhile, Thompson went to the Judicial Building Tuesday to look at the monument. Asked if he had any comment, he replied, "Nope, definitely not."
Houses of Worship Political Speech Protection Act fails mightily in House
As Weblog noted earlier this week, a bill allowing churches to endorse and oppose candidates and to donate to political campaigns needed a two-thirds majority vote to go to the Senate (where it was doomed to failure). It couldn't even muster half. The Houses of Worship Political Speech Protection Act was voted down by a 178-239 vote, with 10 Democrats voting for the bill and 46 Republicans voting against it. An initial vote happened at 11:15 or so Tuesday night, but a tally wasn't taken until Wednesday. (A sidenote for vote counters: Mary Bono (R-Calif.) and Cynthia McKinney (D-Ga.) initially voted for the bill, then changed their votes. George Gekas (R-Penn.) voted against it but later said he meant to vote for it.)
Debate late Tuesday night was vigorous. "Americans who believe in God ought not to have their freedom of speech muzzled in the name of the law," said J.C. Watts (R-Okla.).
"This bill is an assault on the Constitution's fundamental separation between church and state. It was crafted with the single purpose of giving right-wing religious groups — like the Christian Coalition —a special advantage in the political process," said Pete Stark (D-Calif.). "Supporters of H.R. 2357 have cloaked the real intent of the bill in the blatant falsehood that religious leaders cannot speak on moral and political issues. This right is freely exercised and clearly protected by the Constitution."
Despite the defeat, the bill's chief sponsor, Walter Jones, (R-N.C.), says he'll try again. "Today we took a very important step toward bringing freedom of speech back to our pulpits," he told the Associated Press. "From the first day of the 108th Congress, I will continue this fight because I believe this battle can be won and will be won. Congress must return First Amendment rights to our houses of worship."
If you were really hoping the bill would pass, you can take heart in other news: the Federal Election Commission just changed campaign finance rules, giving big exemptions to religious and charitable groups.
More articles
Politics:
Life ethics:
Education:
Anglican schism:
Pop culture:
Sports:
Related Elsewhere
Suggest links and stories by sending mail to weblog@christianitytoday.com
See our past Weblog updates:
October 2 | 1 | September 30
September 27 | 26 | 25 | 24 | 23
September 19 | 18 | 17 | 16
September 13 | 12 | 11 | 10 | 9
September 6 | 5 | 4 | 3
August 30 | 29 | 28 | 27 | 26
August 23 | 22 | 21 | 20 | 19
August 16 | 15 | 14 | 13 | 12
August 9 | 8 | 7 | 6 | 5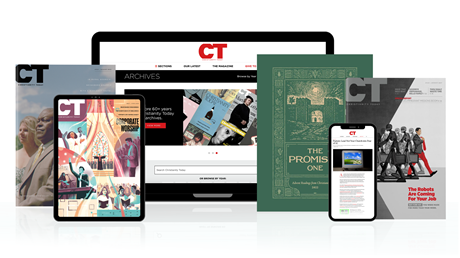 Annual & Monthly subscriptions available.
Print & Digital Issues of CT magazine
Complete access to every article on ChristianityToday.com
Unlimited access to 65+ years of CT's online archives
Member-only special issues
Subscribe
Letter Calling Ala. Chief Justice Roy Moore a 'Lone Religious Nut' Becomes Focus of Trial
Letter Calling Ala. Chief Justice Roy Moore a ...