Sixteen months after Jerry Rankin, president of the Southern Baptist International Mission Board, asked the agency's more than 5,400 appointees to sign an amended faith statement, about 99 percent have complied.
For the few who have chosen not to sign the Baptist Faith and Message, revised in 2000, big changes are afoot (CT, April 22, 2002, p. 20). Rick and Nancy Dill will soon return to their six-room row house in Germany to resume duties at Weimar Baptist Church. The Dills were the first Southern Baptist missionaries to be stationed in East Germany after reunification. They started the Baptist church in 1992 with 11 people. Rick's pastoral duties include evangelism, leadership training, and preaching. Nancy plans to resume English as a Second Language classes, a free outreach effort that attracts many non-Christians.
The Alabama natives have taken on the task of raising financial support to help replace money they have been receiving from the International Mission Board. They expect the IMB to release them in May because they have declined to conduct their ministry in accord with the latest version of the Baptist Faith and Message (BFM).
First adopted in 1925, the faith statement has become more conservative through three revisions since 1963. The BFM of 1998 included a section saying that wives should "graciously submit" to their husbands. In 2000 the statement added the wording that "the office of pastor is limited to men as qualified by Scripture" and that the statement was an "instrument of doctrinal accountability."
Avery Willis, senior vice president for IMB overseas operations, recently began contacting those who have not declared their intentions. Missionaries who, like the Dills, decline to work in accord with the BFM will not be allowed to return under IMB sponsorship. The Dills say they do not agree with these conditions.
"I can't pledge to act in accordance with something where I have differences of opinion and think it goes against Scripture," Rick Dill told Christianity Today. "Over half the Baptist pastors in China are women. Are we willing to say they're out of God's will?"
Now the Dills will have to find alternative funding sources or stay home. Their church in Germany has pledged to provide a third of their support.
The IMB says 108 missionary units—couples or singles—or 193 people resigned during a nine-month period ending January 31, 2003. Of those, 32 cited the BFM as a factor in their resignations. IMB spokesman Mark Kelly says the resignation numbers are typical for a mission force the size of the IMB. As of late February, the IMB had 5,441 appointees overall, with 3,380 in long-term assignments.
The Baptist General Convention of Texas, which is at odds with the sbc's conservative leadership, established an emergency fund 16 months ago to help missionaries who leave the sbc over the issue. It received nearly $1.4 million in contributions the first 11 months and dispersed aid of $415,000. As of March, a dozen families and one single person were receiving one-year stipends of up to $3,850 a month.
The moderate Cooperative Baptist Fellowship hasn't seen any influx from IMB resignations. Still, some leaders believe the negative response is understated. Dill said missionary coworkers told him they signed so they could remain in their ministries.
Teacher terminated
In November the IMB withdrew its support for one missions leader. The agency dismissed Chris Harbin from teaching at Baptist Seminary in Porto Alegre in the state of Rio Grande do Sul, Brazil, in November.
IMB administrators presented 13 passages from Harbin's 200-page "Narratological Theology and Homiletics" syllabus as evidence he was guilty of "persistent advocating of doctrinal positions inconsistent with the Baptist Faith and Message."
Recently installed as pastor of Rocks Baptist Church in Pamplin, Virginia, Harbin said the disputed material did not become an issue until he refused to affirm the 2000 BFM. Harbin said critics have taken the material out of context. But the IMB's Kelly told the Baptist Standard, a Texas weekly paper, that the material "cannot even be reconciled with the 1963 Baptist Faith and Message." Kelly told the paper that Harbin's teaching "on critical theories about the Bible was not balanced with a strong advocacy for the Bible as God's Word, totally true and trustworthy."
Other IMB staff have changed their minds about signing. Charlotte Acree, a registered nurse, was a nursing instructor at Baptist Hospital in Eku, Nigeria, from 1988 to 2001 before going on medical leave. Acree initially opposed signing, but changed her mind after reviewing the 1925, 1963, and 2000 statements. Acree, 53 and single, will soon return to medical clinics in the country's southeast among the Ezza people, considered an unreached group.
"[Rankin] recommended we compare the three messages and make up our mind," Acree said. "Once I did, I couldn't figure out what the problem was. There was nothing that was not biblical."
Article continues below
Related Elsewhere
Read the Baptist Faith and Message 2000, see the report of the study committee and other documents, or peruse the 1963 version.
The Southern Baptist Convention's site has links to every board, organization, and ministry in the convention.
Previous Christianity Today coverage of the Baptist Faith and Message includes:
To Sign or Not to Sign? | Some Southern Baptist missionaries balk at revised statement. (April 5, 2002)
Do Good Fences Make Good Baptists? | The SBC's new Faith and Message brings needed clarity—but maybe at the cost of honest diversity. (August 9, 2000)
Culture Clash | Asserting the Bible's authority, Southern Baptists say pastors must be male. (June 30, 2000)
Weblog: Baptists OK New Statement, which Opposes Female Pastors (June 15, 2000)
Submission Rejected | State convention counters SBC marriage statement. (Dec. 27, 1999)
Texas Baptists Counter Official Southern Baptist Stance on Marriage | Baptist General Conference of Texas goes back to 1963 statement, rejecting 1998 vote. (Nov. 11, 1999)
Seminary Faculty must sign pledge | Professors must agree to teach Baptist Faith and Message statement. (Dec. 7, 1998)
Have something to add about this? See something we missed? Share your feedback here.
Our digital archives are a work in progress. Let us know if corrections need to be made.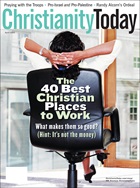 This article is from the April 2003 issue.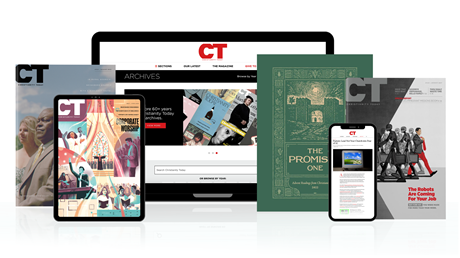 Subscribe to Christianity Today and get access to this article plus 65+ years of archives.
Home delivery of CT magazine
Complete access to articles on ChristianityToday.com
Over 120 years of magazine archives plus full access to all of CT's online archives
Subscribe Now
Time to Decide
Time to Decide