On the first Friday in May 1990, an envelope came to the door of Randy Alcorn's semi-rural home in Gresham, Oregon, east of Portland. Inside the envelope was a copy of a writ of garnishment for Alcorn's wages. The writ required Good Shepherd Church, where Alcorn was pastor of missions, to surrender a portion of his wages.
Alcorn understood instantly what lay behind the writ. In 1989 Portland police had arrested him several times for blocking the doors of several abortion clinics. One of the clinics had sued him and other "rescuers," winning a small judgment plus attorney's fees. Alcorn had refused to pay, believing it would violate his conscience to write a check to an abortion clinic.
Some time before the suit, Alcorn and his wife, Nanci, had placed all their assets in her name—house, car, and bank account. Alcorn had given away or sold the copyrights to his five published books. At a debtor's hearing he was able to state truthfully that he owned nothing of value. An opposing lawyer went so far as to ask about the gold band he was wearing on his left hand.
Alcorn held up the ring, milking the drama of the moment. "I'm not sure what it's worth today, but I paid $12.50 for it at Kmart four years ago."
Alcorn had not anticipated having his wages garnished, however. This implicated not just Alcorn's conscience, but also that of his church. If the church refused to pay, serious legal complications could follow. Many church members had grave doubts about the wisdom of Alcorn's protests. Now they were sucked into the backwash.
A quick visit to the church offered Alcorn slight relief. By some glitch no legal papers had yet reached Good Shepherd. The church office would be closed for the weekend. He had until Monday.
After a flurry of phone calls, prayers and consultations, Alcorn concluded that he had only one alternative. Sunday evening he met with the church's elders to resign his position. On the spot, they wrote him a check for the week of May he had already worked. Though he was a founding pastor of the church, though it was the only church he had ever known since seminary, though he had expected to spend the rest of his life as a pastor there, he quit his job.
On Monday morning he caught his breath and began to ask the next question: What would he do with the rest of his life?
Single-minded zeal
Alcorn is a man of passionate commitments. The son of an Oregon tavern owner, he gave himself to Christ in high school with a rare single-mindedness. At the age of 22 he joined one of his former youth pastors, Stu Weber, in launching Good Shepherd Church in the rural burg of Boring, Oregon. (The Boring Pastors Fellowship is a legendary but entirely real phenomenon.)
The church grew quickly to become one of the larger fellowships in the Portland area. Finances were tight in the early years, but eventually Alcorn began to draw what he considered a generous salary. Furthermore, he began to write.
In 1985 he published his first book. Others followed, and though the royalty checks were not huge they made a significant addition to his income as a pastor. Alcorn was enthusiastic about writing, so much so that he felt torn between his pastoral responsibilities and the time he needed for books and articles.
The royalty checks helped prime another emerging passion. After specializing in counseling and family life at Good Shepherd, Alcorn had asked to concentrate on missions. As he learned more about overseas needs, he wanted to give more to meet them.
Studying Scripture impressed on him the importance God placed on generosity. He and Nanci and their two girls had always lived simply—not entirely by choice. Now, as their income increased, they kept expenses at the same level and gave the difference to needy causes. A book, Money, Possessions, and Eternity, offered Alcorn's detailed scriptural examination of wealth. In it, Alcorn challenged Christians to give sacrificially.
The book was published just as a third passion reached its peak. For years Alcorn had preached outspokenly against abortion. He served on the board of Portland's first Pregnancy Counseling Center. He and Nanci took a pregnant teenager into their home while she prepared to give birth and give up her child for adoption.
Yet nothing seemed to make any difference. Year after year, abortion clinics killed hundreds of thousands of unborn children.
"The issue was consuming my mind and heart," Alcorn says. "When that light is turned on, you can't turn it off."
In 1986 Randall Terry had launched Operation Rescue, a national effort that tried to break the abortion stalemate through civil disobedience. By blocking clinic doors, protesters hoped to prevent at least a few abortions. Alcorn agonized. He had always respected the law and never dreamed of participating in civil disobedience.
Nevertheless, in January 1989 he asked his church elders for permission to participate in local protests. With some reluctance they granted it.
Chained
To scan headlines from that period in The Oregonian is to re-enter a forgotten world of struggle. Rescue protests marched repeatedly to Portland abortion clinics, blocking access with their bodies. Clinics fought back ferociously, enlisting all the powers of law to their side. In clearing protesters, police were often less than gentle.
Accusations and counteraccusations filled the air. Rescuers claimed that press accounts were highly biased and sometimes false. Prochoice voices claimed property damage and savage emotional harassment of women who were in desperate straits. Though Alcorn says the rescue movement in Portland (not affiliated with Operation Rescue) worked hard to be peaceful and respectful toward women seeking abortions, leaders always had to contend with fringe individuals who favored more dramatic tactics.
The prochoice cause got the courts to level harsh fines and jail sentences against protesters, particularly those who refused to promise future good behavior. Clinics pursued civil suits, hoping to bankrupt those who participated in rescues.
Alcorn emerged as a vocal leader, frequently quoted. It was an intensely lonely time for him and his family. A private person, Nanci began to hate going to the grocery store, or even to church, because of the "cow eyes" people would show her.
Only when she went to her daughters' sporting events did she find refuge. People there knew her only as the mother of Karina and Angela.
She despised being the object of others' sympathy. "I wanted to take people aside and say, 'You know, we're not nuts.' "
A lawyer for the abortion clinic made a statement in court that stuck in Alcorn's memory. "My clients," he said, "have every bit as much right to perform abortions as McDonald's has to sell hamburgers." Alcorn knew perfectly well that the man spoke truly, in a legal sense; but what an upside-down world they lived in, where selling hamburgers was on a par with taking the lives of babies.
Though arrested a number of times, Alcorn spent only one night in jail. Chained hand and foot, pushed down a corridor full of gawking spectators and flashing cameras, stripped and subjected to a body cavity search, refused food or medicine when guards wouldn't believe that he was an insulin-dependent diabetic, he learned what it meant to be treated as a criminal.
One of his best friends, Ron Norquist, spent nine months in jail, losing his job and his house in the process. Nanci says, "The experience taught us to understand what it means to say, 'We won't always receive justice in this world.' "
Survival mode
In May 1990, when he quit his job, Alcorn's convictions seemed to have brought him to a dead end. In the face of fierce legal consequences, rescues were petering out. He had planned to pastor at Good Shepherd for his entire life. If he went to any other church—any other job, for that matter—the legal judgment would travel with him. And he did not want to go to any other church. He wanted his children, 10 and 12 years old, to continue at the Good Shepherd School they loved. All that seemed impossible, gone for good.
Alcorn's passion for generous giving and for missions would find few avenues for expression, it seemed, with his working at minimum wage. (By law, if he made more than that his wages would be garnished.) Nanci, a stay-at-home mom, presumably would have to get a job to support the family.
Trying to think through possibilities, Alcorn remembered the conflicts he had felt between pastoral work and writing. He had taken months of leave without pay in order to write. Now, apparently, he had as many months of leave as he could ever wish—if he could find a way to survive.
As he pondered his options, Alcorn realized that his family was well prepared. Since they had struggled to give generously, they lived simply as a matter of course. They had always driven old cars. They did not have loans to repay or an expensive lifestyle to support. Just two months before, they had paid off the mortgage on their house. They could not live on air, but they could live on very little.
Alcorn got an idea. With three months of bridging help from the church, the Alcorns set up a nonprofit organization in their home—Eternal Perspectives Ministry (epm). Working for the organization at minimum wage, Alcorn would write and speak. He would have the freedom to emphasize his passion—generosity, missions, and prolife advocacy. Nanci would handle the administration as a part-time secretary, paid a secretary's wage. Between the two of them, they would earn enough to get by.
That depended on some income for epm, however. Eventually, book royalties could make a substantial contribution. For the present, however, the Alcorns would have to depend on the support of people who believed in their passions.
They sent out a letter to about 90 families, mostly from their church, appealing for support in the lowest key possible. The response warmed them. They had felt very alone, but evidently their church fellowship cared for them deeply. With such support, they believed they could make it. (An anonymous donor paid the girls' tuition at Good Shepherd School.)
Fruitfulness
"We have suffered nothing," Nanci Alcorn emphasizes. "But I have suffered many things in my mind."
For years after beginning epm, the Alcorns lived with the possibility of losing their home. A second suit found Alcorn responsible for $8.2 million in punitive damages. His lawyer warned that if the clinic pursued aggressively, the Alcorns could lose what little they held in Nanci's name, including the house.
Gradually the anxiety died, however, as their antagonists failed to pursue their assets. Alcorn's books began to sell, and royalty checks came in to epm. In 1994 he published his first novel; five more have followed.
Alcorn's books have reached a growing audience. He has spoken to wider and more influential audiences across the country, sticking to his passions of generosity, missions, and defending life. It has been years now since epm needed contributions to pay its modest expenses; instead the organization has become a de facto foundation, passing on all royalty checks to mission causes. In the last three years epm has given away $500,000.
Meanwhile the Alcorns live and do business in the same modest three-bedroom home. (Four years ago they added an office to the garage.) They drive used cars that are donated to the organization. Alcorn still receives the minimum wage, plus speaking honorariums. He has not used an atm or written a check since 1990.
The clinic still has eight years in which to collect on the $8.2 million judgment against Alcorn. The Alcorns don't much care.
They do not see themselves as heroes and are quick to say that they have made few if any sacrifices. They also emphasize that not everyone would be able to follow the same path. "It would be a lot harder for a carpenter."
The Alcorns more often talk about all they have gained. "It would have been very difficult to leave the pastorate to become a writer and speaker," Alcorn says. "Suddenly I had no choice."
Though he suffers some nostalgia for the pastorate, he approaches his current work with gusto. He loves writing. He loves giving away money to ministries far and wide, and he loves his chance to influence people nationally.
Furthermore, he feels obvious pride in his grown and married daughters. They gained a lot, he believes, from living through difficult choices. For one thing, "our kids are givers, and I don't think we ever could have lectured them into that."
Last year author Alcorn began revising his book Money, Possessions, and Eternity, which came out just as he became involved in prolife rescues. "In pastoral ministries you sometimes have to preach on things that you haven't learned that well. If you're going to preach on prayer, you better do some praying this week!"
The same principle applied to his writing on money and possessions. Fourteen years haven't changed his mind on much, but as he reread his own words he recognized truths he had not much experienced at the time he wrote of them.
For example, he wrote, "I may 'know' that I will receive a promotion and pay raise in September, but God has not guaranteed me that. Plans change … " They do indeed. Within a year of the book's publication, Alcorn had lost his job and "owned" nothing beyond his clothing.
"It used to be we would say that my name was on the bank account, but God was the owner. Well, now my name's not even on the account. There's not even an illusion that anything belongs to me."
There's another noteworthy line in the book: " 'All I have needed Thy hand hath provided—Great is thy faithfulness, Lord, unto me!' We sing it, but do we mean it?"
In the book that question relates to the question of a lifestyle built on debt. It might, though, have served as a more general question for the Alcorns, as they stood unknowingly poised on the edge of an abyss.
The question can be answered now. They sing it, and they mean it.
Tim Stafford is a CT senior writer.
Related Elsewhere
A ready-to-download Bible Study on this article is available at ChristianBibleStudies.com. These unique Bible studies use articles from current issues of Christianity Today to prompt thought-provoking discussions in adult Sunday school classes or small groups.
The official site of Eternal Perspectives Ministries has more information on Alcorn and the organizations' mission.
Alcorn's books, including Money, Possessions and Eternity, ProLife Answers to ProChoice Arguments, and The Treasure Principle are available at Christianbook.com.
Have something to add about this? See something we missed? Share your feedback here.
Our digital archives are a work in progress. Let us know if corrections need to be made.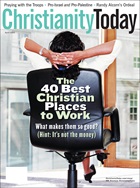 This article is from the April 2003 issue.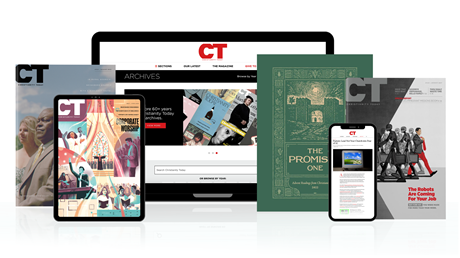 Annual & Monthly subscriptions available.
Print & Digital Issues of CT magazine
Complete access to every article on ChristianityToday.com
Unlimited access to 65+ years of CT's online archives
Member-only special issues
Subscribe
The Pastor without a Paycheck
The Pastor without a Paycheck