June's addiction began soon after her husband died of lung cancer on Christmas Eve in 1997. June was a new widow, disabled, homebound. Her four children were on their own and had moved away. She turned to her computer and the Internet to find solace. Instead, she found keno.
As June played the online games from her New Jersey apartment, offshore gambling sites became her new suitors. She won $10,000 four times. The companies sent her gifts, ranging from a wristwatch to bouquets of flowers.
Then the tide began to turn. Losses piled up fast. She went through her husband's $57,000 insurance settlement for on-the-job exposure to asbestos. She cashed in certificates of deposit. The woman, now 73, ignored her friends when they visited her. She remained in her chair to place wagers and sometimes stayed up all night.
"I knew in the back of my mind that I wasn't supposed to be doing this because I'm a Christian," said June, who even spent the money set aside for her burial. "But I couldn't help myself."
By the time she stopped gambling 18 months ago, June had lost $110,000. "I really am ashamed," said June, who asked that her last name not be used because of confidentiality that recovering gamblers require of each other. "I always paid my bills on time."
June credits Ed Looney, executive director of the Council on Compulsive Gambling of New Jersey, with saving her from financial ruin. Shut-ins who spend hours at a computer are particularly vulnerable, Looney said, adding, "It's an incredible market for those who hunger for relationships."
High stakes, high growth
The Internet gambling industry started only eight years ago. There are now more than 1,800 gambling websites, frequently based in small island nations, according to Looney. The federal Department of Justice maintains that online betting is a violation of the Interstate Wireline Act of 1961, which regulates telephone sports bets. Nevertheless, researchers estimate that overseas
Internet gambling sites will generate more than $4 billion in profits (nearly two-thirds from Americans) in 2003.
That amount of profit is estimated to be three times the profits from the Internet pornography business.
So far, few Christian ministries are equipped to help Internet gambling addicts. But Chad Hills, a research associate with Focus on the Family, believes it's no coincidence that pop-up ads for pornography and gambling are juxtaposed on numerous websites. "People are as susceptible to gambling as pornography if it's a part of their makeup," Hills said. "Christians are not immune, not by a long shot. When we think we are immune, we tend to drop our guard, and then we're in for a world of surprise and hurt."
Internet gambling stakes are higher than those at casinos, according to Chris Anderson, director of the Gambling Recovery Center in Chicago. "Every state with gambling has a regulatory body because of vice and sin that happens if it's not regulated," Anderson said. "But who regulates the Internet?"
U.S. Rep. Jim Leach has been asking his colleagues for four years to enact legislation. "There is no regulation of gambling on the Internet and no protection for the consumer," the Iowa Republican told CT. "The difficulties for families can be rapid and catastrophic."
Leach sponsored a bill last year that passed the House but languished in the Senate. He introduced an identical bill in January, and is more optimistic this year because of the change in Senate leadership.
Immediate deductions
To compete online, players generally must open a personal account and provide "front money," usually in the form of a credit card.
"As a basic rule, if you lose, the money is immediately deducted from your credit card," Leach said. He worries that as Internet gambling grows, more people will gamble addictively, causing more bankruptcies, divorces, and even suicides. Experts estimate that 5.5 million Americans (2 percent of the U.S. population) are compulsive or problem gamblers. About 15 million more Americans are at risk of becoming problem or pathological gamblers, according to the National Coalition Against Legalized Gambling (NCALG). "This is as large a family issue as faces the U.S. Congress," Leach said.
Tom Grey, 62, executive director of NCALG, said online wagering provides the anonymity that addicted gamblers crave. Internet gambling usually occurs at home, at any time. "With the click of a mouse you can lose your house without even leaving your house," Grey said.
Online betting also reaches a segment of the population prohibited from entering casinos and riverboats—teenagers. Young people with knowledge of a parent's credit card number "can gamble away tens of thousands of dollars before Mom and Dad have a clue about what's going on," Anderson said.
Pressure on credit card firms
Leach believes his bill, the Unlawful Internet Gambling Funding Prohibition Act, is the only practical way to end online betting. But Leach acknowledges credit card companies must cooperate. The proposed legislation makes it illegal for banks, credit card companies, and Internet payment systems to accept transactions from gambling websites.
PayPal, a leading Internet payment system, stopped processing such transactions in November. Most major credit card companies have stopped accepting such charges as well. "It's not in their interest to have a lot of people who can't pay back their cards regularly," Leach said.
Creditors face hurdles collecting on gambling losses outside the country without an expensive and lengthy legal tussle, said I. Nelson Rose, Whittier Law School professor in Costa Mesa, California. Casinos initially opposed Internet operators, which they saw as competitors.
But some, such as MGM Mirage, forecast large profits with low overhead. Now they want a piece of the action. MGM Mirage has set up shop on the Isle of Man in the British Isles. Harrah's also is investing in online betting.
"Some of the casinos are now saying, 'If it can't be outlawed, then we want to run it,' " said Rose, whose book Internet Gambling and the Law will be published this year. Racetrack betting from home computers is already legal in a dozen states. Rose expects state lottery tickets will soon be sold on the Internet.
The federal government has no role in regulating or prohibiting gambling, Rose said. "Gambling is a matter for states to decide."
But Leach said Internet gambling has become a federal issue because of its international character. "U.S. states have no jurisdiction in the Cayman Islands."
Another reason for regulation, Leach said, is government security, particularly related to the illegal drug trade and terrorism. "There is no easier way to launder money than through gambling, and no easier methodology than Internet gambling," he said.
Back in New Jersey, June is whittling away the $25,000 she still owes with her monthly $974 Social Security and pension income. Suffering from emphysema and other ailments, June spends her days reading the Bible and praying and helping others through Gamblers Anonymous.
"I now know addiction can happen to anybody," she said. "I prayed about it before, but I guess I didn't pray enough."
Related Elsewhere
In 1999 John W. Kennedy reported on a casino trend to seduce seniors in "Gambling Away the Golden Years."
Christianity Today sister publication Today's Christian Woman ran a first-person account of gambling addiction in 1996 with "What I Lost By Gambling."
Previous Christianity Today coverage of gambling includes:
Beating the Odds | Christians in two states defeat gambling by exposing its harmful effects on the poor. (Jan. 10, 2000)
Gambling Panel Urges Moratorium (June 14, 1999)
None Dare Call It Sin | How Mississippi's Bible Belt succumbed so quickly and so completely to the gambling industry. (May 18, 1998)
Spurning Lady Luck | Churches reject funds tainted by gambling. (Oct. 26, 1998)
Will Gambling Study Be Biased? (Jan. 6, 1997)
Have something to add about this? See something we missed? Share your feedback here.
Our digital archives are a work in progress. Let us know if corrections need to be made.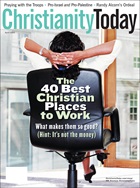 This article is from the April 2003 issue.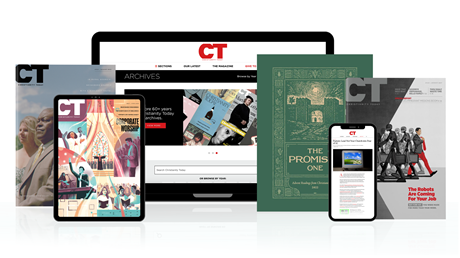 Subscribe to Christianity Today and get access to this article plus 65+ years of archives.
Home delivery of CT magazine
Complete access to articles on ChristianityToday.com
Over 120 years of magazine archives plus full access to all of CT's online archives
Subscribe Now
Addiction a click away
Addiction a click away