Is it still Good Friday in Iraq?
For Christian Science Monitor reporter Peter Ford, visiting a Resurrection Sunday service in Baghdad was a breath of life. "The beauty of the Armenian choir's voices at Easter Mass, swelling with the feast-day's joy, was a balm to my soul," he says at the Monitor's website. "The day before, I had spent several hours visiting some of the palaces that had belonged to Uday Hussein, Saddam's perverted and corrupt elder son. After that glimpse into the heart of darkness, I needed some spiritual uplift."
And at services across Iraq, many parishioners found in the joy of Christ's resurrection hope for the rebirth of their country.
"There's nothing nicer than peace," 46-year-old Boushra Thomas told the Associated Press at St. Therese Catholic Church. "We could not come to church during the war because there was so much shelling and bombing. Danger was everywhere. Now we can come anytime we like."
"We hope this Easter is the beginning of a new life," 22-year-old student Silva Sami told a Baltimore Sun reporter at the Sacred Heart Chaldean Catholic Church in Baghdad, which was filled to the limit as 450 attended the service yesterday. "This Easter, we pray to be a new beginning of Iraq. There's a lot of damage and dead people, but we know the bombs are not after us."
But according to several news sources today, Iraqi Christians attending Easter services were more concerned that their fellow countrymen are after them.
"Under a gloomy sky, nobody [at Baghdad's Evangelical Protestant Church] could muster even a perfunctory 'Happy Easter' greeting. Instead, many wept through the sermon," reports The Washington Post's Carol Morello.
Indeed, with death and destruction on so many Iraqis' minds, it seems that yesterday's mood was more akin to Good Friday than to Resurrection Sunday.
"In Mass today, I cried the whole time, Chaldean nun Philip Kirma told the AP. "All the miseries of the Iraqi people came to me … all the thousands and thousands lost, fathers and mothers and brothers and sisters."
"The promise of rebirth seems a distant dream," reports the Post's Morello. "Like most Iraqis, Christians are reeling from the double blow of the war and the massive looting that ensued. But many Christians are also concerned that the new, free Iraq will be dominated by Islamic parties. Some already predict they will feel less welcome here and are considering leaving the country. At the same time, many of the nation's Christian leaders say they are relieved to be rid of the despotic leadership of Hussein and his Baath Party followers."
"Today, well it is the happiest day for us that we could celebrate this very religious day, after getting rid of Saddam Hussein's regime," one Iraqi told Voice of America. "That was our most difficult trouble and problem. Since 1979, or even 1968, we suffered too much hardship, everything from that regime. There was no democracy; there was no freedom, no just simple life."
But not all Iraqis are so glad Hussein is gone. "Saddam loved Christians," Ikram Mehanni, pastor of Evangelical Protestant Church, told the Post. "He didn't abuse our religion. To the contrary, he gave us money." Hussein was so benevolent, he said, because "Christians didn't give problems to the government."
"In general, he didn't do anything against the Christians," Monsignor Antoine Atamian, patriarch of Iraq's Armenian Catholics, told Cox News Service. "But he did a lot against human rights."
Agence France Presse reports that Butros Haddad, priest at the Chaldean Catholic Church of the Virgin Mary in central Baghdad, compared the U.S. occupation of Iraq to Jesus' crucifixion. "I told the faithful that Iraq lived through its passion in recent weeks with the American invasion," he said. "But it will be reborn like Christ was resurrected. The resurrection comes always after the passion, joy comes back always after the pain."
Entering St. Joseph Syrian Catholic Church, one Iraqi told Cox News Service, "'Previously, we felt safe when we walked on the streets or were in our homes. Now we don't feel safe. We miss it." But was she glad that Saddam is gone? The parishioner had to think hard before answering. "Half and half," she replied. "If the future will get better, then it was good."
But many Iraqi Christians are convinced that it might not get better for a long time.
"The situation still is not safe," one woman attending Sacred Heart told the Sun (which in one instance misspells the church as Scared Heart) "We are in our homes, but we can sometimes hear bullets. At least under Saddam it was safer than now."
"We don't care about Saddam, whether he is in rule or not," another Christian says. "He put two police cars in front of the church [to protect it]."
Now, many Iraqi Christians are asking, who will protect them?
"It's going to be like Iran," said one at Evangelical Protestant Church. "Even Christians will have to wear head scarves. There will be no alcohol. No dancing. All Christians are afraid now."
It wasn't just the parishioners who worried yesterday. "We are afraid that the fanatics could do something bad, especially among our Muslim brothers," Bishop Ishlemon Wardouni, head of the Chaldean Catholic Church, told The Christian Science Monitor. "We have a long history of persecutions here. … We have heard their slogans, 'No Saddam, No Bush, Yes to an Islamic State.'"
Other Christian leaders say now is not the time to be cowed by Muslim radicals. "Now we must all work together to rebuild our society and also promote the role of Christianity," said Jalil Mansoor David, the priest at St Paul's Church in Mosul yesterday. "The responsibility on us is great."
On knees, Christian soldiers
Iraqis weren't the only Christians in the country commemorating Resurrection Sunday.
At a former Iraqi air defense artillery school, Army chaplain Col. Douglas Carver led services for soldiers from the 101st Airborne Division. "It's unbelievable," he said. "Here we are, celebrating right in the middle of the Islamic world, preaching Jesus Christ."
But though the service seems to have been more celebratory than those of Iraqi Christians, the message of resurrection is hard for American soldiers, too.
"A lot of guys are struggling with mortality," Navy Cmdr. Jim Ellis, the 3rd Marine Aircraft Wing's chaplain, told the Associated Press.
Related Elsewhere
Suggest links and stories by sending e-mail to weblog@christianitytoday.com
See our past Weblog updates:
April 17 | 16 | 15 | 14
April 11 | 10 | 9 | 8 | 7
April 4 | 3 | 2 | 1 | March 31
March 28 | 27 | 26 | 25 | 24
March 21 | 20 | 19 | 18 | 17
March 14 | 13 | 12 | 11 | 10
March 7 | 6 | 5 | 4 | 3
and more, back to November 1999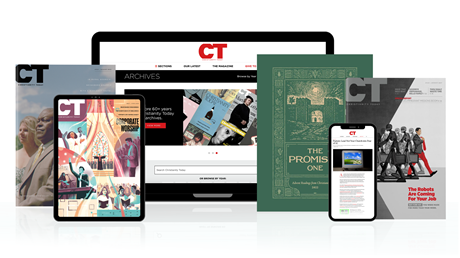 Subscribe to Christianity Today and get access to this article plus 65+ years of archives.
Home delivery of CT magazine
Complete access to articles on ChristianityToday.com
Over 120 years of magazine archives plus full access to all of CT's online archives
Subscribe Now
Easter in Baghdad
Easter in Baghdad