We're waiting for Elijah, not Jesus, say Jews
On Easter, the Chicago Tribune's Christine Tatum reported on Passover Seders celebrated by Christians. More than 250 Chicago-area churches held them this year, she said.
"It doesn't just help [Christians] understand the Lord's Supper a little better, but their Jewish neighbors too," explained Michael Rydelnik, a professor of Jewish studies at Moody Bible Institute (which has an annual seder). "They see Passover for what it was meant to be: a profound celebration of God's faithfulness to all who believe in Him."
But such services anger non-Christian Jews, who argue that there's no such thing as "Jews for Jesus." Tatum dutifully noted their objections.
"We have problems with Christians transforming our symbols and stories into a Christological message that robs us of our holy experience and thoughts," said Rabbi Yechiel Eckstein, founder of the International Fellowship of Christians and Jews.
Still, Tatum's report focused on what the services mean to Christians, not to Jewish opponents. "Those who [attend] say it's an amazing ritual filled with references to Jesus, and they credit the seder not only with deepening their understanding of his teachings but also with heightening their appreciation of the Jewish community."
Tatum's report appeared in the Tribune's opinion section, though it expressed very little of her own views. Without the first few paragraphs on her own "strong Christian upbringing," it could have appeared in the news section.
The article still outraged a lot of Jewish readers. "She has collected misinformation and outright falsehoods, and thus done great harm to the cause of interfaith understanding," said a letter to the editor from David Passman. "The Passover seder does not contain any Christian references, neither expressed nor implied, and it is an act of intellectual dishonesty to impose them. … The sooner the Messianic Jews have the courage to follow their beliefs through to their logical conclusion and convert to Christianity, the better off both communities will be."
Rabbi Ira Youdovin agrees. In an article published in yesterday's Tribune, in the same section as Tatum's original piece, he attacks the seders as the work of "fundamentalists [who] seek to co-opt an ancient Jewish ritual. … They appreciate Jews not for what they are as Jews, but for this caricatured identity as proto-Christians. This is highly offensive to Jews."
Interfaith seders are fine, says Youdovin, executive vice president of the Chicago Board of Rabbis and one of the leaders of the Council of Religious Leaders of Metropolitan Chicago (the group that warned that a Southern Baptist evangelistic campaign could lead to hate crimes). In fact, he says, they "have a significant place in American life" and are "an excellent vehicle" for teaching "that knowledge of Jewish life is a prerequisite for understanding Jesus and early Christianity." But such ceremonial meals, he says, must be "properly structured and conducted by knowledgeable Jews."
A bit of light news on Easter
Speaking of Jewish-Christian relations regarding holy days, yesterday's Easter ceremonies in Jerusalem were a lot more peaceful than some were expecting. (Orthodox Christians use a different calendar than Western churches, and celebrated Easter yesterday.) Israel was threatening to restrict attendance at the Church of the Holy Sepulcher's Holy Fire ceremony Saturday to only a few hundred people instead of the 10,000 or so that have attended in past years. Last year, a fight broke out between Greek and Armenian clergy over whose candle would be lit first, and church leaders began blowing out each others' candles. It's a sad, sad story, but the two sides were finally able to come to an agreement at the last minute this year, and 6,000 people worshipped peacefully—well, except for the pushing and shoving.
Related Elsewhere
Suggest links and stories by sending e-mail to weblog@christianitytoday.com
See our past Weblog updates:
April 25 | 24 | 23 | 22 | 21
April 17 | 16 | 15 | 14
April 11 | 10 | 9 | 8 | 7
April 4 | 3 | 2 | 1 | March 31
March 28 | 27 | 26 | 25 | 24
March 21 | 20 | 19 | 18 | 17
March 14 | 13 | 12 | 11 | 10
and more, back to November 1999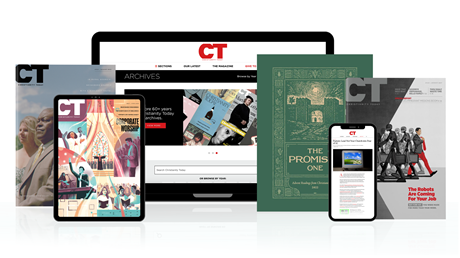 Subscribe to Christianity Today and get access to this article plus 65+ years of archives.
Home delivery of CT magazine
Complete access to articles on ChristianityToday.com
Over 120 years of magazine archives plus full access to all of CT's online archives
Subscribe Now
Christian Seders Accused of Being Anti-Jewish
Christian Seders Accused of Being Anti-Jewish