Supreme Court turns away Kentucky's Ten Commandments case
The Supreme Court yesterday rejected without comment Kentucky's appeal of a ruling forbidding a large granite display of the Ten Commandments on the Capitol grounds.
In 2001 and 2002, the Supreme Court rejected similar appeals from Indiana, where lower courts prohibited Ten Commandments monuments on the statehouse lawn and outside a city hall. That state, along with nine others, filed briefs supporting Kentucky's appeal. Since federal courts have given mixed rulings on Ten Commandments displays, many are eager for the Supreme Court to clear up the confusion. But it won't be with this case.
"I'm not entirely surprised that they didn't take this case," State Rep. Tom Riner (D-Louisville), told The Courier-Journal of Louisville. Riner, who wrote the legislation to place the monument on the Kentucky Capitol grounds in Frankfort, said the court probably passed because it's waiting for a case about posting the Ten Commandments in schools.
Or it may be that the Kentucky case would have to involve issues beyond simply whether the Ten Commandments can be posted on government property. After all, this monument gave special attention to the words "I AM the LORD thy God," and contained religious symbols, including two Stars of David and "a symbol representing Christ" (Reuters doesn't say what symbol).
Or the Supreme Court might just figure that it's made its decision already. In 1980, it voted 5-to-4 to throw out a Kentucky law that mandated posting the Ten Commandments in public schools.
The other possibility is that the Court is waiting for the most public of the debates: that launched by Alabama Supreme Court Chief Justice Roy Moore. The 11th U.S. Circuit Court of Appeals is considering his display now. At a seminar Saturday, Moore defended the display. "Liberty is not the freedom to act like a whatever out on the street. It's a freedom to do whatever you want within the laws of God," he said.
Anne Graham Lotz faints during rally
Elsewhere in Kentucky yesterday, evangelist Anne Graham Lotz fainted while speaking on "Jesus Is Our Lord" at Rupp Arena in Lexington.
"It's the devil. It's the devil," she told the 6,500 attendees when she regained consciousness. "I went out cold. I've been preaching for 27 years. Never has anything like that happened to me before." Then she used her fainting to illustrate the future's uncertainty. "The very next moment may be the moment we step into eternity and see him face to face," she said.
"A check-up by an on-site physician gave her every reason to believe the incident was an isolated incident," says Lotz's website.
More articles
Franklin Graham:
Missions and ministries:
Education:
Church and state:
Life ethics:
Persecution and religious freedom:
Interfaith relations:
Related Elsewhere
Suggest links and stories by sending e-mail to weblog@christianitytoday.com
See our past Weblog updates:
April 28
April 25 | 24 | 23 | 22 | 21
April 17 | 16 | 15 | 14
April 11 | 10 | 9 | 8 | 7
April 4 | 3 | 2 | 1 | March 31
March 28 | 27 | 26 | 25 | 24
March 21 | 20 | 19 | 18 | 17
and more, back to November 1999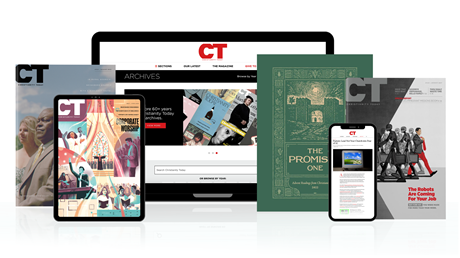 Subscribe to Christianity Today and get access to this article plus 65+ years of archives.
Home delivery of CT magazine
Complete access to articles on ChristianityToday.com
Over 120 years of magazine archives plus full access to all of CT's online archives
Subscribe Now
Supreme Court Shalt Not Hear Ten Commandments Case
Supreme Court Shalt Not Hear Ten Commandments Case