News of the fall of Baghdad blared loudly from the television in the bustling lobby of the Hotel Intercontinental. Journalists who had made the hotel their home for the first weeks of war crowded the room as they left for the Iraqi capital.
Aid agencies in the Jordanian capital saw it as a signal that the time for them to spring into action was drawing closer after weeks of fighting had kept them tied down.
Only hours before, in the meeting room of the Middle East Council of Churches' Amman offices, staff members stared in disbelief at TV images of American troops entering the centre of Baghdad without a fight, then expressed relief that the war was, basically, over.
The streets of Amman were quiet when the initial news broke that Baghdad had fallen. A taxi driver named Kurdi was thankful there was no battle for the city of Baghdad, fearing the bloodshed that would have come from street fighting. "We need peace in the region," the Jordanian said.
The relief was also felt in neighboring Syria. At St Mary's Syrian Orthodox monastery, an Iraqi family, who had been stranded at the monastery when the war broke out, was looking forward to finally returning home.
The family had gone to the monastery to meet a son who had been studying medicine in Sweden—without permission from Iraqi authorities. The Saddam Hussein regime had forbidden doctors to leave the country.
In another monastery, St George's, near the Syrian village of Tartous, about 50 people were preparing to return to Iraq. Among them was Edmon Esho, who had left Baghdad with his wife and three children to escape the violence of war. Like the other refugees in the monastery, Esho said the future in Baghdad looked uncertain. 
"We do not know whether our belongings and our car are still there when we come home," he said. He hoped civil unrest did not follow the war, aware that looting was rife in Iraqi cities after the collapse of the old regime.
The head of Diakonie, the main Protestant relief agency in Germany, had visited the refugees two days before, then had gone on to Jordan to join the meeting in Amman of members of Action by Churches Together (ACT), a global network of churches and relief organizations, in the Jordanian capital.
ACT has issued an appeal for emergency funds for Iraq. With this in mind, Rima Barsoum, coordinator of the Middle East Council of Churches in Hasake, Syria, said the council would be surveying the situation and preparing to send relief from Syria and Jordan within days. The greatest need right now is milk for babies and medicine, Barsoum said.
Earlier this week, Knut Eker, a Norwegian engineer who has been coordinating the activities of the Norwegian Church Aid (NCA) agency from Amman, was preparing for his journey home. Another contingent from Norway was scheduled to take over for Eker's group.
For two and a half months Eker had been overseeing the water supply and sanitary installation in a United Nations refugee camp situated on the Iraqi border of Jordan. The camp, run under the auspices of the U.N. High Commissioner for Refugees, was prepared to receive refugees, but none had arrived. "No Iraqi has come yet," confirmed Eker.
The NCA has been repairing sewage treatment plants in the Iraqi capital for years. Just before the war started, the agency sent four water processing plants to Iraq. Two are supplying the largest hospital in Baghdad which has been inundated with war wounded.
The agency was installing a water system at a hospital in the southern port of Umm Qasr on April 10, and afterwards was planning to install one in Basra, Iraq's second city. The Basra project had to be delayed earlier this week because of looting and the general state of security in the southern city.
From Geneva, ACT reported that a mine removal team from its member DanChurchAid was ready to move into Iraq. Five fully equipped demining vehicles were to be shipped to Kuwait at the weekend for later transport to Iraq to help defuse millions of pieces of lethal mines and ordinances that litter Iraq.
Related Elsewhere
For more coverage on the current conflict, commentary and thought on just war, or Christian debate, see our CTWar in Iraq archive. For relevant articles on the war from other news agencies, see CT's updated war links page.
A downloadable Bible study on the implications of war with Iraq is available at CurrentIssuesBibleStudy.com. These unique Bible studies use articles from current issues of Christianity Today to prompt thought-provoking discussions in adult Sunday school classes or small groups.
Recent related Christianity Today articles on the war with Iraq include:
Mixing Iraq Aid and the Gospel Stirs Debate | Critics say proselytizing can reflect negatively on other relief groups and governments. (April 4, 2003)
Evangelicals Plan to Minister to Iraqis' Needs—Physical and Spiritual | Evangelism efforts will join relief work, say Southern Baptist Convention and Samaritan's Purse. (March 27, 2003)
Relief Agencies Prepare to Help Iraqi Refugees | Meanwhile Christians in Baghdad fear the worst. (March 26, 2003)
Speaking Out: Where Do We Go From Here? | Now that the bombs are falling, we'll need to repair Iraq—and our nation's moral standing. (March 21, 2003)
CT Classic: Weeping over Baghdad | Desert Storm cost Iraq thousands of lives. At its conclusion, a Christianity Today editorial called for the church to deal with the living souls that remained. (March 21, 2003)
Keeping Their Heads Down | Vital but dwindling Christians face many pressures. (Nov. 8, 2002)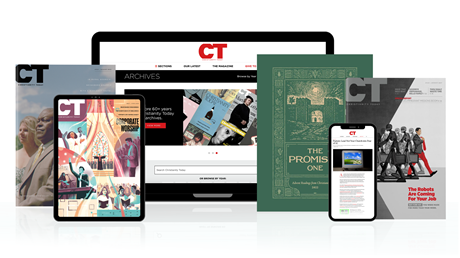 Annual & Monthly subscriptions available.
Print & Digital Issues of CT magazine
Complete access to every article on ChristianityToday.com
Unlimited access to 65+ years of CT's online archives
Member-only special issues
Subscribe
"As Baghdad Falls, Agencies Brace for Flood of Work"
"As Baghdad Falls, Agencies Brace for Flood of Work"