In the past two weeks, we've looked at ten reasons to know Christian History and ten "starter books" written by Christian leaders from our past. This week we provide our top ten "entry points" to the work of church historians.
Through monumental labor, these scholars have given us a wealth of insight into the church's history. But their work can seem, from afar (and even up close!) dense, dry, and unappetizing. A number of accessible roads can help us to bypass the obstacles and get right to the riches.
Educational theorists have noticed that every person has a slightly different learning style. Some of us are visual thinkers, some more verbal. Some connect with new material best through overviews, some through stories, some through charts or maps. Bearing this variety in mind, as well as the variety of interests, here are ten points of entry, or angles of approach, to the treasure house of Christian History. Each will appeal to different readers. We have recommended a few books under each heading.
1. Encyclopedias
Though often too expensive for personal purchase, comprehensive multi-volume sets can be found in many public and university libraries. Among these, for thorough, up-to-date coverage of the church's history no other series outshines the New Catholic Encyclopedia, just released in a revised version. The old (beginning of the twentieth century) standard on which this encyclopedia is based is available online at www.newadvent.org. The one-volume classic, now in its third edition, is F.L. Cross and E. A. Livingstone's The Oxford Dictionary of the Christian Church. This thorough, well-written source comes from an Anglican perspective. Costing just over $100, it falls within some budgets (compared to multi-volume sets, which can run over $1,000). For the early church, see Everett Ferguson, Encyclopedia of Early Christianity, second edition. For America, an excellent multi-volume set, containing longer articles on a wide range of denominations and topics, is Charles Lippy and Peter Williams, The Encyclopedia of the American Religious Experience. A one-volume standard that I use frequently is Daniel G. Reid, Dictionary of Christianity in America.
2. Charts and lists
For pure compactness of information, nothing beats Zondervan's series of chart-books. Although these are so compressed that they can sometimes prove misleading if used without further background reading, they can provide quick answers and context for such further reading. They are Robert C. Walton, Chronological and Background Charts of Church History, H. Wayne House, Charts of Christian Theology and Doctrine, and Susan Lynn Peterson, Timeline Charts of the Western Church. This last book is one long (over 300 pages) timeline, covering the church's whole history. It puts people and events in the context of theological trends and the wider culture, while pointing out the major primary texts associated with each person and church movement. All three of these are available in paperback. Also helpful is A. Kenneth Curtis, The 100 Most Important Events in Christian History, which describes each event in one or two pages.
3. Historical atlases
Some of us, like our executive editor Marshall Shelley, find maps a helpful entry point to the study of church history. Even better are maps accompanied by text explaining what you are seeing. A fascinating, though sometimes uneven, read in this genre is Franklin H. Littell, Historical Atlas of Christianity. For America, no one has outdone Edwin Gaustad, New Historical Atlas of Religion in America. This one shows at a glance the regional dominance of certain groups (the Baptist Deep South, the Methodist Upper South, and so forth) and the historical trends of groups—such as the radical shift from the eighteenth-century dominance of the older Established churches (Anglican, Congregational) to the rocketing nineteenth-century rise of the upstart evangelicals (Methodist, Baptist). The Penguin Atlases of ____ History (fill in the blank with Ancient, Medieval, Modern [late fifteenth century to Napoleon's fall], and Recent), though not focusing on church history, put many of its phases in context. These slim, cheap, but well-produced small-format paperbacks contain well-executed graphic maps accompanied by readable narrative text.
4. Surveys
Church history survey texts run from the short and highly accessible, such as Timothy Paul Jones, Christian History Made Easy, designed for adult Sunday School courses, to the hefty and detailed, like Kenneth Latourette's two-volume History of Christianity (also available in a one-volume edition, both editions in paperback) and Justo Gonzalez' two-volume, but somewhat less dense and scholarly The Story of Christianity (also paperback). A slim "outline" of church history, serving as a beginner's orientation, is Justo Gonzalez, Church History: An Essential Guide, at a mere 95 paperback pages. A highly readable one-volume survey that I often recommend is Bruce Shelley, Church History in Plain Language.
5. America
If you live in North America and want to know why there's a church on every street corner—and all of them different—or what makes your church's brand of faith distinctively "American," many readable sources await you. A new series aimed at young adults provides over a dozen accessibly written, well-illustrated individual volumes organized by topic, period, and group. This is the Oxford University Press's Religion in American Life series. Jon Butler, Grant Wacker, and Randall Balmer's Religion in American Life contains the text of the three chronological volumes in one.
If you want to dig deeper, a number of academic classics are still readable, though more detailed and interpretive. These include Nathan Hatch, Democratization of American Christianity, on the frontier period; George Marsden, Fundamentalism and American Culture, on the roots of modern American evangelicalism; Jay Dolan, The American Catholic Experience, on that confession's history in America; Albert Raboteau, Slave Religion, on the roots of the black church in America; and Grant Wacker, Heaven Below, a fascinating, finely textured look at the beliefs and culture of early Pentecostalism. For readers belonging to each tradition covered, these books contain some true "aha" moments.
6. Theology
Believe it or not, some authors have recently made the history of theology readable, and even (dare I say it) enjoyable. A good starting place is Roger Olson, The Story of Christian Theology. This is the first book I have seen (though there may be others) that presents the history of Christian theology as a story. Another writer who makes the complex clear in all his work is Alister McGrath. See his Christian Theology: An Introduction. McGrath has also edited The Christian Theology Reader, now in its second edition, including more than 300 excerpts from key theological documents through the centuries—this doesn't technically belong on this list, because it is a set of primary sources, but it is a helpful companion to either of the other books mentioned here.
7. Spirituality
The best short history of Christian spirituality I've found is Bradley Holt's Thirsty for God: A Brief History of Spirituality. Rather than list more, I strongly recommend that those interested in this "entry point" consult Eugene Peterson, Take and Read: An Annotated List. Peterson, one of the deans of the study of Christian spirituality, lovingly recommends his favorite books for those seeking to grow in their Christian lives. Sample chapter titles: "Basics," "Classics," "Novelists," "Saints," "Prayer," "Sin and the Devil." Each book receives a carefully written paragraph, detailing the things you really want to know about such books: the writer's personality and approach, the practical value of the book, and so forth. His selections provide windows into the thought and lives of some of the historical church's wisest teachers.
8. Topics
These are of course as wide as your interests. Just a few examples: On missions, see Ruth Tucker, From Jerusalem to Irian Jaya. On women in Christian History, see Ruth Tucker and Walter Liefeld, Daughters of the Church. On how the church (especially evangelicalism) has thought and acted about the end times, see Paul Boyer, When Time Shall Be No More. On Reformation-era martyrdom, a denser but fascinating book is Brad Gregory, Salvation at Stake. And so on. Many historical topics have been treated not only in dense scholarly tomes but also in more accessible books—often aimed at college students. For suggestions on topics covered by our magazine, see the "Recommended Resources" pages in each issue.
9. Biographies
Here I can only list a few of my favorites. Start with someone you want to know more about and check online reviews (you might also ask a pastor, professor, or well-read friend for recommendations). Kenneth Collins, A Real Christian: The Life of John Wesley. Charles Hambrick-Stowe, Charles Finney. Edith Blumhofer, Aimee Semple McPherson: Everybody's Sister. G. K. Chesterton, Aquinas. To get started, you might want to browse 131 Christians Everyone Should Know, by our own editors (my illustrious predecessors). Or again, check the "Recommended Resources" page in an issue of Christian History that features a favorite figure.
10. History-writing
For those who want to know how church history is made (as with sausage, the answer is sometimes: in messy ways!), our own issue 72: How We Got Our History is a good starting point.. If you are looking for more details or are interested in working on church history yourself, see James E. Bradley and Richard A. Muller's paperback, Church History: An Introduction to Research, Reference Works, and Methods. The true gem of this genre (though it covers the writing of history in general, not just church history) is Jacques Barzun and Henry Graff, The Modern Researcher, now in its sixth edition and available in paperback.
Chris Armstrong is managing editor of Christian History magazine. More Christian History, including a list of events that occurred this week in the church's past, is available at ChristianHistory.net.Subscriptions to the quarterly print magazine are also available.
Related Elsewhere
Christian History Corner appears every Friday at ChristianityToday.com. Previous editions include:
Top Ten 'Starter Books' | Get rooted in the Christian past with these riveting reads of primary sources. (April 4, 2003)
Top Ten Reasons to Know Christian History | War reports deluge us every hour. Why should we read "old news?" (Mar. 28, 2003)
Saint J. R. R. the Evangelist | Tolkien wanted his Lord of the Rings to echo the "Lord of Lords"—but do we have ears to hear? (March 14, 2003)
Iraqi Christians' Path of Persecution | Not heresy hunters, nor Islamic purges, nor even Mongol hordes could wipe Christianity from Iraq. (March 7, 2003)
Heresy, Salvation, and Jack the Ripper | Why heresy trials will have to do, until something better comes along (Feb. 28, 2003)
Hajj, Feasts, and Pilgrimage | Why Muslims, Jews, and Christians still yearn for their holy places. (Feb. 21, 2003)
Play Me That Hot Puritan Love Song | A little-read book of the Bible reminds us of the astonishing intimacy we enjoy with Christ (Feb. 14, 2003)
Iraq's Christians Caught in the Middle, Again | If the looming war breaks out, 350,000 Iraqi Christians will be caught in a West-East conflict eerily similar to 4th-century events. (Feb. 7, 2003)
Finding God in a Box | Have archaeological discoveries like the James ossuary served or obscured the quest to verify the Bible? (Jan. 31, 2003)
Sex, Politics, and the Bible | Some words just don't mean what they used to (Jan. 24, 2003)
Caveat Gyrator (Elvis Priestly, Part II) | So you've got an evangelistic pop-culture act ready for prime time. Here's a historical pause for reflection. (Jan. 17, 2003)
From Oratorios to Elvis | Pop culture has been coming to a church near you for hundreds of years (Jan. 10, 2003)
The Christian DNA of Modern Genetics | Though open to frightening ethical abuse, genetics has been a Christian vocation since Gregor Mendel did his famous pea-plant experiments in the mid-nineteenth century (Jan. 3, 2003)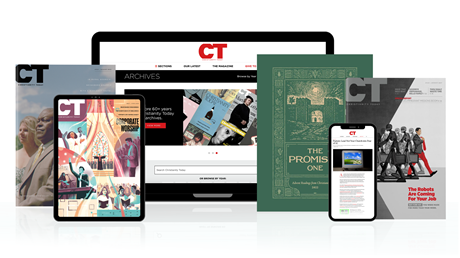 Annual & Monthly subscriptions available.
Print & Digital Issues of CT magazine
Complete access to every article on ChristianityToday.com
Unlimited access to 65+ years of CT's online archives
Member-only special issues
Subscribe
Top Ten Entry Points to Christian History
Top Ten Entry Points to Christian History