Sing Me To Heaven: The Story of a Marriage
Margaret Kim Peterson
Brazos Press
224 pages, $19.95
My God And I: A Spiritual Memoir
Lewis B. Smedes
William B. Eerdmans
198 pages, $20
In an e-mail message to some friends, I called Sing Me to Heaven an "AIDS memoir." It was useful shorthand, but it was misleading.
Sing Me to Heaven is instead (as the book's cover says) the "story of a marriage." But it is the story of a compressed marriage in which the presence of HIV and then AIDS is a constant reminder that this marriage will be short, one into which much emotional intimacy and mutual discovery and reciprocal caring must packed.
In so many of our marriages, we act like we have decades to get to know each other and to take the risks of self-disclosure. If a particular personal revelation is too challenging or an annoying habit is too difficult to talk about today, we discuss something else—or see what's on TV. Our marriages lack intention, and procrastinate our relationships to death.
Margaret and Hyung Goo Kim could not afford to dawdle. They had four years, not forty.
The title of the first chapter, "The Most Beautiful of Absolute Disasters," sets the tone for the book's fundamental puzzle: How is it possible to experience goodness in the midst of evil? Margaret Kim Peterson testifies repeatedly that it is indeed possible. "Alongside the awfulness … our marriage bloomed, like a little flower in the midst of a desert," she writes. AIDS, she says, was not good. But "the particular good that Hyung Goo and I experienced together in the midst of AIDS" could not have been obtained "in any other way."
As Hyung Goo was dying, she writes, "We had had a table prepared before us; even death standing there looking at us couldn't take away all that we had received and enjoyed together…. The goods of marriage were present more intensely in that hospital room than they had ever been before."
The author never "solves" the problem of experiencing good in the midst of evil, but she writes with such gratitude for the experience that it should drive us to focus on "counting our blessings."
Someone else, just as blessed and just as cursed, might tell a parallel story with gloom. But even though her story repeatedly moved me to tears, it was not with melancholy, but with wonder at the sheer depth of human experience.
Margaret Kim Peterson is a theologian, and while she was tending to Hyung Goo's many needs, she was also pursuing a doctorate at Duke. "I wanted to study theology," she wrote, "because theology is about everything, and I liked thinking about everything."
And so this theologian shares gospel truths she has mined from her life with Hyung Goo. In him, she writes, "I saw the weak made strong and the poor made rich. … Here were all the reversals so central to the gospel: life in the midst of death, healing in the midst of illness, thankfulness in the midst of loss, strength made perfect in weakness. This was what redemption looked like … ." And later she observes, "Redemption is not compensation but transformation."
This is a book rich in specific detail (when Hyung Goo died, Margaret calculated that she had 12,000 capsules and tablets of prescription medicine in their house). You will learn much about AIDS, about the difficulty of talking with friends and family about the infection, and about the impact of being caught in the rhetorical crossfire between cultural conservatives (with whom this couple shared their theology and ethics) and the gay community (with whom they shared the experience of a disease). But above all, you will be drawn to reflect on and learn more about marriage.
Seeking God's face
Sing Me to Heaven is an utterly honest memoir written by a theologian who takes comfort in God's sovereignty. The late Lewis Smedes's My God and I is its equal in astonishing honesty. But though he was a theologian trained in the Dutch Calvinist tradition, Smedes could take no comfort in its teachings about God's meticulous providence.
With characteristic economy, Smedes explains, "About four years into our [decade at Calvin College], Doris gave birth to a beautiful baby boy who died before he had lived the whole of a day. God's face has never looked the same to me since."
Although this tragic death moved Smedes to deny God's meticulous providence, he never formulated an alternative theory of how evil fits into the story of God. He emphatically rejected the Process Theology that was the fashion in those years. "I would rather have my problems with the God who created the world," he wrote, "than solve my problems by trading him in for a God who is being created by the world."
Lew Smedes was a theologian who sought the face of God rather than the facts of God. And that is the point of this book. The book's title is ironic. "My God and I" is also the name of a Latvian song that celebrates the sweetness of divine-human communion: "My God and I walk through the fields together. We walk and talk as good friends should and do." This was Smedes's goal, but a goal he never realized. Other Christians had it. He didn't. And that pained him deeply.
As a youth, Smedes believed he must be one of the reprobate. Once he shed his belief that God predestined some people to damnation, he lived with a melancholy conviction that God probably didn't really like him. What made Smedes's life with God bearable was his wife's faith. "One reason that I have clung to my veiled God is that my transparent wife has clung to me… . Walking with God has been for me inseparable from walking with Doris."
She seems to have been the perfect wife for this neurotic theologian: "She was too smart to try to convince me that I was really a fine fellow; her method was to persuade me that if I had to be the kind of nut who gets a kick out of beating on his own soul, I should resign myself to my own wackiness and trust that God has grace for fools as well as for sinners."
My God and I is a sad book, because even in his later years, Smedes was looking for an experience of God. A chapter near the end of the book is titled, "God and I, Almost Friends." He made it a goal of retirement to deepen his friendship with God, but seven years after leaving the classroom, he wrote, "God and I are still not what you would call close friends. What is taking us so long?" And yet, this frustrated hope was framed in gratitude—even down to his gratitude to God for his antidepressant. "God … comes to me each morning and offers me a 20-milligram capsule of Prozac. With this medication he clears the garbage that accumulates in the canals of my brain overnight and gives me a chance to get a fresh morning start."
This account of Smedes's unfulfilled search for God's face should give comfort to melancholic Christians who cannot see their own reflections in the warm and joyous communion described by more upbeat believers. For Lew Smedes was without a doubt an authentic follower of Jesus. And knowing God as we are known by God is, after all, reserved for eternity.
One fruit of Smedes's authentic faith was his ability to be a bridge person. Among his Calvinist co-religionists, Smedes found people of the gap and people of the bridge, believers who focused on the chasm created by doctrinal and behavioral differences with others and believers who felt compelled to bridge that gap. When Harper published Smedes's first book on forgiveness in 1986, he was featured on talk shows and the book sold briskly in secular bookstores. It was the wisdom of a bridge person who, for all his searching for God, nevertheless had God's heart for reconciliation. Unfortunately, his impulse for reconciliation sometimes outran his wisdom, as when late in life he urged his church to find a way to compromise with the needs of gay couples just as it had earlier adjusted to the realities of divorce.
Lew Smedes's theology was never tidy, but his heart was true. Though he never felt a friend of God, he was always a minister of reconciliation. And he was precisely the kind of person you would want to spend eternity with.
Related Elsewhere:
Sing Me to Heaven and My God and I are this month's selections for CT's Editor's Bookshelf. Elsewhere on our site, you can:
Read an extended interview with Margaret Kim Peterson.
Read an excerpt fromSing Me to Heaven.
Read an excerpt fromMy God and I.
Buy Sing Me to Heaven and My God and I online.
Previous Christianity Today articles by or about Lewis B. Smedes include:
Lewis Smedes Dead at 81 | Theologian and ethicist noted for his writings on forgiveness. (December 20, 2002)
Hurt, Hate, and Healing | A 1985 interview with Lewis Smedes. (Dec. 20, 2002)
How to Deal With Criminals | Is there a biblical principle behind the punishment of those who break the law? (July 8, 2002)
Keys to Forgiving | How do you know that you have truly forgiven someone? (Dec. 3, 2001)
Who Are We to Judge? | Did Jesus forbid us from judging others? (Oct. 8, 2001)
Can God Reach the Mentally Disabled? | Are mentally challenged adults whose intellectual age is probably that of a 1-year-old sheltered under God's salvation? (March 21, 2001)
The Forgiveness Factor | Social scientists like Robert Enright are discovering the healing power of a Christian virtue. (Jan. 10, 2000)
Is Suicide Unforgivable? | What is the biblical hope and comfort we can offer a suicide victim's family and friends? (July 6, 2000)
Forgiveness—The Power to Change the Past | To forgive is to set a prisoner free and discover that the prisoner was you. (Jan. 7, 1983)
Arguments in Favor of Abortion Are Strong … | … if you accept one all-important assumption. (July 15, 1983)
Editor's Bookshelf
David Neff was editor in chief of Christianity Today, where he worked from 1985 until his retirement in 2013. He is also the former editor in chief of Christian History magazine, and continues to explore the intersection of history and current events in his bimonthly column, "Past Imperfect." His earlier column, "Editor's Bookshelf," ran from 2002 to 2004 and paired Neff's reviews of thought-provoking books and interviews with the authors.
Previous Editor's Bookshelf Columns: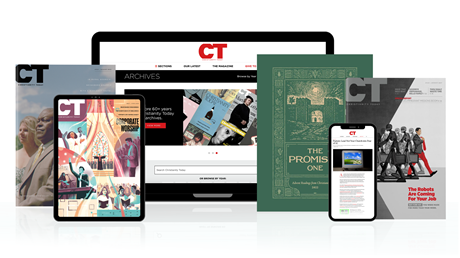 Subscribe to Christianity Today and get access to this article plus 65+ years of archives.
Home delivery of CT magazine
Complete access to articles on ChristianityToday.com
Over 120 years of magazine archives plus full access to all of CT's online archives
Subscribe Now
Thanks for the Memoirs
Thanks for the Memoirs