Moscow court convicts Andrew Okhotin of attempted smuggling
The good news is that Harvard Divinity School student and Baptist youth pastor Andrew Okhotin is free to leave Russia and will not be imprisoned on apparently trumped up smuggling charges. The bad news is that he isn't free to leave Russia with the $48,000 he brought into the country for local churches.
In late March, Okhotin arrived in Moscow with the money, a gift from American churches to the International Union of Churches of Evangelical Christian Baptists in Russia. Giving money to Baptist churches is not a crime. Bringing $48,000 into Russia is not a crime. But Okhotin, confused in part by instructions from an airline attendant, accidentally chose the green "nothing to declare" corridor at the Moscow airport instead of the red corridor.
Okhotin says he wasn't trying to avoid the correct customs corridor—he had his paperwork filled out, and expected to have it stamped. Indeed, when customs agents approached him, he handed the paperwork over and answered their questions.
But Friday, a Moscow court said he was acting "secretly" and that his "being afraid" was evidence that he was trying to commit a crime.
"The court does not trust the testimony of the defendant, and believes that his statements were made with the goal of avoiding punishment for a crime and ensuring the return of the smuggled money," Judge Igor Yakovlev said. "The government has to control all the money that's brought into the country… . Because Okhotin was trying to hide the money, his actions were against the economic interests of the Russian Federation."
The real crime, says Okhotin and his supporters, is that the custom agents demanded a $10,000 bribe—a charge Yakovlev didn't even address in his ruling. (In July, at the same airport used by Okhotin, three border guards were arrested and accused of taking bribes to allow wanted criminals to leave Russia on fake passports," Religion News Service reports. "On Thursday, six Moscow police officers were charged with taking part in an extortion and contract murder racket.")
"I saw [corruption] all the way along, but I hoped that the court would put an end to that," Okhotin told The Moscow Times after the ruling. "Today I saw that the court endorses illegality."
He told Russian news site Portal-credo.ru (translated by Stetson University's Paul D. Steeves), "The legal system has covered up the iniquity of the customs agents. The court did not believe my testimony, believing the testimony of the customs agents, and the customs agents refused to hand over the video tapes because the tapes contradict their testimony."
As expected, Yakovlev gave Okhotin a six-month suspended sentence, allowing him to return to the U.S. Prosecutors had earlier suggested that they would seek the five-year maximum penalty. But Yakovlev said Okhotin deserved light treatment in light of his "exceptionally positive character references" and the fact that he has to support his 9-month-old daughter.
Eh? Daughter? Yakovlev apparently confused Okhotin, who has no children, with his brother, who lives in Moscow.
"This just shows their [lack of] attention to details," Okhotin told The Boston Globe. "If they wrote the verdict with so much diligence that they ascribed a child to me, no wonder they ascribed some other things to me as well."
Indeed, says his lawyer Vladimir Ryakhovsky, who plans to appeal the verdict to get back the money, which now belongs to the state. "He didn't break any law, he only broke customs procedures," he said.
The story is bigger than just one lone missionary. Baptist churches in Russia have faced wide persecution from the state and from the Russian Orthodox Church. "If he had brought contraband money here for the sake, let's say, of official religions, nobody would have said a word, but since this is for the sake of believers who have always been hounded and who do not yield before the authorities, then they do everything possible to get him out of the country and to seize the money for themselves," Okhotin's brother told Portal-credo.ru. To The Moscow Times, he was even more direct: "If he had carried drug money for the needs of the Orthodox Church, they wouldn't have said a word."
Related Elsewhere
Suggest links and stories by sending e-mail to weblog@christianitytoday.com
Check out Books & Culture's weblog, Content & Context.
See our past Weblog updates:
August 22 | 21 | 20 | 19 | 18
August 15 | 14 | 13 | 12 | 11
August 8 | 7b | 7a | 6 | 5 | 4
July 30 | 29 | 28
July 25 | 24 | 23 | 22 | 21
July 18 | 17 | 16 | 15 | 14
July 11 | 10 | 9 | 8 | 7
and more, back to November 1999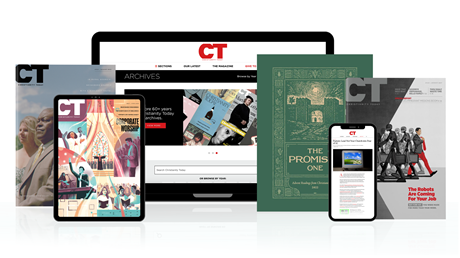 Subscribe to Christianity Today and get access to this article plus 65+ years of archives.
Home delivery of CT magazine
Complete access to articles on ChristianityToday.com
Over 120 years of magazine archives plus full access to all of CT's online archives
Subscribe Now
Russian Kangaroo Court Convicts American Missionary
Russian Kangaroo Court Convicts American Missionary