As fight continues, so will media commentary
It may appear that the church vs. state battle in Alabama is over. Roy Moore's Ten Commandments monument, moved yesterday from the state judicial building's rotunda, sits in a locked storage room. Alabama's attorney general says it will be removed from the grounds by the end of the week. In addition, a federal judge in Mobile has dismissed the lawsuit filed by the Christian Defense Coalition in Washington.
But Moore says the fight isn't over. Protesters are still holding prayer vigils. Supporters wearing Ten Commandment shirts plan to stand where the monument was. James Dobson and Alan Keyes are expected to speak today at a noon rally on the building's steps. And the Christian Defense Coalition plans to refile its suit today, saying that the monument's removal violated freedom of religion.
There's also no indication that this issue is going to go away in the media anytime soon. It's hard to count all the headlines on the monument's removal yesterday. (But one thing you can count is the number of major articles quoting media darling Barry Lynn: Four.) Opinion pieces on Roy Moore's church and state battle may outnumber the news stories. And look for commentary on church/state matters to continue now that it is at the forefront of media attention.
Most editorials decry Moore's defiance and congratulate Alabama's stand against blurring church and state lines. Alabama papers Mobile Register and The Birmingham News seem relieved that the monument is gone and Moore is no longer standing in defiance. The News says, "The pivotal question in this dispute wasn't whether the monument was wrong or right, but whether Moore would obey a court's command. Moore failed the test."
The Misguided Editorial of the Week award goes to Eric Mink of the St. Louis Post-Dispatch. Mink starts by noting that most of the protesters in Alabama are not from the state but have traveled in to support the fight. This, he says, is happening at the same time as Islamists are streaming into Iraq to wage holy war on the United States.
Mink admits that this is a bad comparison. "It would unwise, not to mention unfair, to compare too closely the radical Islamists, who have come to Iraq to kill and maim combatants and innocents, with the fundamentalist Christians of good conscience peacefully protesting in Montgomery."
But then he spends the rest of the column doing exactly that. He argues that both groups of "crusaders" believe that anyone holding different views are not mistaken but are simply infidels. While he argues that the spirit of tolerance and freedom of choice is not present in the Alabama protests, isn't that what the Christians there are arguing for?
In the Chicago Tribune, columnist Steve Chapman writes that if Alabama were really to enforce God's laws, there would be a lot of changes.
Most of the problems would be with breaking the First Commandment: "You shall have no other gods before me." Admiration for legendary coach Bear Bryant would be targeted first. In fact, "a systematic campaign of prosecution may be needed to rid the state of all basement shrines to Crimson Tide football, which apparently are considered as essential as indoor plumbing."
(See several other news and opinion articles on the Ten Commandments below.)
Charges dropped in ELCA youth retreat rape case
The tragic story of rape at a Lutheran youth retreat in Issaquah, Washington, just got even sadder. Prosecutors recently dismissed with prejudice charges against a 17-year-old accused of twice raping a 14-year-old Alaskan girl during the "Rainbow of Gifts" leadership conference attended by about 120 high school students.
"The prosecutors do not believe they could prove a crime was committed," Dan Donohoe, press secretary for the King County prosecuting attorney's office, told The Seattle Times. "Additional information" surfaced last week, he said. He didn't elaborate, but the boy's attorney said the girl recanted.
Donohoe noted that rape charges against two other teens still stand, but defense attorney Dennis McGuire, who represents one of the boys, told the Seattle Post-Intelligencer that there are "additional reasons to question the veracity of the girls' stories."
Indeed, with this girl's recantation, the other girls' stories are problematic. They said that they only came forward with their stories after they found out she was raped the second time.
Whether or not the rapes happened, these kids are facing great injustice. The question is: which kids?
More articles
Ten Commandments opinion:
Autistic boy's death in healing service:
Anglican Church, post-gay bishop:
The Passion:
Islam:
Suggest links and stories by sending e-mail to weblog@christianitytoday.com
Check out Books & Culture's weblog, Content & Context.
See our past Weblog updates:
August 27 | 26 | 25
August 22 | 21 | 20 | 19 | 18
August 15 | 14 | 13 | 12 | 11
August 8 | 7b | 7a | 6 | 5 | 4
July 30 | 29 | 28
July 25 | 24 | 23 | 22 | 21
July 18 | 17 | 16 | 15 | 14
and more, back to November 1999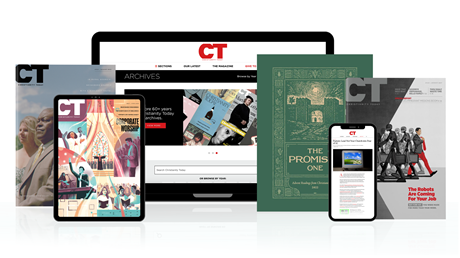 Subscribe to Christianity Today and get access to this article plus 65+ years of archives.
Home delivery of CT magazine
Complete access to articles on ChristianityToday.com
Over 120 years of magazine archives plus full access to all of CT's online archives
Subscribe Now
Roy Moore—I'll Keep Fighting
Roy Moore—I'll Keep Fighting