Los Angeles Times examines Haiti's now-official Voodoo
As Weblog noted in April, Haiti President Jean-Bertrand Aristide, a former Catholic priest, has made Voodoo an officially recognized religion. Now, the Los Angeles Times reports, Voodoo priests or houngans soon will "be authorized to perform any civil service a Roman Catholic priest can, officiating at births, marriages and funerals."
"Voodoo has done everything for Haiti," Adnor Adely, a Voodoo priest, told the Times. "It gave us our independence, while the imported religions held us by the throat. We owe this to Aristide. He can be considered the president of Voodoo."
Voodoo has been legal in Haiti since the 1987 Haitian constitution. Given Voodoo's deep history and standing in Haiti, Aristide's move could be as much about political advantage as about freedoms. He is rumored to be attempting to change the nation's constitution in order to remain in office for a third term. He may now have the necessary support.
"Aristide is the only president in our history who has done something for us," said Adely. "We will stay with him forever and perform every ceremony necessary to keep him in power. We will not negotiate with any country on this, no matter how much pressure they put on us. We will eat rocks if we have to, as long as we can keep him in power."
The Catholic community in Haiti condemned Aristide's decision. In a statement, the bishop of Port-au-Prince, Msgr. Joseph Lafontant, said that giving Voodoo official status was "excessive." He also said that the application of the decree, that Voodoo priests can lead civil ceremonies and baptisms, is "an obvious mistake."
ELCA responds to youth convention rape charges
Yesterday, Weblog noted the arrest of three teens charged with rape an Evangelical Lutheran Church in America youth retreat at Trinity Lutheran College in Issaquah, Washington. Weblog could not find a statement posted at the websites of the ELCA or its regional headquarters, but yesterday afternoon received the following statement via e-mail from ELCA Communication Director Eric C. Shafer:
We were distressed to learn of the crimes that have been charged this week against participants at the "Rainbow of Gifts" event at Trinity Lutheran College, Issaquah, Wash. We are shocked that such behavior could occur at a youth leadership event, and we have taken immediate action to respond to this incident.
The Evangelical Lutheran Church in America (ELCA) takes matters such as these very seriously. ELCA personnel on the scene are cooperating fully with law enforcement authorities investigating this matter.
At the same time, the ELCA is providing pastoral support to those who were hurt, to those who have been accused and to those who are continuing at the conference at Trinity Lutheran College. We offer our concern and prayers for all involved. We pray especially that the healing power of the Holy Spirit will bring comfort to the young people affected, as well as their families and friends.
More articles:
Earlier articles on Gene Robinson that haven't yet been included in Weblog:
Other stories on the Episcopal Church:
Sexual ethics:
Gay clergy:
Gay marriage:
Baylor University:
Mel Gibson's The Passion:
Deaths and obituaries:
Related Elsewhere:
Christianity Today's updated full coverage of the continuing Roy Moore Ten Commandments controversy includes:
Weblog: Roy Moore Given August 20 Ultimatum on Monument | Moore's Ten Commandments ordered to be removed by August 20. (August 6, 2003)
Weblog: 'Ten Commandments Judge' Loses Appeal | Alabama Supreme Court Ten Commandments display ruled unconstitutional. (June 2, 2003)
Weblog: In Alabama Supreme Court Decision, Chief Justice Roy Moore Rants Against Homosexuality | Moore: "Homosexual conduct is … considered abhorrent, immoral, detestable, a crime against nature, and a violation of the laws of nature." (Feb. 22, 2002)
Weblog: U.S. District Court Orders Removal of Ten Commandments | Alabama Chief Justice Roy Moore loses Ten Commandments case (Nov. 19, 2002)
Weblog: Letter Calling Ala. Chief Justice Roy Moore a 'Lone Religious Nut' Becomes Focus of Trial | Ten Commandments battle gets personal and ugly. (Oct. 3, 2002)
Ten Commandments Judge Praised and Panned | Roy Moore fulfills a campaign promise with a 5,280-pound granite monument. (November 29, 2001)
Alabama Justice Unveils 5,280 Pounds of Godliness | Moore doesn't hang the commandments—he hauls them in (August 16, 2001)
Ten-Commandments Judge Aims for High Post | After taking on the ACLU, Moore is now a nominee for the Alabama Supreme Court. (August 1, 2000)
Article continues below
Hang Ten? | Thou shalt avoid Ten Commandments tokenism. (Mar. 3, 2000)
Ten Commandments Judge Cleared | Roy Moore's integrity confirmed regarding legal fund. (Oct. 25, 1999)
Ten Commandments Judge Looking for Federal Fight | Does courtroom display defy separation of church and state? (Dec. 12, 1997)
Also, CT ran a story in November 2000, on the role churches played in opposing the Alabama lottery initiative, and a Chuck Colson column called Beating the Odds in January.
CT's sister publication Christian Reader published an interview with Moore entitled Are the Ten Commandments Unconstitutional?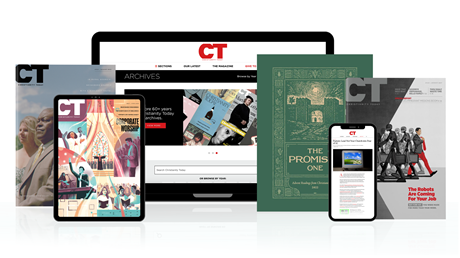 Annual & Monthly subscriptions available.
Print & Digital Issues of CT magazine
Complete access to every article on ChristianityToday.com
Unlimited access to 65+ years of CT's online archives
Member-only special issues
Subscribe
"Weblog: Voodoo Weddings, Funerals to Be Official"
"Weblog: Voodoo Weddings, Funerals to Be Official"