Newly confirmed bishop-elect Gene Robinson's dark night of the soul lasted 24 hours as church officials considered last-minute allegations against him and then declared him innocent.
Now a different dark night begins for conservative Episcopalians who warned repeatedly that, in confirming the openly homosexual priest as the ninth bishop of New Hampshire, the Episcopal Church is breaking with historic Christian orthodoxy and with the majority of 72 million Anglicans across the world.
Robinson needed 54 votes from among 107 bishops with jurisdiction—bishops in charge of dioceses—to be confirmed. He won 62. Immediately after Presiding Bishop Griswold announced the vote's results at just after 7 p.m. Thursday, nearly 20 bishops walked to the front of the room to affirm a statement read aloud by Bishop Robert Duncan of the Diocese of Pittsburgh.
"With grief too deep for words, the bishops who stand before you must reject this action of the 74th General Convention of the Episcopal Church," Duncan said, his voice breaking with emotion. "As faithful Episcopalians and members of this house, we are calling upon the Primates of the Anglican Communion, under the presidency of the Archbishop of Canterbury, and in accordance with Lambeth Resolution III.6 (b), to intervene in the pastoral emergency that has overtaken us.
"May God have mercy on his church."
An investigation led by Bishop Gordon Scruton of the Diocese of Western Massachusetts cleared Robinson of last-minute allegations made by David Lewis of Manchester, Vermont. Lewis had written to Bishop Thomas Ely of Vermont that Robinson had touched him inappropriately during a regional conference.
Scruton determined, from talking to Lewis via conference call, that Robinson had touched Lewis's arm, right hand, forearm, and back, which Lewis found overly familiar.
Scruton, who referred to Lewis repeatedly only as "the individual," said Lewis acknowledged that other people could consider the gestures perfectly normal. Scruton said he asked Lewis twice if he wished to bring a formal charge of harassment, and Lewis declined.
The American Anglican Council (AAC) also had raised concerns about the Internet content of Concord Outright, an organization Robinson helped found. Links from the Concord chapter's section of Outright.org led to other websites that featured explicit sexual content. On Monday, Outright.org removed all links from the Concord chapter's section of the website.
Scruton said he reviewed a CD-ROM, provided by an AAC official, of explicit images that were accessible on sites linked from Outright's website. Outright.org said in a news release that its Portland chapter had compiled all the links.
Scruton said that Robinson ended his involvement with Outright in 1998 and that Outright developed the website in 2002.
"I see no evidence that Canon Robinson was aware of or involved with the website," Scruton said.
After Scruton's presentation, the bishops spent 30 minutes in an Ignatian style of private discussion. First they prayed for what Presiding Bishop Frank Griswold called "interior freedom" and "deliverance from anxiety and bias." At one table, bishops held hands as they prayed.
Then they talked for 15 minutes about reasons for not approving Robinson, and for another 15 minutes about reasons for approving him. Many bishops looked on intently or took notes as a tablemate spoke. When they finished the exercise, Griswold encouraged the bishops to take mental note of which reasons were based in fear and which were based in hope and confidence.
During one hour of open discussion, a number of liberal bishops stressed that the house should not fear the consequences of approving Robinson.
"As I looked over my lists, I noticed that the reasons not to confirm were much longer than the reasons to confirm," said Bishop Ted Eastman, retired from the Diocese of Maryland. But the reasons not to confirm were "tinged with fear," he said, while the other reasons were those of "hope and promise."
"I realize what a moment this is—what a difficult moment this is for some of you," Griswold said after he announced the vote.
Douglas LeBlanc is an associate editor of Christianity Today.
Related Elsewhere
See LeBlanc's earlier dispatches from the General Convention:
The Bitter Harvest of Sexual Ideology | No one wanted the Gene Robinson bishopric debate to take this sad turn (August 5, 2003)
Deputies Slice into the Gordian Knot | The Episcopal Church's House of Deputies approves Gene Robinson as New Hampshire Bishop. The House of Bishops will vote today. (August 4, 2003)
Praise the Lord and Pass the Condoms | Southern Hemisphere primates warned that approving Gene Robinson would place the church outside most of the world's 72 million Anglicans. "You'll get over it," responded about 60 percent of the House of Deputies. (August 4, 2003)
Gene Robinson Takes Questions in a Church called Gethsemane | Speaks on reparative therapy, potential schism, and whether he really "/left" his wife for his male lover. (August 4, 2003)
Article continues below
What in the World Is God Doing? | For Episcopalians, the night may be darkest before the dawn. (August 4, 2003)
Integrity Doles Out God's Not-So Inclusive Love | The Integrity Eucharist has become a triennial sort of mass pity party. (August 1, 2003)
Gay Rites Would Not Bless Ecumenism | Could also impair Anglican work overseas. (August 1, 2003)
Gene and Me | My history with the openly gay man elected bishop of Rochester. (July 31, 2003)
More coverage of the General Convention is available from the ECUSA website, which has streaming video. Conservative and orthodox perspectives are available from Classical Anglican Net News, the American Anglican Council's A Place to Stand, and David Virtue's Virtuosity.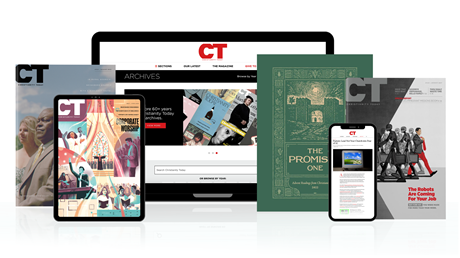 Annual & Monthly subscriptions available.
Print & Digital Issues of CT magazine
Complete access to every article on ChristianityToday.com
Unlimited access to 65+ years of CT's online archives
Member-only special issues
Subscribe
Dispatch: Darkness in the Afternoon
Dispatch: Darkness in the Afternoon