The day after they confirmed Gene Robinson as the first openly gay man to be elected into the Episcopal Church's House of Bishops, the bishops on Wednesday drew back from authorizing an official rite for blessing relationships like Robinson's.
But for the first time in the Episcopal Church's nearly three-decade debate on homosexuality, the bishops said that local experiments in same-sex blessing rites are "within the bonds of our common life."
The bishops also authorized "compilation and development of resources, under the direction of the Presiding Bishop, to facilitate as wide a conversation of discernment as possible throughout the church."
On Wednesday afternoon the bishops discussed Resolution C051, which proposed that the Standing Commission on Liturgy and Music (SCLM) prepare rites for blessing same-sex unions. Under that resolution, the church's next General Convention would consider the rites in 2006 for possible inclusion in Enriching Our Worship, a book of supplemental rites that congregations may use with a bishop's permission.
Inclusion in Enriching Our Worship would have been more than advocates of same-sex rites originally sought. Claiming the Blessing, a movement pressing for such rites, had asked only that the rites be included in The Book of Occasional Services. Enriching Our Worship, unlike The Book of Occasional Services, includes alternative rites for central services, such as the Holy Eucharist.
Bishop Peter Lee of the Diocese of Virginia proposed striking the paragraph that called on the SCLM to prepare rites for Enriching Our Worship. Bishop John Chane of the Diocese of Washington, a leading advocate for blessing same-sex unions, quickly endorsed Lee's amendment, as did many other liberal (and some conservative) bishops.
Some bishops said they supported the amendment because they wanted to be sensitive to other provinces of the Anglican Communion.
"I am mindful that our actions here do have an impact around the world," said Bishop Mark Sisk of the Diocese of New York. "Growth that takes place too fast can lead to weakness."
Bishop John Lipscomb of the Diocese of Southwest Florida said the amended resolution could enable conversations with people who would otherwise leave the Episcopal Church.
But Otis Charles, who disclosed his homosexuality after retiring, chided his fellow bishops, saying they cannot understand what it's like for gays and lesbians to feel diminished by debates about their lives.
"This conversation is demeaning, and it undermines the life of this church," Charles said.
Bishop James Jelinek of Minnesota also resisted Lee's amendment. "I think we've talked about talking about blessing same-sex unions for a very long time," he said. The Episcopal Church discovers its theology, he said, by first attempting to put it into prayer.
Bishop John Croneberger of the Diocese of Newark also opposed the amendment, saying the church needs a uniform, centrally prepared rite for blessing same-sex unions. "Heterosexual people do not have to find or make up their own liturgies," Croneberger said.
Bishop Edward Little of the Diocese of Northern Indiana, a conservative, also supported the amendment, saying it would help him meet pastoral needs. Little told of talking with a gay man just before General Convention, who told him, "When you cast your vote, I want you to see my face." Little said the amended resolution would enable him to "greet him with open arms as a brother in Christ."
Bishop Charles Bennison of the Diocese of Pennsylvania tried twice to restore a specific reference to the SCLM, but he failed both times.
Instead, Lipscomb succeeded in recommending that the Presiding Bishop's office oversee whatever resources the church officially circulates for the next three years.
After the bishops approved the resolution, the Rev. Susan Russell of Claiming the Blessing repeated the analogy she chose at the previous General Convention in 2000. "It's not the whole enchilada, but there's a lot of guacamole there for me," she said.
She praised Bishop Wayne Smith of Missouri for changing a reference from "homosexual persons" to "gay men and lesbians."
"It's important to me because I'm taken seriously enough to name myself," she said.
Douglas LeBlanc is an associate editor of Christianity Today.
Related Elsewhere
See LeBlanc's earlier dispatches from the General Convention:
Darkness in the Afternoon | Openly homosexual Episcopal priest cleared of misconduct, confirmed as bishop (Aug.
The Bitter Harvest of Sexual Ideology | No one wanted the Gene Robinson bishopric debate to take this sad turn (Aug. 5, 2003)
Deputies Slice into the Gordian Knot | The Episcopal Church's House of Deputies approves Gene Robinson as New Hampshire Bishop. The House of Bishops will vote today. (Aug. 4, 2003)
Praise the Lord and Pass the Condoms | Southern Hemisphere primates warned that approving Gene Robinson would place the church outside most of the world's 72 million Anglicans. "You'll get over it," responded about 60 percent of the House of Deputies. (Aug. 4, 2003)
Article continues below
Gene Robinson Takes Questions in a Church called Gethsemane | Speaks on reparative therapy, potential schism, and whether he really "/left" his wife for his male lover. (Aug. 4, 2003)
What in the World Is God Doing? | For Episcopalians, the night may be darkest before the dawn. (Aug. 4, 2003)
Integrity Doles Out God's Not-So Inclusive Love | The Integrity Eucharist has become a triennial sort of mass pity party. (Aug. 1, 2003)
Gay Rites Would Not Bless Ecumenism | Could also impair Anglican work overseas. (Aug. 1, 2003)
Gene and Me | My history with the openly gay man elected bishop of Rochester. (July 31, 2003)
More coverage of the General Convention is available from the ECUSA website, which has streaming video. Conservative and orthodox perspectives are available from Classical Anglican Net News, the American Anglican Council's A Place to Stand, and David Virtue's Virtuosity.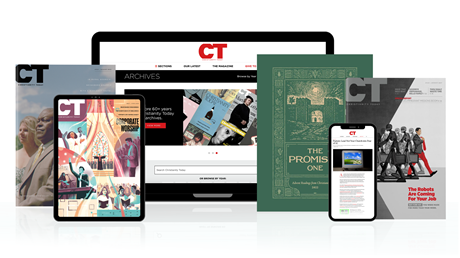 Annual & Monthly subscriptions available.
Print & Digital Issues of CT magazine
Complete access to every article on ChristianityToday.com
Unlimited access to 65+ years of CT's online archives
Member-only special issues
Subscribe
Dispatch: Bishops Sanction Local Same-Sex Blessings
Dispatch: Bishops Sanction Local Same-Sex Blessings