The 2.1 million U.S. Episcopalians will have to ponder three urgent questions now that their General Convention in Minneapolis has approved the election of an openly homosexual cleric as next bishop of New Hampshire:
Will their tiny denomination (there are fewer Episcopalians now than convicts in jail) remain in communion with the rest of the world's 70 million Anglicans? Their chances are slim, given the warnings of the Most Rev. Peter Akinola, archbishop of Lagos and primate of Nigeria, who has of late become the world's most forceful Protestant voice.


How will the Minneapolis decision impinge on ecumenical relations with much larger partners, especially the Evangelical Lutheran Church in America, to which Episcopalians are in a sense married by a treaty titled Called to Common Mission, or CCM? Great is the danger that it will accelerate the ELCA's expected implosion over the issue of—guess what?—homosexuality.


Is the Episcopal Church USA still a church in the historical and theological sense of the word? Since Minneapolis there are solid reasons to doubt that the ECUSA as a denomination can seriously make this claim (this does not mean, though, that its faithful dioceses and denominations, a minority, should be read out of the Body of Christ).


What is a church? The Greek word, ek-klesia, defines it clearly: "called out" (of the masses)— by God, not libido. "Church" is not an assembly of the elect chic with the right to decide which political, sexual or other preference, or any fad for that matter, may be considered holy.
"Church" is not an organization whose clerics—representing Christ at the altar—can declare their same-sex partnership "sacramental," as did the Rev. Canon V. Gene Robinson before his election to the New Hampshire bishopric was confirmed. Protestantism, Anglicanism included, affirms "two sacraments instituted by Christ our Lord in the Gospel-Baptism and the Lord's Supper," we read in article 25 of the Anglican Church's 39 Articles of Religion. Whims of concupiscence do definitely not fall under this rubric.
In article 19 of the same 16th century statement of faith we find these words: "The visible church of Christ is a congregation of believers in which the pure Word of God is preached and in which the sacraments are rightly administered according to Christ's command in all those matters that are necessary for proper administration."
"The pure word of God"—both in the Old and New Testaments—proscribes divorce and certain types of sexual activity. Before Monday's crucial vote, Robinson's supporters spoke much of being guided by "the Spirit." No doubt, they were. But whether it was the Holy Spirit is quite a different question. All sorts of religious fiends, especially those following the example if the 16th-century enthusiasts led by the blood-soaked Thomas Muentzer, claimed adherence to the free-blowing Third Person in the Trinity.
Since Episcopalians are ecumenically wedded with Lutherans—and actually imposed their form of ministerial oversight on them—please let's give Luther a voice here. He said that the only safe way to probe such a question is to test it against Scripture. Had the ECUSA's House of Bishops done so in Minneapolis, the Rev. Robinson would not be given a miter, but the sound advice to repent.
The selfishness and arrogance of the Minneapolis vote are astounding. It was a decision based purely on North American—and perhaps Western European—preoccupations with their bodily wants. Not only did the General Convention of the "Church of Good Taste" ignore the beliefs of fellow Anglicans in Africa, Asia and South America, about whose faithfulness U.S. prelates such as John Spong, the former bishop of Newark, N.J., snigger haughtily.
No, they also disregarded their Lutheran partners whose ministers are ordained on the "sola scriptura" principle, which holds that truth is revealed in Scripture alone. When Robinson is consecrated, a Lutheran bishop must also hold his hands over his head, according to CCM, even though it is still stated ELCA doctrine that homosexual behavior violates the will of God.
Doubtless, there will be a Lutheran bishop ready to comply. But when that happens, it will further unravel the ELCA, whose presiding bishop, Mark S. Hanson, is also the president of the Lutheran World Federation, most of whose member denominations are as opposed to the encroachment of secular and un-Biblical concerns as are African, Asian and Latin American Anglicans—and millions of their faithful brethren in the West as well.
The good news is that this is not a crisis of Christianity as a whole. Most fervent Christians know that worldly concerns and desires are never faith's launching pad. Christians are called to discipleship; they are not called to edit God's will according to their preferences.
As disciples, they will suffer like their incarnate God. For faithful Anglican congregations who feel they can no longer remain within the ECUSA an intense period of suffering is about to begin, which is why they need all the support they can get from like-minded people in other denominations. They will lose their sanctuaries—often very old ones—because the Episcopal Church will turn to secular courts, as it has done in such cases in the past, claiming some very valuable real estate.
That, too, violates Scripture, but who is quibbling now?
If you wish to be a clairvoyant, it's easy to look into the future. While orthodox Christians will worship in school auditoriums or the sanctuaries of other denominations at first, a form of Anglicanism increasingly disconnected from Scripture and tradition will celebrate itself with great splendor in ever-more empty churches and cathedrals.
There will be He-He and She-She couples in the pews and, heck, why not He-and-She-and-She or She-and-He-and-He, and Me-and-Me; all this is sacramental by new Episcopal standards, isn't it? So go bless the gin and tonic and pass it around with finger foods to the folks in front of this new religion's altars.
Pray, what would be a more fitting farewell party for a church in a tailspin?
Uwe Siemon-Netto is religion editor for United Press International.
Opinions expressed in Speaking Out do not necessarily reflect the views of Christianity Today.
Related Elsewhere
Articles this week on the Episcopal church include:
Darkness in the Afternoon | Openly homosexual Episcopal priest cleared of misconduct, confirmed as bishop. (August 6, 2003)
The Bitter Harvest of Sexual Ideology | No one wanted the Gene Robinson bishopric debate to take this sad turn (August 5, 2003)
Deputies Slice into the Gordian Knot | The Episcopal Church's House of Deputies approves Gene Robinson as New Hampshire Bishop. The House of Bishops will vote today. (August 4, 2003)
Praise the Lord and Pass the Condoms | Southern Hemisphere primates warned that approving Gene Robinson would place the church outside most of the world's 72 million Anglicans. "You'll get over it," responded about 60 percent of the House of Deputies. (August 4, 2003)
Gene Robinson Takes Questions in a Church called Gethsemane | Speaks on reparative therapy, potential schism, and whether he really "/left" his wife for his male lover. (August 4, 2003)
What in the World Is God Doing? | For Episcopalians, the night may be darkest before the dawn. (August 4, 2003)
Integrity Doles Out God's Not-So Inclusive Love | The Integrity Eucharist has become a triennial sort of mass pity party. (August 1, 2003)
Gay Rites Would Not Bless Ecumenism | Could also impair Anglican work overseas. (August 1, 2003)
Gene and Me | My history with the openly gay man elected bishop of Rochester. (July 31, 2003)
Previous columns by Uwe Siemon-Netto on ChristianityToday.com include:
The Supreme Court Rejects Natural Law | It's now up to the churches to guard what is "graven on the heart of man."
Spittle and Self-Righteousness | Beware of responding too indignantly to those on the other side of the war debate. (March 28, 2003)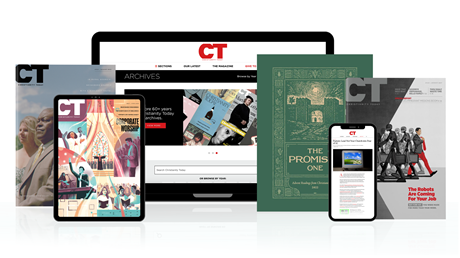 Subscribe to Christianity Today and get access to this article plus 65+ years of archives.
Home delivery of CT magazine
Complete access to articles on ChristianityToday.com
Over 120 years of magazine archives plus full access to all of CT's online archives
Subscribe Now
Are Episcopalians Still a Church?
Are Episcopalians Still a Church?