Not only have presidents regularly addressed the annual convention of the National Religious Broadcasters, those speeches are sometimes important to presidential agendas. It was at the 1983 convention, for example, that President Reagan gave his famous "Evil Empire" speech. (One major exception was the NRB's refusal to invite President Clinton to address the convention.)
Most of these speeches are political in nature, as one would expect from the President of the United States, but President Bush's address yesterday was deeply religious in tone. Much of his speech touched on ecclesiological matters that have little to do with public policy. "Christian media outlets like yours reach 141 million people every year. That's a huge audience, and it's a responsibility that I know you take seriously," he said (audio | video | photos).
This nation has got a lot of wealthy and caring congregations, and we've got a lot of churches in low-income areas that need help, too. Your voices reach them all; you can communicate with them, rich and poor, alike; suburban church and urban church, alike. And you can help bring them together to serve those who hurt, so we can achieve a more just and generous society.
It's been said that 11:00 a.m. on Sunday is the most segregated hour in America. We all have a responsibility to break down the barriers that divide us. In Scripture, God commands us to reach out to those who are different, to reconcile with each other, to lay down our lives in service to others. And he promises that the fruits of faith and fellowship, service and reconciliation will far surpass the struggles we go through to achieve them.
Suburban churches are often just a short drive away from brothers and sisters who are facing great need, and doing God's work. There's an opportunity here to end artificial divisions and join together in fellowship and service. There's also an obligation. The poor and suffering are the responsibility of the whole church, even when they're not members of any church.
Of course, President Bush also had much to say on the standoff with Iraq and his faith-based initiative. Before the speech, he met with local faith-based organization leaders to promote the initiative and his opening up of federal grants to more religious groups.
"We don't want to lose our tax-exempt status because we preach Christ, but we don't want to stop what we're doing that works," one of the attendees told The Tennessean.
The NRB welcomed Bush as "our friend and brother in Christ" and someone who "unapologetically proclaims his faith in the Lord Jesus Christ," The Washington Post reports.  In his introduction, NRB chairman and CEO Glenn Plummer quoted Proverbs 29:2: "When the righteous thrive, the people rejoice; when the wicked rule, the people groan." "Mr. President," he said, "As you can see, we are rejoicing."
Bush's speech "again displayed the prominent role that his faith plays in his thinking," said The New York Times, which added that his speech "allowed him to court voters in Tennessee … to display an interest in dealing with poverty, addiction and other social issues as Democrats step up their criticism of him as primarily concerned with cutting taxes for the wealthy … [and] showed him to be advocating racial healing at a time when Republicans remain concerned about a backlash from Senator Trent Lott's comments."
Other reports don't put the speech in quite so many political (or cynical) terms. The Washington Post's Dana Milbank, for example, sees the speech as an example of how Bush sees his politics as religious, not how he's using his religion for political means.
"Bush, in a strikingly religious address even for a president long comfortable with such speech, cast the full range of his agenda—foreign, domestic and economic—in spiritual terms," Milbank writes. "Today's speech brought the most thorough linkage yet between Bush's worldly policies and Christian faith—including a pronouncement that an American attack on Iraq would be 'in the highest moral traditions of our country.'"
The linkage was shared by many listeners, Milbank found. "As Christians, we're commanded to be of strong courage," said Pennsylvania broadcaster J. Mark Horst. "He's taking what he reads in the Word and saying, 'This is what I believe, and I'm going to go for it.'"
"Mr. Bush has publicly made no distinction between his secular and religious sides. If anything, he presents them as one and the same." The Washington Times's Bill Sammon writes. "The growing emphasis on religious discourse has gone largely unchallenged by Democrats and the press. That is a major change from a few years ago, when Mr. Bush was widely criticized for mentioning Jesus Christ as his favorite philosopher in a debate during the presidential campaign." Sammon sees Bush's increasingly religious speech as "aimed in part at countering anti-war messages from groups affiliated with organized religions."
More articles
More on National Religious Broadcasters:
War in Iraq:
Politics and law:
Faith-based funding:
Monk dies during monastery stand off:
Space shuttle tragedy:
Missions and ministry:
Church life:
Related Elsewhere
Suggest links and stories by sending e-mail to weblog@christianitytoday.com
See our past Weblog updates:
February 10
February 7 | 6 | 5 | 4 | 3
January 31 | 30 | 29 | 28 | 27
January 24 | 23 | 22 | 21 | 20
January 17 | 16 | 15 | 14 | 13
January 10 | 9 | 8 | 7 | 6
January 3 | 2 | December 31 | 30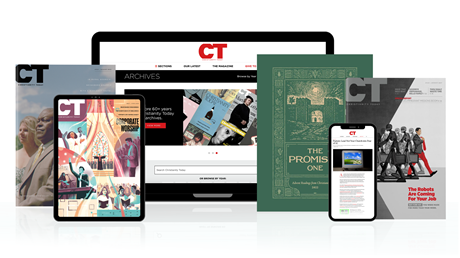 Annual & Monthly subscriptions available.
Print & Digital Issues of CT magazine
Complete access to every article on ChristianityToday.com
Unlimited access to 65+ years of CT's online archives
Member-only special issues
Subscribe
Bush's Agenda at Religious Broadcasters' Meeting Isn't Just Political
Bush's Agenda at Religious Broadcasters' Meeting ...