true
When the Academy of Motion Picture Arts and Sciences announced the 2002 Oscar Nominations on Tuesday morning, director Rob Marshall's adaptation of the stage sensation Chicago won 13 nominations. Only Martin Scorsese's mediocre epic Gangs of New York came close, with eight. The Lord of the Rings—The Two Towers garnered only six, as the Academy snubbed it even in some of its strongest categories, like cinematography and makeup. Other favorites, like Denzel Washington's solid directorial debut, Antwone Fisher, and Phillip Noyce's marvelous epic of Aborigine children escaping persecution, Rabbit-Proof Fence, were completely ignored.
It was bound to happen. For a while, we were enjoying a generous variety of beautifully crafted films with profound stories about good versus evil, overcoming prejudice and abuse, anger management, and holding on to hope in the face of hardship. But in the final weeks, these fine works were upstaged by a wave of hype and hoopla over a big, flashy Hollywood production in which a leggy dancers and boastfully dishonest lawyers revel in promiscuous and scandalous behavior.
Chicago offers an ankle-deep satire about the cult of celebrity in America, but instead of showing up evil as evil, it ends up glorifying scandal-makers and ridiculing marriage and true love. All but one of the characters begin the film as greedy egomaniacs, and at the end they're just the same. The one character with a glimmer of virtue, the abandoned and broken-hearted husband, is mocked as a buffoon. While it is right to suggest that the scandal-loving American public is partly to blame for sustaining this amoral circus of celebrity, it is presumptuous and perverse to suggest that we should shrug off moral conviction and shame and just enjoy the razzle-dazzle amorality.
Anybody who keeps track of the Oscars knows that they have a tendency to overlook the most deserving films or artists. Everybody has their favorite complaint. Some of mine: "Best Director" awards have never been awarded to Charlie Chaplin, Alfred Hitchcock, Stanley Kubrick, or Martin Scorsese. Citizen Kane lost to How Green Was My Valley, Do the Right Thing to Driving Miss Daisy, Apocalypse Now to Kramer vs. Kramer, The Lord of the Rings: The Fellowship of the Ring to A Beautiful Mind.
This current nomination list is full of head-shakers. Julianne Moore was nominated for Best Supporting Actress for The Hours, even though she was onscreen more than Nicole Kidman, who is nominated for Best Actress. (This same puzzle played out with Denzel Washington and Ethan Hawke last year for Training Day.) Did anybody really think that Spiderman, nominated for Best Special Effects, was better in that category than Minority Report, which was not nominated? Treasure Planet received some of the worst reviews ever for a Disney animated film, and there it is, competing with Spirited Away, one of the year's most highly-rated films … but it's unlikely that an animated film from Japan stands a chance to win anything (Jonah: A VeggieTales Movie wasn't nominated in the category). Dennis Quaid, who gave career-best performances in The Rookie and Far from Heaven, was ignored. The Time Machine was nominated for Best Makeup, but do you see Two Towers or Harry Potter and the Chamber of Secrets on the list? Their work was vastly superior.
Critics are not optimistic about who the winners will be. Most insiders predict that Chicago has the momentum to win Best Picture, even though most critics consider it inferior to its competitors. That's because the majority of Academy voters are Hollywood actors, not directors, writers, or critics. It is no secret that many voters do not even see all of the titles before they cast their votes. It is almost as if the Academy voters are trying to set themselves up for future regrets and embarrassment.
Forget the personal, passionate testament of a survivor (The Pianist); Roman Polanski's astonishing film about the Holocaust is likely to join the long list of overlooked masterpieces. Go ahead and give up on the award going to the awe-inspiring realization of Tolkien's Two Towers; the voters did not even bother to nominate Peter Jackson, who basically wove three short fantasy films together into one mind-boggling success. Never mind The Rookie, Punch Drunk Love, The Quiet American, or Spielberg's delightfully playful Catch Me If You Can. Who needs stories that appeal to our hearts and heads, when we have a movie that bypasses them both and appeals to our baser appetites?
Well, that's my opinion anyway.
Interested in sharing your own thoughts on the upcoming Oscar ceremony? You're invited to join me and a group of guest critics for a live online chat during the Oscar broadcast. We'll discuss the nominees and respond with hurrahs when deserving nominees win (Go Adrian Brody!) or vent our frustrations when undeserving efforts take the gold. When we're on, send in your questions, thoughts, and opinions, or recommend the films of 2002 you found most deserving of praise.
Fuller Seminary is teaming up with Turner Pictures to bring the upcoming epic motion picture Gods and Generals to congregations across America. That's right: congregations.
Craig Detweiler, co-director of Reel Spirituality, has penned a Bible study guide for groups who attend the film and wish to discuss its themes afterwards. Fuller Seminary President Richard J. Mouw's letter of introduction to the study exhorts pastors, "Take the time to plan a congregation-wide screening of Gods and Generals as a special event in the life of your church. … This study guide is the perfect marriage of popular culture and the church—a shining example of manifest ministries. It is faith in action. When Hollywood does it right, it is imperative that we as Christians support their efforts. Gods and Generals is a film worthy of your attention."
The Bible study focuses on questions about war, virtue, tribulation, and faith. "What is the proper Christian response to the threat of war? Does Goes choose sides in battle? How do we discern the will of God?" The film boasts many references to Christian faith as the actors play out the key battles of the Civil War, moving between historic speeches to the troops and moments of private conflict.
Film Forum will post more about the film and its potential as an outreach tool in the coming weeks.
How to Lose wins at the box office
How to Lose a Guy in 10 Days (Paramount), directed by Donald Petrie (Miss Congeniality), stars a glamorous guy (Matthew McConaughey) and a glamorous gal (Kate Hudson) in a romantic comedy during a time when theaters are full of heavy Oscar-nominated dramas. This smart scheduling move earned the studio $24.1 million in the film's opening weekend, beating Shanghai Knights and other challengers. However, the film is not impressing critics.
McConaughey plays a man who tries to get a woman (Hudson) to fall in love with him so that he can win a bet. Even as the guy plays his game, he becomes the unwitting subject of that woman's magazine article, "How to Lose a Guy in 10 Days." As their opposing plots play out, hilarity ensues.
Lynn Nusser (Preview) objects to the characters using foul language and discussing sexual matters. But she believes "Matthew McConaughey and Kate Hudson have great on-screen chemistry in this chick flick."
This is open to debate. Gerri Pare (Catholic News Service) despairs of the film's stars: "Yes, Kate Hudson can be adorable, but the script has her flirting and batting her eyelashes with such abandon that she wears you out. McConaughey starts looking uncomfortable in the role once Andie shows her spoiled brat and clingy side. The lack of sparkling dialogue in a romantic comedy is especially noticeable."
Michael Elliott (Movie Parables) is only mildly critical: "The charismatic stars are just likable enough to overcome most of the script's flaws. Alas, the final act proves too much (or provides too little) for the cast. The film builds to the point where the two leads discover each other's deception and then doesn't quite know where to go from there."
Bob Waliszewski (Focus on the Family) argues, "This is supposed to be a tender love story about an unlikely couple. But think about it. What kind of person would be so deceptive, selfish and cold as to accept a writing assignment that involved using and abusing an unsuspecting soul? What kind of person would make a wager based on manipulating another's emotions and trust? Am I supposed to sit in the theater and actually root for such a person? In real life, people who use people like this are miserable folks who stumble from one rocky relationship to another. This film makes it seem as if you can begin on the wrong foot, but wind up firmly planted. It just isn't so!" Similarly, Phil Boatwright (The Movie Reporter) writes, "Everything about these characters seemed superficial and unfeeling.  I expect the reason the plot bothered me so was that it seemed to revel in mankind's most negative aspect—the exploiting of others."
Cliff Vaughn (Ethics Daily) says, "It should cause critical minds to think about the phenomenon of relationship as game."
Most impressed is Holly McClure (Crosswalk): "Hudson … is adorable and fits perfectly into this kind of role. McConaughey simply has 'it'—he's perfect as a romantic lead and plays a character most men will relate to and women will adore. The scenes these two go through to torture and lure each other into their bet are sometimes painful but always humorous to watch. This will be the popular date movie for Valentine's Day because it will leave you smiling and longing to find that true love."
Smiling? Not Steven D. Greydanus (Decent Films). He argues, "The movie's biggest problem, and it's an insurmountable one, is that it takes two likeable, attractive stars and then forces them to engage in embarrassing, uncomfortable, unpleasant interactions in which neither they nor anyone around them is having any fun."
Reunited Knights Offer Hilarious Stunts, Hollow Screenwriting
Shanghai Knights (Touchstone) reunites Jackie Chan as Chon Wang and Owen Wilson as Roy O'Bannon for an adventure set in London. When Chon Wang's father is murdered, he calls his former partner to help him on the case, only to discover that the royal family is jeopardy due to a conspiracy. Sure enough, Chan's fists—and Wilson's smart mouth—fly into action.
Michael Elliott (Movie Parables) says, "The best thing about Shanghai Knights is that it doesn't take itself too seriously. There is nothing deep or meaningful about this film. It is just meant to provide an evening's diversion and playful entertainment. And it succeeds."
Gerri Pare (Catholic News Service) agrees: "The movie knows better than to take itself at all seriously." But she concludes, "It's a little too vicious to be just fun, especially as it's aimed at the younger audience."
Bob Nusser (Preview) adds that the movie has "too much sexual emphasis." Tom Snyder (Movieguide) agrees: "Apparently, Hollywood no longer is interested in making many G or PG movies." Bob Smithouser (Focus on the Family) sounds the same alarm: "For sheer entertainment value, Shanghai Knights actually improves on the original, yet succumbs to many of the same problems that shanghaied its predecessor. Profanity. Chic promiscuity. A few violent deaths. Sexual humor. That's unfortunate, because as action comedies go, this one delivers." He admits, "The writing is sharp and funny … [and] the film closes with a hilarious series of outtakes."
Steven D. Greydanus (Decent Films) argues, "Jackie Chan makes action comedies, but there's also something tragic about his oeuvre. The tragedy is that Jackie is a great talent who does not make great movies. Imagine Charlie Chaplin starring in comedies written by Adam Sandler or Rob Schneider, or Gene Kelly hoofing in musicals written by, uh, Adam Sandler or Rob Schneider. Shanghai Knights … contains more inspired action nuttiness and brilliant slapstick than all of Jackie's previous Hollywood buddy movies combined, framed in a story that's lamer and less funny than almost any of these previous outings."
But some found enough laughs to recommend the film. Holly McClure (Crosswalk) says, "These two have hit a winning formula and should keep on making these hilarious movies together. … I laughed all the way through it." Phil Boatwright (The Movie Reporter) highlights "one hysterical moment as Jackie Chan does a martial arts battle/escape to the tune of 'Singing in the Rain,' complete with umbrella."
A woman who meddles in the romantic affairs of her sisters finds herself facing off against the aggravated boyfriends in Deliver Us from Eva (Focus Films). Most religious press critics were aggravated by the whole affair.
Gerri Pare (Catholic News Service) says the film "is very promarriage and profamily." But good values do not necessarily make a good movie. "The three sisters and their respective loves are severely underwritten," Pare explains. "You get no sense of why the three women can't think for themselves, and their frustrated men are mostly ciphers. The women are demanding respect—and not to be seen as just sex objects—yet down 'n' dirty sex is all they cackle about. The story is attractively filmed, but the script nose-dives before the end with a ridiculous plot development that really makes no sense before launching into the clichéd ending."
Bob Nusser (Preview) says, "The heavy emphasis on sexually suggestive and sexually oriented dialogue, along with numerous instances of objectionable language, earn this one an unacceptable rating."
A time-travel vacation through a ghostly museum
Russian Ark (Wellspring), a new film by Alexander Sokurov, is popping up here and there in arthouse theaters. If you have any interest in history, or if you like the idea of a stroll through a museum, this is a must-see. It's a rich, complex, and mystery-filled journey through Russian art and history.
Alternatively, if you like to see artists attempt to do what has never been done before, check this out: The entire 90 minute film was filmed in one continuous shot by cinematographer Tilman Buttner, without a single edit or cut, thanks to a portable and powerful hard drive for his digital video camera. Sokurov coordinates a cast of more than 2,000 people to move in and out of the museum rooms, portraying events both significant and incidental from Russia's past.
The museum on display is St. Petersburg's Hermitage museum. Our tour guides are ghostly figures who seem lost, temporarily suspended in some dimension of non-chronological time where they stumble into and out of chambers of this magnificent, labyrinthine museum. One guide is Sokurov himself, acting as a sort of narrator who has suffered a mysterious accident and fallen into this twilight-zone. His only companion is a gruff intellectual, the Marquis (Sergey Dreiden), a French diplomat from the 19th century.
You'll catch glimpses of several significant figures, including Tsar Peter the Great and the Princess Anastasia. A wide array of famous paintings are featured, many of them depicting scenes from Scripture, and you half-expect Sister Wendy to step out and start expounding upon the virtues of their design. One moment we find ourselves in the midst of a masquerade party, and the next we're in a gallery where modern folks are musing over ancient paintings. The film's breathtaking final act carries you right into the middle of a spectacular formal state ball, the camera weaving its way through a dizzying mazurka.
The title, Russian Ark, refers to the museum as a treasure trove of Russian perspective preserved through the Communist Revolution. You also could look at it as a sort of Ark of the Covenant, the treasure chest protecting the important artifacts of a people forced to survive persecution and tribulation.
The film's one-take achievement tends to distract from whatever it is trying to say. I found myself holding my breath, waiting for something to go wrong as these crowds of actors follow their cues and play their parts flawlessly, without a stumble in the whole effort. It's remarkable, considering the director was given only one day in the museum to accomplish this feat. But repeated viewing, along with a review of Russian history, will no doubt prove this film to be a lasting commentary and a profoundly meditative work of art.
Movieguide's critic honors the film as an "extremely interesting … postmodern approach to restoring culture. It works in spite of the fact that there's no real drama, conflict or storyline. Russian Ark deserves the praise that it's receiving."
Mainstream critics are all impressed by the technical achievement. But some question the value of the experience.
Roger Ebert (Chicago Sun-Times) writes, "I found myself in a reverie of thoughts and images, and sometimes, as my mind drifted to the barbarity of Stalin and the tragic destiny of Russia, the scenes of dancing became poignant and ironic." He then echoes, and answers, a criticism raised by Stanley Kauffmann: "If the film had been composed in the ordinary way out of separate shots, we would question its purpose. But it is not, and the effect of the unbroken flow of images … is uncanny. If cinema is sometimes dreamlike, then every edit is an awakening. Russian Ark spins a daydream made of centuries."
Daredevil sets in motion the Year of the Comic Book Hero
Next week, Film Forum will feature an array of reviews from religious media critics on the new action film Daredevil, which is based on a long-running, popular comic book. Ben Affleck stars as the troubled, vengeful hero while Jennifer Garner (TV's Alias) plays the combative beauty who falls in love with him. Michael Clarke Duncan (The Green Mile) and Colin Farrell (The Recruit) play the wild and crazy villains.
If you plan to see the film before next week's installment, here's a preview … or rather, a caution. You might be surprised how a film with a villain called "Bullseye" could fall so far sort of just that.
Daredevil follows the classic structure of a superhero story: A young hero suffers a grievous blow in his childhood that motivates him to spend his life fighting evil. The handsome and melancholy lawyer Matt Murdock comes complete with a complex and a costume, and like Spiderman and Batman he can leap from one tall building to the other, crash down on violent gangs in dark alleys, and defeat them single-handedly. Of course, he has a love interest. Elektra (Garner) is a spectacular martial arts "warrior" whose training comes in handy when she discovers her own reason to seek violent revenge. The romance that sparks between her and Murdock begins with a memorable first date: a rough-and-tumble fight on playground equipment, during which Elektra marvels at Murdock's abilites. Matt Murdock is blind. Every hero has his handicap.
And yes, Daredevil has a conscience, although a rather feeble one compared to Peter Parker's; he goes into a cathedral, just as Ben Affleck did in last year's Changing Lanes, to confess his sins and vent his moral angst. But whereas the hero of Changing Lanes was motivated to pursue more peaceful methods, Daredevil marches back out to kick some criminal butt. The message seems to be, if you can't get it done in the courtroom, don't leave vengeance in God's hands. Go deal out death and judgment yourself.
The film also glorifies the most rushed and reckless romance I've seen in such a film; Murdock and Elektra are rolling in the sheets before he even knows where she's from or what she does for a living.
It's not a total bust: Director Mark Steven Johnson directs stylish, spirited fight scenes and draws admirable energy and emotion from the actors. He also keeps the film focused on our hero's character development. But the dialogue is overstuffed with clichéd one-liners and frequently interrupted by an annoying and pretentious voice-over narration. Murdock is the only character we get to know; Elektra is too busy showing off her combat abilities to let us learn anything about her. Thus we are not given much of a chance to feel for these characters the way we felt for Spiderman or my favorite big screen comic hero, Unbreakable's David Dunn. Besides, who has a chance to feel genuine emotion while being bombarded by a ridiculous and overbearing soundtrack of generic and caustic rock songs?
Daredevil is just the first of many movies coming up this year that have their origins in the comics shop. Let's hope this means that things will only get better.
Next week: Critics respond to Daredevil and The Jungle Book 2.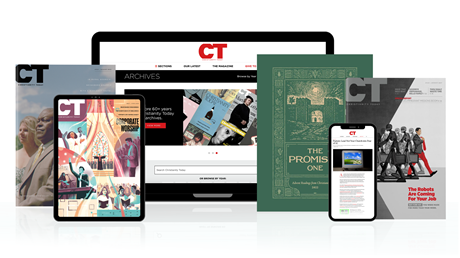 Annual & Monthly subscriptions available.
Print & Digital Issues of CT magazine
Complete access to every article on ChristianityToday.com
Unlimited access to 65+ years of CT's online archives
Member-only special issues
Subscribe
Chicago's Razzle-Dazzle Runs Rings Around Other Oscar Nominees
Chicago's Razzle-Dazzle Runs Rings Around Other Oscar Nominees