Christian website designers are currently testing an online application of Scripture that they say can change the way church sites, pastors, and even novice programmers use the Bible online.
Next week, Crossway's English Standard Version (ESV) will become the first Bible to allow web programmers to use its text on their own websites.
It's not Crossway's first attempt at making the translation computer friendly. When it first released the ESV in September 2001, the publisher included a CD-ROM of the text with every print Bible. It has also released a web search sidebar to allow searches of the ESV from anywhere on the Internet.
"We've tried to be technologically progressive," says ESV webmaster Steve Smith. "We've wanted to make the ESV available to people who want to use it in ways the Bible has never been used before."
Starting next week the Bible's text will be offered to users through a web service, which is a way for computers to talk to each other without human interaction. Smith said that an example of a web service are commerce websites which—without users knowing it—directly contact UPS's computers, retrieve the applicable shipping cost, and report it to the buyer. The site doesn't have to store a database of shipping prices.
"Similarly, if you want to display a passage of Scripture on your website, you don't have to store the entire Bible," Smith told Christianity Today. "You can retrieve it from our computers and show it to your visitors who see it as a seamless part of your site."
Other sites such as Bible Gateway offer web services in order to search Scripture or link to verses. But the ESV web service uses an Application Program Interface (API) that allows programmers to determine the format in which the text is retrieved. With very little programming, a user can use the web service to retrieve content from the ESV site and use it however they want.
"If I get text from another site, it has their formatting, fonts, and colors," says Dean Peters, who runs HealYourChurchWebsite.com. "I don't mind giving a site its due copyright, but their material needs to work in my site. This is the only Bible to offer an API. It allows me as a programmer to say, 'I want this data and this is how I want it.' "
Peters, who contacted Christianity Today about the API after trying out the site's test document, says the programming is quick and simple. "It gives me a way to tap into their software without having to learn their languages or system," says Peters. "It is sort of like a guy in the car next to me rolling down his window and handing me a remote to control his steering wheel or letting me see his odometer reading."
What this means for web designers and even pastors or study group leaders is that they can now quickly and easily infuse scripture into any webpage or word processing document with Internet access. "This basically makes my documents smarter," Peters says.
Smith says the idea came from using APIs offered by megasites Google and Amazon. In fact, the ESV site uses a Google API to check the spelling of searches on its site. Other programmers have manipulated the Google API in other ways. One programmer uses the technology to create graphical maps of related websites based on Google information. Another (not-so-practical) site used an API to inverse the Google search engine—making it elgooG. This is the real advantage of an API: programmers can use minimal code to innovate new uses with the ESV text.
What could be done with the ESV API? In a weblog entry on his site, Peters suggested that Scripture can be used in text bubbles when your mouse passes over a certain word. Devotions could instantly be equipped with scriptural footnotes. Or a programmer could "hide" Scripture on a seemingly benign site to get the Bible into countries that otherwise ban Bible sites.
"We don't know what is going to happen," says Smith. "We don't know what people are going to do but we want to find out. They are limited only by imagination and programming skill. It's really a big experiment."
Todd Hertz is assistant online editor of Christianity Today.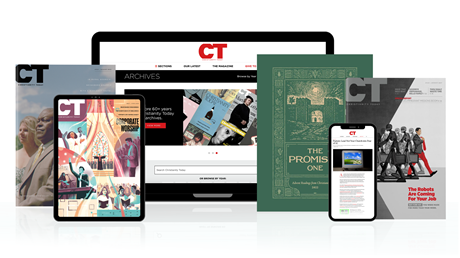 Annual & Monthly subscriptions available.
Print & Digital Issues of CT magazine
Complete access to every article on ChristianityToday.com
Unlimited access to 65+ years of CT's online archives
Member-only special issues
Subscribe
Bible Is Getting Even Friendlier to Programmers
Bible Is Getting Even Friendlier to Programmers