For some friends of Tracy McCown, children's minister at First Baptist Church in Nacogdoches, Texas, the destruction of the space shuttle Columbia immediately had religious connotations. With fire raining down from the sky, McCown told The Washington Post, "They were like, 'Oh, my God, it's the rapture!'" She explained, "You know, we're Christians."
And so, many media outlets have been reporting, were some of the astronauts, their families, and their community.
"Rarely has the double identity of Houston been on as clear display as it is now," reports The Baltimore Sun. "The city is a capital of science, where 16,500 people are employed in connection with the nation's quest to explore outer space, and it is a stronghold of faith, a place where 3,000-person church turnouts are common and where Bible groups are as prevalent as softball teams. In other eras and for other people, science and religion have been at odds. In Houston, by all appearances, they are fully reconciled. After all, locals say, both endeavors entail contemplating the firmament. … Now, residents say, the double identity offers strength, two avenues for their grief. While they await hard answers from their scientists, they can seek solace from their church."
And Ground Zero is Grace Community Church, which Columbia Commander Rick D. Husband and crew member Payload Commander Michael Anderson both attended.
"Rick Husband is probably the godliest man I've ever met," Pastor Steve O'Donohoe told Crosswalk.com. "He was such a lover of God and a worker for God, a kind person to everyone else. He's the type of person everyone wants to be like. His wife is the same way."
Husband often "dominated his church's services," The Washington Post reported, "with his comforting prayer devotions, or with his familiar baritone singing one of his favorite hymns, 'How Great Thou Art.'"
"The only time Rick was not at church is when he was doing NASA business," O'Donohoe told Crosswalk.com.
Two thousand people attended services at Grace Community yesterday, where Pastor Steve Riggle told of a note Husband had left in case he died. "Tell them about Jesus," it said. "He means everything to me."
Anderson was also remembered at his Spokane boyhood church, Morning Star Missionary Baptist Church, where an altar call was given at the end of the service.
Indeed, the astronauts were remembered in church services around the country—and reporters everywhere attended them to catch "the local angle."
"It would be very foolish if we at some point did not acknowledge this national tragedy," Rubel Shelly, preaching minister at Woodmont Hills Church of Christ, told the Nashville Tennessean. "And as Christians, we need to not just acknowledge it but pray about it."
The Scotsman was among the international papers noting the religious overtones of the weekend's events. "President George Bush appeared to have caught the mood of the nation on Saturday in his address. The almost evangelical tone to his speech, in which he quoted the prophet Isaiah, was taken up elsewhere in the country, with religious images even appearing in somber political cartoons."
"In the skies today we saw destruction and tragedy," Bush said Saturday (video | audio). "Yet farther than we can see there is comfort and hope. In the words of the prophet Isaiah, 'Lift your eyes and look to the heavens. Who created all these? He who brings out the starry hosts one by one and calls them each by name. Because of his great power and mighty strength, not one of them is missing.' The same Creator who names the stars also knows the names of the seven souls we mourn today. The crew of the shuttle Columbia did not return safely to Earth; yet we can pray that all are safely home."
The Washington Post says that the Scripture was found by longtime Bush friend and adviser Karen Hughes, who didn't want to use Psalm 23 because Bush had quoted it on September 11, 2001. "We are a nation of people of many faiths and those of no faith at all," Hughes told the Post. "However, it's a part of the tradition of our nation that in times of turmoil and times of tragedy, our presidents and our people have turned to faith as a source of strength."
Related Elsewhere
Suggest links and stories by sending e-mail to weblog@christianitytoday.com
See our past Weblog updates:
January 31 | 30 | 29 | 28 | 27
January 24 | 23 | 22 | 21 | 20
January 17 | 16 | 15 | 14 | 13
January 10 | 9 | 8 | 7 | 6
January 3 | 2 | December 31 | 30
December 27 | 26
December 19 | 18 | 17 | 16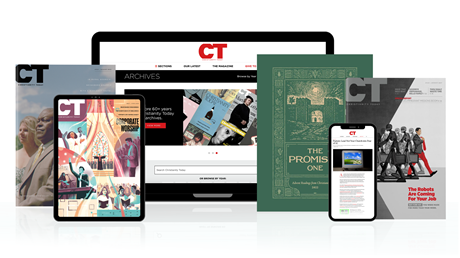 Annual & Monthly subscriptions available.
Print & Digital Issues of CT magazine
Complete access to every article on ChristianityToday.com
Unlimited access to 65+ years of CT's online archives
Member-only special issues
Subscribe
Columbia Astronauts Mourned, But Their Faith Is Celebrated
Columbia Astronauts Mourned, But Their Faith Is Celebrated