InterVarsity defenses vary from compromise to lawsuit depending on the campus
As Weblog has noted several times earlier, InterVarsity Christian Fellowship is facing opposition on several college campuses. At some, the issue has been over sexual ethics guidelines. But more recently, the battles seem to be over whether the Christian group must allow non-Christian leaders.
The incidents have primarily played out as local stories, but the constellation of several simultaneous disputes has aroused the attention of the national media. The latest report is from Associated Press religion writer Dick Ostling.
David French, InterVarsity's lawyer (who is associated with the Alliance Defense Fund), tells the AP that the organization "seeks to settle such disputes privately and that "it almost always wins, defending its policies on the basis of religious freedom."
But it didn't win at Rutgers University, so the chapter filed suit—the first time any InterVarsity group has done so to seek access at a school.
Both InterVarsity and Rutgers have now posted defenses of their actions. The InterVarsity statement defends the lawsuit, suggesting (but not saying outright) that all other avenues were exhausted.
"InterVarsity student leaders and local staff discussed the issue with the Student Affairs Office and the Dean's Office of Rutgers University," says the statement, signed by IVCF director of public relations Phil Evans.
The local chapter moved its meetings off campus while the issue remains unresolved and has sought amicable relations with school officials. InterVarsity's legal counsel sent letters to the university outlining the First Amendment rights of the student group and offered instances where other universities have maintained the balance of religious freedom and non-discrimination without prejudicing constitutional rights of assembly or speech. … Conversations continue between the university and InterVarsity in an effort to resolve the impasse without the need to pursue the case further in the courts.
The Rutgers statement generally denies the allegations. "Rutgers has not banned the InterVarsity Christian Fellowship, a national religious organization, from our campus, nor have we stopped a Rutgers student group named InterVarsity Multi-Ethnic Christian Fellowship from using campus facilities," writes Vice President for Student Affairs Emmet A. Dennis.
Charges that the university policy forces student groups to accept elected officers who do not share the best interests of the group are groundless. … When voting, any member is free to take into account his or her own views, religious or otherwise, as well as those of the candidates. The national religious organization is claiming that it should be able to veto the leadership elected by the student group and, until this issue can be resolved, Rutgers has suspended the distribution of student fees to the Rutgers student group. … Rutgers particularly regrets that its students have been caught in the middle of a theoretical dispute not of their making and that inaccurate and misleading information has been circulated regarding this matter.
Generally speaking, such antagonistic volleying in anathema to InterVarsity chapters, which seek to work within secular colleges rather than against them.
In fact, the Harvard-Radcliffe Christian Fellowship "will likely compromise with the administration on its doctrinal requirements for leadership positions," The Harvard Crimson reported Monday. But senior Prisca E. Shrewsbury, a member of HRCF's executive board, said a meeting with Harvard Associate Dean David P. Illingworth didn't lead to any changes in the group's constitution. "Right now, we haven't made any decisions at all," she said. "It's all very preliminary."
Meanwhile, outsiders are getting involved in the fight.
"Suppose you were a member of the officially sanctioned Dallas Cowboys Fan Club, and Jerry Jones told you that the team wouldn't continue its support unless the club chose a die-hard Washington Redskins fan as its leader," Dave Sorter, editor of the Lewisville (Tex.) Leader wrote in his paper Wedensday. "I have long been outspoken in my belief that a certain extremist minority of Christians are out to circumvent the First Amendment and establish a state religion—in fact, if not in word. … Most of extremist Christians' cries that government or other entities are trying to diminish—and even destroy—Christianity are just blather. It's all spin to further their goal of making public schools, government and all entities venues for proselytizing. But in this case, they are right on target."
A Harvard Crimson editorial, meanwhile, suggests that the school's rules may not be restrictive enough. "That HRCF may technically be within the rules only highlights the need for the College to revise those rules to ensure that groups cannot have discriminatory criteria for any positions," the paper said last Wednesday. "All students are welcome to exercise their freedom of association, as HRCF claims, but if they choose to discriminate they are not entitled to recognition as an official student group."
More articles
Abortion:
Hindu attacks on missionaries:
Persecution and violence:
Church and state:
Politics and law:
Education:
War and U.S. foreign policy:
Zimbabwe:
Crime:
Books:
Missions and ministry:
Media:
Sexual ethics and congregational disputes:
Church life:
Charity and donations:
Vatican issues guidelines for Catholic politicians:
Death penalty:
Film and television:
Interfaith relations:
Clergy sex abuse cases:
Other stories of interest:
Related Elsewhere
Suggest links and stories by sending e-mail to weblog@christianitytoday.com
See our past Weblog updates:
January 16 | 15 | 14 | 13
January 10 | 9 | 8 | 7 | 6
January 3 | 2 | December 31 | 30
December 27 | 26
December 19 | 18 | 17 | 16
December 13 | 12 | 11 | 10 | 9
December 6 | 5 | 4 | 3 | 2
November 27 | 26 | 25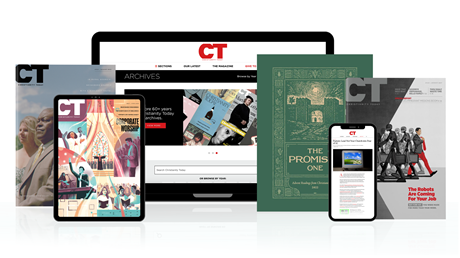 Subscribe to Christianity Today and get access to this article plus 65+ years of archives.
Home delivery of CT magazine
Complete access to articles on ChristianityToday.com
Over 120 years of magazine archives plus full access to all of CT's online archives
Subscribe Now
InterVarsity Tactics Vary Widely in Countering Opposition
InterVarsity Tactics Vary Widely in Countering Opposition