Judge steps into priest's role, says denial of Eucharist to gay activists is "tremendous violence"
In November, three gay activists made national headlines when they were refused Communion during the Washington meeting of U.S. Catholic bishops. More precisely, they made headlines the next day, when they refused to leave the Hyatt Regency Hotel until a bishop served them the Eucharist. They were repeatedly asked to leave, then arrested by D.C. police.
As it turns out, they were gay activists, but apparently the right kind of gay activists for the Roman Catholic Church. Michael Bugarin, the priest who denied them Communion, said he thought they were members of the Rainbow Sash, an activist group that deliberately tries to be refused communion. But members of Soulforce, he said, are okay. "If they're receiving [Communion] in active opposition … of the church's teaching, I have an obligation to hold up the dignity and belief that we have in the Eucharist," Bugarin told the Detroit Free Press. "I regret that there was a misunderstanding on my part, and I regret the whole situation."
Yesterday, Judge Mildred M. Edwards convicted the three activists of unlawful entry, but declined to sentence them and apologized on behalf of the Roman Catholic Church, The Washington Post reports today.
"Tremendous violence was done to you … when the Body of Christ was denied to you," she said. "As a member of your church, I ask you to forgive the church."
Sound like an absurd mixing of church and state? Consider this: "At the end of sentencing," the Post's Arthur Santana writes, "Edwards offered the activists the words priests use at the end of a Catholic Mass: 'Go in peace.'"
Want to bet that Americans United for the Separation of Church and State won't be protesting this?
Baptist church school sued for expelling student for sex
About a year ago, Calvary Christian School, run by Calvary Baptist Church in Covington, Kentucky, expelled 17-year-old Jessica Frietch and a male student for having sex in violation of the school's code of conduct. But Frietch, now 18, says the sex wasn't consensual, and she's suing the church and school for defamation and obstruction of justice.
"She felt very deeply that she had been wronged by the school," Jessica's mother, Sarah Frietch, told television station WLWT (video; WCPO has another video). "She has always said, and maintains, that this was not consensual. And for her to be expelled is completely the wrong step for this school to take." Frietch's lawyer asserts that even if the sex was consensual, the school would have had no right to punish her for what she does in her private time away from the campus.
But the school says both it and the police investigated Frietsch's case, and both decided that no crime was committed. "We're very sorry for the young lady, that she feels wronged," Calvary Christian attorney Tom Kerr told WLWT. "But I believe as the facts come forward that the school will be vindicated."
In case you're wondering, Frietch's age alone would not legally be considered rape as Kentucky's age of consent is 16.
The Kentucky Post notes that Frietch's lawyer won a settlement from another Christian school in a similar December 2000 case.
More articles
President Bush and the State of the Union address:
Politics and law:
High school drops "love of God":
Africa relief:
Crime and investigations:
Sexual ethics:
Church life:
Clergy sex abuse:
Culture and entertainment:
Interfaith and other religions:
Other stories of interest:
Related Elsewhere
Suggest links and stories by sending e-mail to weblog@christianitytoday.com
See our past Weblog updates:
January 30 | 29 | 28 | 27
January 24 | 23 | 22 | 21 | 20
January 17 | 16 | 15 | 14 | 13
January 10 | 9 | 8 | 7 | 6
January 3 | 2 | December 31 | 30
December 27 | 26
December 19 | 18 | 17 | 16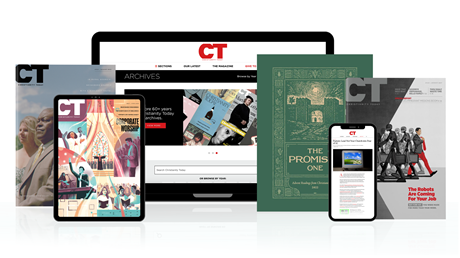 Subscribe to Christianity Today and get access to this article plus 65+ years of archives.
Home delivery of CT magazine
Complete access to articles on ChristianityToday.com
Over 120 years of magazine archives plus full access to all of CT's online archives
Subscribe Now
Judge Calls Denial of Communion 'Tremendous Violence'
Judge Calls Denial of Communion 'Tremendous Violence'