Seven centuries later, Knights Templar still looking for Holy Grail
A group of Knights Templar—yes, they still exist centuries after the Crusades—are using ultrasound and thermal imaging to seek the Holy Grail in the vaults beneath the 15th-century Rosslyn Chapel near Edinburgh, Scotland. "We know many of the Knights are buried in the grounds and there are many references to buried vaults, which we hope this project will finally uncover," John Ritchie, Grand Herald and spokesman for the Knights Templar, told the London Independent. "The machine we are using is the most sophisticated anywhere and is capable of taking readings from the ground up to a mile deep without disturbing any of the land. … Rosslyn is an amazing building. It is a book in stone but, because the symbolism which is written into the chapel is in a medieval language, we haven't even cracked the introduction page yet."
Legends place several other lost relics in the chapel's vaults, including early copies of the gospels and even  the Ark of the Covenant. Which is exactly why the Knights Templar shouldn't mess with it, says an Independent editorial. "Ever since the Turin Shroud was carbon-dated to the 13th or 14th century, the spoilsports of modern science have been looking for more legends to disprove," the paper says. "We say: leave the Holy Grail alone. Finding it could mess up an awful lot of good stories."
Fugitive murder suspect's religion highlighted
Edward Paul Morris is accused of murdering his pregnant wife and three young children, whose bodies were found December 21 in Oregon's Tillamook State Forest. And a major part of the story is Morris's religious background. It became even a larger part of the story when Morris used the alias "Jim Elliott" in checking into a hotel while on the run from authorities.
"Elliot's story is well known among evangelical Protestants in Portland," The Oregonian explained. "Morris has been a member of St. Johns Wesleyan Church, part of an evangelical Protestant denomination. His gray 1993 Dodge Caravan also displayed evangelical Christian stickers [for the Promise Keepers]."
Portland forensic physiologist Tony Farrenkopf told the paper that Morris may have associated himself with the Portland-born missionary killed in Ecuador in 1956. "He would be a martyr if he dies for the mission," he said before Morris's capture. "That's not a far step. If he is on a mission to save this family from a bad life, he might have been feeling there is a better life after death and, 'I'll do this as a gesture of good faith.'"
Paul Morris, the fugitive's father, said he doubted that his son thought himself too much like Elliott. "It's just a name," he said. But there's no denying that Morris was deeply religious, he said. "He was a devout Christian," he told the Associated Press. "He believed that the word of God was the centerpiece of his life. His family was second."
Despite Farrenkopf's guess that Morris "would commit suicide if he were trapped or cornered," police arrested Morris without incident Saturday.
"We are thankful he was found alive. I would love to see him," Morris's pastor, Philip Hawk, said after Sunday's service at St. Johns Wesleyan Church. "God's grace is there for all repentant hearts."
More articles
Missions and ministry:
Missionary dangers:
Billy Graham schedules two more crusades:
'Elvis Priestly' church opens:
Church life:
Southwest Community Church:
Sports:
Iraq:
Life ethics:
Christmas and Epiphany:
Related Elsewhere
Suggest links and stories by sending e-mail to weblog@christianitytoday.com
See our past Weblog updates:
January 6
January 3 | 2 | December 31 | 30
December 27 | 26
December 19 | 18 | 17 | 16
December 13 | 12 | 11 | 10 | 9
December 6 | 5 | 4 | 3 | 2
November 27 | 26 | 25
November 22 | 21 | 20 | 19 | 18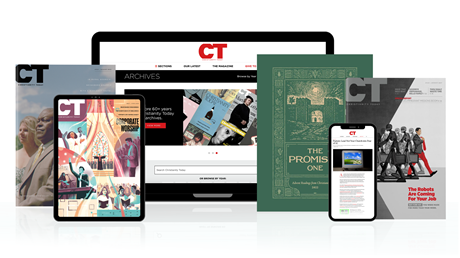 Subscribe to Christianity Today and get access to this article plus 65+ years of archives.
Home delivery of CT magazine
Complete access to articles on ChristianityToday.com
Over 120 years of magazine archives plus full access to all of CT's online archives
Subscribe Now
The Search for the Holy Grail Continues
The Search for the Holy Grail Continues