U.S. Appeals Court: Procter & Gamble wasn't defamed by Satanism rumors
Amway Corp. is pleased that the 10th U.S. Circuit Court of Appeals dismissed a lawsuit claiming the company spread rumors linking rival Procter & Gamble to Satanism. Still, Amway can't be happy with the headline in the Detroit Free Press: "Amway wins a big round on Satanism."
Procter & Gamble said Amway representatives told thousands of customers that the company gives a part of its revenues to satanic cults. After several court battles, a federal district court dismissed Amway Corp. as a defendant in the case back in 2001, and this week Judge Robert Henry attacked Procter & Gamble for beating a dead horse. The company, he said, "unremittingly sought to relitigate and reassert previously adjudicated issues. … Throughout this and its related protracted and duplicative litigation, P&G has tried to evade the law of the case doctrine, and has squandered scarce judicial resources."
Even now Procter & Gamble isn't giving up, and is suing Amway and several distributors in Texas for the same reason. "Since these lawsuits were filed, the rumors have essentially stopped," spokeswoman Gretchen Muchnick told the Free Press.
That's utterly ludicrous, says Amway's lawyer. "We are proud but not surprised that Amway has been completely vindicated in this ridiculous case. We never spread the rumor—in fact, we spent years helping P&G fight it."
Gospel Music Association head announces surprise resignation
Frank Breeden says he has resigned as president of the Gospel Music Association and the Christian Music Trade Association effective January 31—a move that the Nashville Tennessean says took "Christian music industry colleagues by surprise."
"'It is a time for change," he said. "This is going to be a difficult music industry in the next five years." Breeden told the Tennessean that he didn't know if he wanted to face the challenges facing the industry, especially youth who "are going to consume entertainment differently." "It's time to reconfigure our thinking about how we do business," he said.
He'll be replaced, at least temporarily, by GMA Board Chairman John W. Styll, head of CCM Communications until it was bought out by Christian radio behemoth Salem Communications.
More on Christian music:
Cartoon: Pat Robertson is funding Al Qaeda
Is Pat Robertson more connected to Osama than Saddam Hussein is? That's the argument made by cartoonist Tom Tomorrow in his strip "This Modern World." He draws the line between Robertson's deals with Liberian dictator Charles Taylor and Taylor's support of the terrorist organization. He's not the first to do so. U.S. News & World Report columnist Michael Barone made the same case in November 2001, for example. And Washington Post columnist Colbert I. King loves talking about Robertson's Liberia deals and their horrific consequences.
In fact, Robertson has responded to such claims, saying The Washington Post and others connect Taylor to Al Qaeda to try to discredit the murderous dictator (not his words). Robertson says he supports Taylor because "a government collapse would lead to another bloodbath in Christian Liberia."
More articles
Conversion laws and controversies in India:
Persecution and violence:
Religious freedom and interfaith relations:
Politics and law:
Church of England leadership:
Religious growth:
Other stories of interest:
Related Elsewhere
Suggest links and stories by sending e-mail to weblog@christianitytoday.com
See our past Weblog updates:
January 7 | 6
January 3 | 2 | December 31 | 30
December 27 | 26
December 19 | 18 | 17 | 16
December 13 | 12 | 11 | 10 | 9
December 6 | 5 | 4 | 3 | 2
November 27 | 26 | 25
November 22 | 21 | 20 | 19 | 18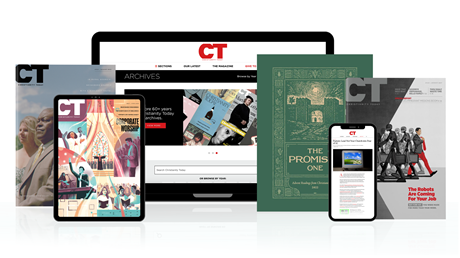 Subscribe to Christianity Today and get access to this article plus 65+ years of archives.
Home delivery of CT magazine
Complete access to articles on ChristianityToday.com
Over 120 years of magazine archives plus full access to all of CT's online archives
Subscribe Now
Procter & Gamble's Satanism Suit Against Amway Tossed
Procter & Gamble's Satanism Suit Against Amway Tossed