true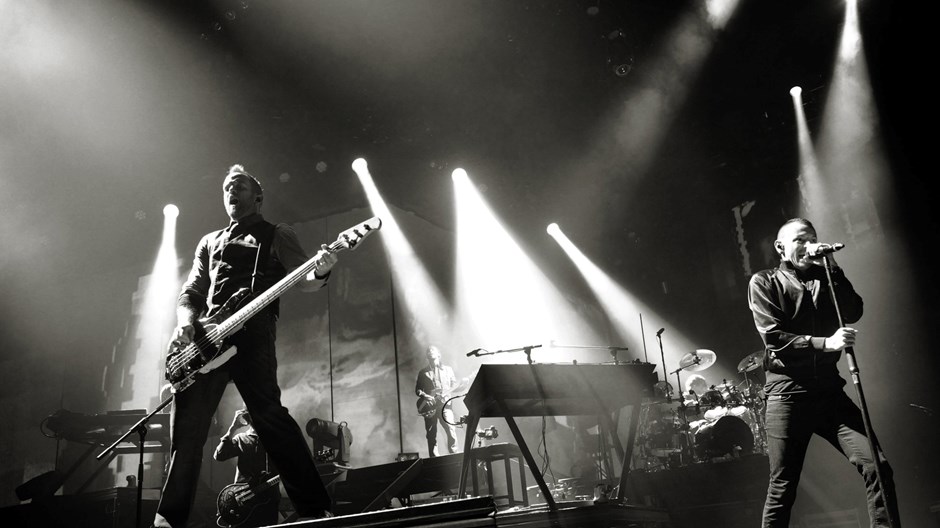 Image: Wikimedia
"I want to heal/I want to feel what I thought was never real/I want to let go of the pain I've held so long/(Erase all the pain 'til it's gone)/I want to heal/I want to feel like I'm close to something real/I want to find something I've wanted all along/Somewhere I belong"
— from "Somewhere I Belong"
Though the nü–metal sound is quickly becoming passé and tired with its blend of powerhouse guitars, catchy melodies, hip–hop rap, and passionate singing/screaming, Linkin Park is still packing a punch with their audience. They certainly didn't pioneer the genre, yet their debut, The Hybrid Theory, became the best–selling album of 2001. Most people expected the band's long–awaited follow–up to do well, but no one expected Meteora to sell more than 800,000 copies in its first week, topping the Billboard album sales chart en route to going platinum.
Linkin Park's popularity stems not only from their solid, hook–filled sound, but also because of their passion, optimism, and search for spiritual truths. The band has toured with P.O.D. and Project 86, prompting many to wonder if Linkin Park has some tie to Christianity. In an interview with Shoutweb, lead emcee and vocalist Mike Shinoda revealed that he "was raised in a really, really liberal Protestant church. Two of the guys are Jewish. [Sample master] Joe [Hahn] was raised in a little more conservative Christian church and [lead vocalist] Chester Bennington has his own really unique views on religion. In general, we are all over the place."
Since Mike writes most of the lyrics with Chester, it's not surprising then that spiritual themes show up. Like their debut, Meteora generally alternates between themes of severing broken relationships and searching for answers. Songs in the first category include "Don't Stay," "Faint," "From the Inside," and "Hit the Floor." "Lying From You" can be interpreted on a lot of different levels, though it's essentially a rejection of living a lie.
Then there are the songs such as "Somewhere I Belong," the album's extremely catchy first single–and in some ways a new generation's version of U2's "I Still Haven't Found What I'm Looking For." Excerpted above, the song in one sense extols self–enlightenment. On the other hand, it's a strong declaration of confession and surrender that easily can be interpreted as a desire to purge our sinful nature: "I will never be anything 'til I break away from me." Similarly, the beautiful "Easier to Run" seems to convey a struggle with the sins of the past: "Sometimes I think of letting go and never looking back/And never moving forward so there'd never be a past." The band resolves to make a change with the generically written and uncharacteristically pop–sounding "Breaking the Habit"—"I don't know how I got this way/I'll never be alright/So I'm breaking the habit tonight."
There's even a bit of spirituality to the album's title, which refers to a Greek city famed for a cluster of monasteries sitting atop a jagged mountain peak–you may recognize it from the James Bond film For Your Eyes Only. Compared to similar sounding nu–metal acts, Linkin Park is surprisingly clean and cathartic despite the dark themes of their music. In many ways, these guys are as effective as many a rock band on the Christian label Tooth && Nail, conveying tension, hurt, angst, and confession. Linkin Park excels at presenting the questions–questions we all can use to share the Answer with our friends.
Unless specified clearly, we are not implying whether this artist is or is not a Christian. The views expressed are simply the author's. For a more complete description of our Glimpses of God articles, click here.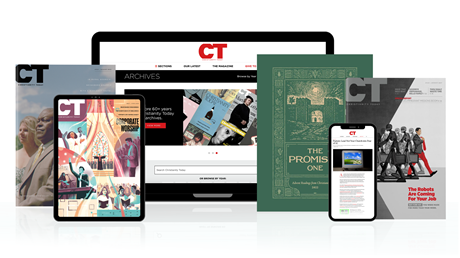 Annual & Monthly subscriptions available.
Print & Digital Issues of CT magazine
Complete access to every article on ChristianityToday.com
Unlimited access to 65+ years of CT's online archives
Member-only special issues
Subscribe
Meteora
Meteora