How did white middle-class suburbia come about?
The stereotype that you are grappling with is a product of the '50s. The public policies of subsidized home mortgages and support for highways led to a rapid spreading of the American population after World War II. The idea behind the highway system was that it would link the whole country together. But freeways also allowed people to get out of the city easily. It allowed a much greater dispersal of the population into suburbs. A lot of it was the building of new developments. Developers had to obey zoning regulations. In some places, you could not build on less than a quarter-acre. It created financial homogeneity, and that, in America at the time, meant largely racial homogeneity.
There was also, whether intended or not, a flight from the city, which left behind people who couldn't move as much; they tended to be poor and more colored.
The flight to the suburbs in America is radically different from what happens in Europe, where the country is a place of peasantry and ignorance and the city is a place of enlightenment. There's an anti-urban strain in our cuture that's at least 200 years old. The city is a place of corruption and the country is a place of virtue.
And the suburbs?
A lot of people, when they move to the suburbs, think they're moving to the country. That's a fantasy because you may have a cow out your bedroom window this week, but the next you're going to have somebody else's house. The more people are oriented by this self-defeating goal, the fewer are going to have it.
The U.S. Census shows that suburbia is increasingly diverse, yet the idyllic promise of this dream still attracts people.
There's a lot of inertia in social life. Once you get an idea, it can hang around for a long time. There was a famous book in my field by Bennett Berger called Working-Class Suburb. It was published 40 years ago. Its title was its point. In other words, not all suburbs are middle-class.
Now there's another new phenomenon: The new poor immigrants used to come to the center of the city, and as they did better, they moved out. Now, they're going directly to the suburbs. Such is the case in the Chicago area. On the West Coast one of the famous suburban areas is Orange County. People used to think of it as boring, white bread, conformist, homogeneous.
Before the Mexicans came in?
The Mexicans and everybody else. Orange County is now one of the centers of the American Vietnamese and American Muslim populations. It's loaded with immigrants from all over the world. Now, white people in Orange County can be oblivious to the fact that they live in one of the most diverse communities. Because suburban life is so much centered on the automobile, on mobility, on choice, on parking lots, you don't have to be aware of the diversity. Another reason is that our churches tend to be racially and ethnically homogeneous. All this leads to privatization, which is the worst thing for society and religion.
Why specifically for religion?
Because religion is meant to connect us. The evangelicals have an understanding of the cross: we're connected to God up and down, and we're connected to each other side to side.
So the horizontal beam goes missing?
Yes, you can put it that way. Evangelicals, as Protestants, go to churches of their choosing. Catholics are supposed to go to their parish. Now, fewer and fewer Catholics are doing it, but nonetheless, Catholic churches are more diverse than Protestant churches. We Protestants choose our churches. And that's one reason why Protestant churches have to have big parking lots—people drive. It has to do with living in a place that suits who you are and where you are in your life. Evangelicalism allows that, and suburbia allows that.
Black people are the most evangelical people in the world, as a category. Yet, white and black evangelicals are "divided by faith," as Michael Emerson and Christian Smith wrote in the book by the same title. We have the same faith and yet we don't share each other's lives.
And the suburbs seem to bring out this division?
It's a little easier to separate yourself, whether you intend to or not. Another suburban phenomenon is a greater tendency to segregate by age. Take Willow Creek Community Church in Chicago's suburbia. Their religiosity doesn't move me, but I have a tremendous respect for what they do. They're very dedicated. Willow has its main, baby boomerish, seeker services. It also has parallel activities that meet the needs of young people. So there's this idea that religious experience is something that ought to be generation-specific. I really don't like it. I like the fact that in my church we've got 80-year-old people and little kids sitting right next to each other.
Among Warner's publications is Gatherings in Diaspora: Religious Communities and the New Immigration (Temple University Press, 1998). He's cofounder of the Chicago- area Group for the Study of Religious Communities.
Article continues below
Related Elsewhere
Also appearing today on our site:
Suburban Spirituality | The land of SUVs and soccer leagues tends to weather the soul in peculiar ways, but it doesn't have to.
Inside CT: Away from the Crowd | You learn a lot about someone through fly fishing.
Warner's Gatherings in Diaspora: Religious Communities and the New Immigration is available at Amazon.com.
For more articles, see CT's Prayer and Spirituality and Church Life archives.
Other articles examining suburban spirituality from Christianity Today and our sister publications include:
The Bobo Future | "Bourgeois bohemians" wield inordinate power over how we think about consumerism, morality—and faith itself (July 25, 2000)
You've Got Mail | A letter Jesus might write to the suburban church of North America (Eugene H. Peterson, Christianity Today, Oct. 25, 1999)
The Cost of Living in a Suburban Paradise (Deborah Windes, Books & Culture, Jan/Feb 1998)
When Your Neighborhood Changes You | How three Twin Cities churches have adjusted to reach their rapidly changing community (Leadership Journal, Spring 2003)
In an article for The Weekly Standard, David Brooks examines Sprinkler City, the newest kind of suburb—and why not all suburbs are alike.
Have something to add about this? See something we missed? Share your feedback here.
Our digital archives are a work in progress. Let us know if corrections need to be made.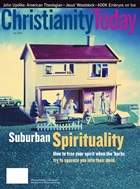 This article is from the July 2003 issue.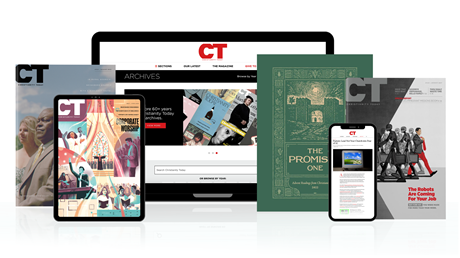 Annual & Monthly subscriptions available.
Print & Digital Issues of CT magazine
Complete access to every article on ChristianityToday.com
Unlimited access to 65+ years of CT's online archives
Member-only special issues
Subscribe
Religion in the 'Burbs
Religion in the 'Burbs