If a man humbles himself, God cannot withhold his own goodness but must come down and flow into the humble man, and to him who is least of all he gives himself the most of all, and he gives himself to him completely. What God gives is his being, and his being is his goodness, and his goodness is his love.
Meister Eckhart, Sermon 22
Pride asserts, humility testifies.
The proud want to seem what they are not. The one who gives testimony does not want to appear what he is not, but to love what, in the full sense, is.
Augustine, Explaining the Psalms
The church is not made up of spiritual giants; only broken men can lead others to the cross.
David J. Bosch, A Spirituality of the Road
It is often (always?) our mistakes that get us going on the spiritual journey. Error is turned into pilgrimage.
Alan Jones, The Soul's Journey
Christians do not need to be perfect, before they can find in one another an acceptance and an approval which is that of the truth itself; or rather, let us say, the truth himself, Jesus Christ.
Austin Farrer, A Celebration of Faith
One of the elders was asked what was humility, and he said: If you forgive a brother who has injured you before he himself asks pardon.
The Wisdom of the Desert: Sayings of the Desert Fathers of the Fourth Century, translated by Thomas Merton
There are no such things as mistakes on this [spiritual] journey, just learning opportunities. You won't always get it right, even supposing that you think you know what "right" is. But we are dealing with a loving and forgiving God, and the best way of learning is through making "mistakes." So take the journey seriously, but not too seriously.
Henry Morgan, A Time to Reflect
Humility is facing the truth. It is useful to remind myself that the word itself comes from humus, earth, and in the end simply means that I allow myself to be earthed in the truth that lets God be God, and myself his creature. If I hold on to this it helps prevent me from putting myself at the center, and instead allows me to put God and other people at the center.
Esther de Waal, Living with Contradiction: Reflections on The Rule of St. Benedict
What is humility? It is that habitual quality whereby we live in the truth of things: the truth that we are creatures and not the Creator; the truth that our life is a composite of good and evil, light and darkness; the truth that in our littleness we have been given extravagant dignity. … Humility is saying a radical "yes" to the human condition.
Robert F. Morneau, Humility: 31 Reflections on Christian Virtue
There is a beauty of soul in a humble person who has no other obvious talent than the humility to stand in awe of the gifts God has given to others.
Joseph F. Girzone, Joshua
Humility makes us perfect toward God, and gentleness [makes us perfect] toward our neighbor.
Francis de Sales, Introduction to the Devout Life
It is a great burden to live among others who think that you have arrived.
Margaret Guenther, Holy Listening: The Art of Spiritual Direction
Confession is nothing but humility in action.
Mother Teresa, No Greater Love
Related Elsewhere
Past Reflections columns include:
Mercy (May 8, 2004)
Cross and Resurrection (April 16, 2003)
Justice (March 18, 2003)
Sex, Love, and Marriage (Feb. 14, 2003)
Mountaintop Spirituality (January 23, 2003)
Word Made Flesh (December 20, 2002)
Desert Springs (November 25, 2002)
Matters of the Mind (October 16, 2002)
Bumper stickers (August 6, 2002)
Preaching (July 18, 2002)
Prayer (June 24, 2002)
Suffering and Grief (May 20, 2002)
Writers and Words (April 18, 2002)
Crucifixion (March 28, 2002)
God's Mission (February 13, 2002)
On Enemies (January 8, 2002)
Life After Christmas (December 26, 2001)
Love & Marriage (November 13, 2001)
The Word of God (October 22, 2001)
Leadership (October 11, 2001)
Suffering (September 13, 2001)
Change (August 14, 2001)
Living Tradition (July 18, 2001)
Sacred Spaces (June 11, 2001)
Friendship (May 17, 2001)
Have something to add about this? See something we missed? Share your feedback here.
Our digital archives are a work in progress. Let us know if corrections need to be made.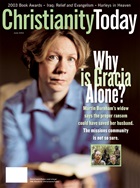 This article is from the June 2003 issue.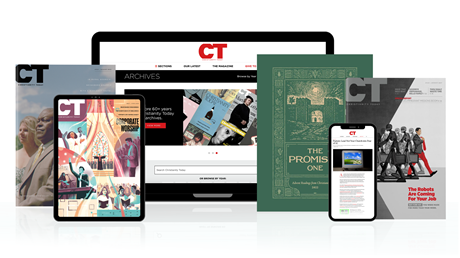 Subscribe to Christianity Today and get access to this article plus 65+ years of archives.
Home delivery of CT magazine
Complete access to articles on ChristianityToday.com
Over 120 years of magazine archives plus full access to all of CT's online archives
Subscribe Now
Walk Humbly
Walk Humbly