The president surprised the nation during his State of the Union address, describing the plight of Africa's 30 million AIDS victims and calling for $15 billion to curb the plague.
The President's words brought back memories of my own initial reaction to people with AIDS: Fear and rejection. Though I wouldn't admit it, deep down I believed people who got AIDS brought it on themselves.
But God has a way of dealing with our prejudices, as he did with me one Christmas in the mid-1980s. I was in a North Carolina prison for women. The atmosphere was glum, as it often is on holidays. The crowd that gathered to hear me preach was somber and subdued.
After the service, a prison official said, "Do you have time to visit Bessie Shipp?"
"Who's Bessie Shipp?" I asked. When they told me she was in an isolation cell dying of AIDS, I drew back. My first reaction was that I didn't have time. Yet, just the night before, I had seen a television report of Mother Teresa embracing two men with AIDS. If that frail, 90-pound nun could do it, how could I, the strapping ex-Marine, do less?
"I'll go," I said reluctantly.
We walked down a narrow corridor, and a door was opened to reveal a small, dark cell. There sat a petite African American woman wrapped in a bathrobe, shivering in the cold. She had an open Bible on her lap.
I came right to the point: "Bessie, we don't have much time. Do you know the Lord?"
"I want to," she replied softly. "But I don't always feel like he's there."
"Would you like to pray with me to know Christ as your Savior?" I asked.
Bessie looked down and finally whispered, "Yes, I would."
I took Bessie by the hand, and we prayed together in that cold concrete cell. Two days later the governor released Bessie, and she was baptized in her hospital room. The next week she died—but not before curing my AIDS phobia.
But sadly, I suspect there are still Christians hung up on AIDS, as I was. George Barna reported last fall that evangelicals are slightly less likely than other Americans to want to help children orphaned by AIDS. How can we look the other way? Unless we devote substantial resources to fighting this modern plague, tens of millions of Africans will die an early death from AIDS. It is Christians of all people who can advocate solutions that offer hope.
Up until now, efforts to stem the tide of African AIDS have focused on condom distribution and other so-called safe sex methods. But the African nation that has witnessed the most dramatic reduction in HIV infections took a different approach. Uganda has aggressively promoted an "abc" prevention approach that prioritizes "Abstinence," "Be faithful," and only then "Condoms." Ugandans have responded with a dramatic delay in the onset of teen sexual activity and a reduced number of sex partners among adults.
The result? HIV infection rates have plunged from 18.5 percent in 1995 to 8.3 percent by the end of 1999—a 50 percent drop in just four years.
Ugandan newspapers give considerable credit for this success to Trans World Radio, which joined the AIDS battle with a one-time special produced in Kenya and with weekly AIDS broadcasts. The programs comfort the afflicted and instruct the healthy on how to avoid becoming infected—not by condom use, but through teaching chastity before marriage and fidelity afterward.
By contrast, African nations that emphasized condom use alone, and have the highest condom user rates on the continent, also suffer the highest HIV prevalence rates. Clearly, condoms must no longer be treated as a panacea for HIV prevention.
The Bush proposal endorses the abc formula. Now, we can anticipate complaints that this is just another attempt by the Religious Right to impose its prudish morality. But is it compassionate to continue pushing "safe sex" campaigns when we know a different approach will save millions of lives?
Acting now is a moral imperative. Plagues have always been with us, but in the past people could do little besides bury the dead and mourn. But Americans can do something about this modern plague—and we must, remembering that great nations prove they are great not merely through the might of their armies, but also through the mercy of their hearts.
U.S. Christians should be in the lead, putting politics and prejudices aside to fight this great plague of the 21st century—taking mercy on "the least of these."
Related Elsewhere
Previous Christianity Today articles on fighting the AIDS epidemic include:
A Strategy for Progress | Unless prevention of HIV/AIDS becomes a clear priority, things are only going to get worse. (May 2, 2003)
Civics for Gay Activists | We may see more die from HIV/AIDS because gay activists are intolerant. (April 10, 2003)
ABC vs. HIV | Christians back abstinence-fidelity plan against deadly virus. (March 10, 2003)
Bono's American Prayer | The world's biggest rock star tours the heartland, talking more openly about his faith as he recruits Christians in the fight against AIDS in Africa. (Feb. 21, 2003)
Article continues below
Jerry Thacker: Politics Muddies Fight Against AIDS  | The politics of homosexuality has made it easier to battle the disease in foreign countries than domestically, says a former nominee to the Presidential Advisory Council on HIV and AIDS. (Feb. 7, 2003)
Killing a Pandemic | The church may be best equipped to deal HIV/AIDS a crippling blow. (Nov. 18, 2002)
U.S. Blacks Preach Abstinence Gospel | Mission workers testify that Christ helps control sexual urges. (March 27, 2002)
Mercy Impaired | Let's shock the world by reversing our apathy toward African sufferers. (September 27, 2001)
Kenyan President Suggests Hanging for 'Knowingly' Infecting Others with AIDS | Church organizations criticize use of capital punishment as solution to epidemic. (July 19, 2001)
Dying Alone | Baptist women seek out and care for ashamed, abandoned AIDS patients. (June 15, 2001)
Few to Receive Generic AIDS Medicines | Pharmaceutical companies drop suit against South Africa, but problems remain. (May 18, 2001)
Zambia's Churches Win Fight Against Anti-AIDS Ads | Church leaders are concerned that condom promotion encourages promiscuity. (Jan. 12, 2001)
Mandela, De Klerk, and Tutu Join to Fight AIDS | South Africa's men of peace call for end of silence and stigmatization. (Dec. 14, 2000)
Speaking with Action Against AIDS | A report from the Thirteenth International AIDS Conference. (July 19, 2000)
'Have We Become Too Busy With Death?' | As 4,900 people die each day from AIDS, African Christians are faced with the question. (Feb. 4, 2000)
'Sexual Revolution' Speeds Spread of HIV Among Africans | An interview with World Relief's Debbie Dortzbach. (Feb. 4, 2000)
Books & Culture Corner: An Open Letter | To the U. S. Black Religious, Intellectual, and Political Leadership Regarding AIDS and the Sexual Holocaust in Africa (Jan. 24, 2000)
Africa: Fidelity Urged to Fight AIDS (July 12, 1999)
Global Death Rates May Skyrocket (May 24, 1999)
I Am the Father of an AIDS Orphan (Nov. 17, 1997)
Recent Charles Colson columns for Christianity Today include:
Taming Beasts | Raising the moral status of dogs has created a breed of snarling, dangerous humans. (April 3, 2003)
Faith vs. Statistics | Beware of doing ethics by crunching numbers. (Jan. 28, 2003)
Just War in Iraq | Sometimes going to war is the charitable thing to do. (Dec. 10, 2002)
A Clan of One's Own | Hacking through the jungle of identity politics. (Oct. 9, 2002)
Undaunted | Bioethics challenges are huge. But so is God. (July 31, 2002)
Article continues below
The Wages of Secularism | New laws won't prevent another Enron. (June 4, 2002)
More Doctrine, Not Less | We need to proclaim truth to a truth-impaired generation. (April 15, 2001)
Post-Truth Society | The recent trend of lying is no accident. (March 4, 2002)
Drawing the Battle Lines | We need to be informed and discerning about the Islamic worldview. (Jan. 9, 2002)
Wake-up Call | If September 11 was a divine warning, it's God's people who are being warned. (Nov. 5, 2001)
The New Tyranny | Biotechnology threatens to turn humanity into raw material. (Oct. 5, 2001)
Merchants of Cool | We should be angry that the media hawks violence and that parents allow it. (June 6, 2001)
Slouching into Sloth | The XFL is but the latest sign of the coarsening of our culture. (Apr. 17, 2001)
Checks and (out of) Balance | Moral truth is in jeopardy when the courts enter the business of making law. (Feb. 27, 2001)
Pander Politics | Poll-driven elections turn voters into self-seeking consumers.(Jan. 3, 2001)
Neighborhood Outpost | Changing a culture takes more than politics. (Nov.8, 2000)
MAD No More | In this post-Cold War era, it's time to rethink our nation's defensive strategy. (Sept. 27, 2000)
Salad-Bar Christianity | Too many believers pick and choose their own truths. (Aug. 8, 2000)
A Healthy 'Cult' | A lively response by one unusual audience shows how God's power transforms culture. (June 12, 2000)
Have something to add about this? See something we missed? Share your feedback here.
Charles Colson
Charles Colson was the founder of Prison Fellowship Ministries, an outreach to convicts, victims of crime, and justice officers. Colson, who converted to Christianity before he was indicted on Watergate-related charges, became one of evangelicalism's most influential voices. His books included Born Again and How Now Shall We Live? A Christianity Today columnist since 1985, Colson died in 2012.
Previous Charles Colson Columns:
Our digital archives are a work in progress. Let us know if corrections need to be made.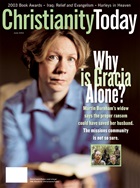 This article is from the June 2003 issue.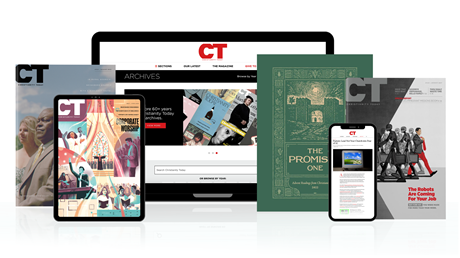 Annual & Monthly subscriptions available.
Print & Digital Issues of CT magazine
Complete access to every article on ChristianityToday.com
Unlimited access to 65+ years of CT's online archives
Member-only special issues
Subscribe
Beyond Condoms
Beyond Condoms