Mounds of garbage fester in the streets of Baghdad. Iraqis continue to suffer from a lack of basic services, including water and power. Hospital looting has deprived the city of key medical supplies. Meanwhile, stockpiles of medicine, food, and other relief goods remain stuck outside Iraq's borders as the country's typically broiling summer sets in.
Aid trickles in, but frustrated relief agencies wait as violence and insecurity in Iraq delay their entry. Several aid groups have threatened to stay out if the United States military decides to coordinate relief efforts longer than necessary. Relief agencies argue that working too closely with the armed forces could create a faulty perception that relief is tied to U.S. political objectives.
Even more formidable barriers await Christian groups that seek to combine witness to Jesus Christ with humanitarian aid.
Put on the Defensive
Ninety-six percent of Iraq's 22 million people are Muslim, and many have shown themselves hostile to any Christian presence.
This spring, American media complicated this challenge by feeding public suspicions that America is following its military campaign with an army of Christian soldiers disguised as aid workers. A spate of articles reignited controversy by dredging up the late 2001 remark by Franklin Graham, head of the Christian relief agency Samaritan's Purse, that Islam was "a very evil and wicked religion."
On March 26, a Religion News Service article reported that Samaritan's Purse and the Southern Baptist Convention would provide humanitarian relief among Iraqi Muslims. Next, the multifaith website Beliefnet posted a harsh assessment by Deborah Caldwell. Caldwell quoted the combative Muslim spokesman Ibrahim Hooper of the Council on American-Islamic Relations as saying Graham would go to Iraq to convert people to Christianity.
"Franklin Graham obviously thinks it is a war against Islam," Hooper said. The New York Times reprinted Caldwell's piece on April 6. Other media outlets published critical looks at Graham's role in relief in Iraq. Beliefnet staff members wrote several of them.
Evangelical relief groups, finding themselves on the defensive, stressed that providing physical relief to suffering people is their main objective. Graham explained his organization's goals in a Los Angeles Times op-ed article on April 2: "Samaritan's Purse will offer physical assistance to those who need it, with no strings attached. Sometimes the best preaching we can do is simply being there with a cup of cold water, exhibiting Christ's spirit of serving others."
Ben Homan, president of Food for the Hungry, agreed: "If an earthquake struck in Texas, and someone forced you to hear a religious message in exchange for food or medicine, we think that would be wrong."
Nonetheless, for most evangelical relief groups, the question is not whether, but how and when, they should convey their faith. Agency leaders say that while aid will not be conditioned on a person's accepting the gospel, relief workers will be available privately to answer spiritual questions as they come up in the context of relationships. Food for the Hungry plans to spend $546,000 a month to feed 15,000 Iraqi families in the mostly desert country for three months.
Len Rodgers, president of Venture International, has 20 years of experience working in the region. He told CT that local Christians could best do the work. "It's not seen as proselytism, but as the church [people] doing what they always do—serving 'the least of these.' They don't pass out literature indiscriminately. The bottom line is relational. They treat people as people."
Dudley Woodberry, professor of Islamic studies at Fuller Theological Seminary in Pasadena, California, said Christians need to be wise. "Jesus demonstrated the importance of timing when at times he healed someone and then said not to tell anyone," Woodberry said. "Arab Muslims already distrust American motives."
Moses and Jesus
The International Mission Board of the Southern Baptist Convention is seeking the right balance between sensitivity and boldness. IMB workers are sending nearly 80,000 boxes of beans, rice, flour, and other staples. Printed in Arabic on each box are words from John 1:17: "For the Law was given through Moses; grace and truth were realized through Jesus Christ." Jim Brown, director of the SBC's World Hunger and Relief Ministries, said the verse is an appropriate expression of Christian faith to Muslims.
"Moses and Jesus are both prophets for Muslims," Brown told CT. "I don't think a Muslim would find that verse offensive."
But Brown added that the IMB plans no mass evangelism. "Freedom to share God's love in Iraq is limited to one-to-one, God-given opportunities, not man-orchestrated events."
Southern Baptists and many evangelical relief agencies are leaving verbal evangelism to local Christians by funneling relief through churches in Iraq and neighboring countries. The Jordanian Baptist Society will help American Southern Baptist volunteers distribute food. "They're there for the long haul," Brown said. "Outsiders come in for a short period of time and then leave."
World Relief is working with Christian communities in Iraq, Jordan, and Turkey to assess needs in northern Iraq, which is under the control of Kurds.
The mountainous region of 4 million Kurds also has a small contingent of evangelistically active Christians. Their leader is Yousif Matty, who heads the National Protestant Evangelical Church (NPEC). Matty is an Iraqi Arab who converted to Christ during his days as a conscript in the Gulf War. Since the Gulf War, NPEC has grown from zero to several fellowships, each with 60 to 200 believers, in four cities across northern Iraq.
But some Kurds are hostile to such conversions. Matty says Kurdish radicals have said they will kill him, and he knows it's not an idle threat. Ziwar Mohammed Ismaeel, a Kurdish Christian, was shot dead in February in Kurdistan's northernmost city, Compass Direct reported. Local authorities said Ismaeel's self-confessed murderer believed he was "fulfilling the will of Allah" by killing an apostate from Islam.
Matty prefers that relief ministry and evangelism remain separate. "We have no problems giving out Bibles without attaching any food or support," Matty said. On the relief side, Partners International will subsidize NPEC's food and medical supply distribution to Kurds.
World Vision will work with the United Nations to distribute food to 250,000 people in Mosul, northern Iraq. Bruce Wilkinson, World Vision's senior vice president of international programs (not the famous author), estimates the agency will provide $15 million to $20 million worth of relief in the first three months.
World Relief, Food for the Hungry, and Venture International are among the Western agencies working with a coalition of 11 Jordanian churches and agencies. Formed during the first Gulf War, the Jordanian Evangelical Community for Relief and Development organized camps for third-country nationals (non-Iraqis who had been living in Iraq) fleeing Iraq in 1990 and during this year's war (CT, May, p. 26). After assessing needs with Iraqi church leaders, the coalition will provide Iraq's churches with food, medicine, and school supplies.
Many of Iraq's estimated 600,000 Christians fear for their futures. Under Saddam, they were free to worship and import Bibles and Christian literature (CT, Nov. 18, 2002, p. 34). But some leaders of Iraq's Shi'ite Muslim majority are demanding an Iran-style Islamic state. Some Iraqi Christians have reported that anti-Christian rhetoric has dominated Friday prayers at some mosques in Baghdad.
"Arab Christians have been accused of being 'entities of the West,'" said Gustavo Crocker, senior vice president of programs at World Relief, the humanitarian agency of the National Association of Evangelicals. "By our enabling them to show the love of Christ, we are also strengthening the position of the church in the region."
Dawn Herzog edits World Pulse, published by the Billy Graham Center at Wheaton College. Deann Alford writes for the Compass Direct news service.
Related Elsewhere
For more coverage on the relief efforts in Iraq, commentary and thought on just war, or Christian debate, see our CTWar in Iraq archive. For relevant articles on the war from news agencies around the globe, see CT's updated war links page.
A downloadable Bible study on the implications of the war with Iraq is available at CurrentIssuesBibleStudy.com. These unique Bible studies use articles from current issues of Christianity Today to prompt thought-provoking discussions in adult Sunday school classes or small groups.
Recent related Christianity Today articles and commentary on Iraq include:
What's the Difference Between Shi'ah and Sunni? | With a history of persecution and belief in martyrdom, the Shi'ite Muslim majority in Iraq may be more receptive to Christianity. (April 30, 2003)
Christian History Corner: Missionary Tales from the Iraqi Front | The modern Anglican mission to Iraq met with initial success, but its story sounds a cautionary note. (April 25, 2003)
Before the Refugee Dam Breaks | Agencies prepare to help up to 900,000 people in Iraq War. (April 24, 2003)
As Baghdad Falls, Agencies Brace for Flood of Work | Aid and mine removal teams could move into Iraq within days. (April 11, 2003)
Mixing Iraq Aid and the Gospel Stirs Debate | Critics say proselytizing can reflect negatively on other relief groups and governments. (April 4, 2003)
Relief Agencies Prepare to Help Iraqi Refugees | Meanwhile Christians in Baghdad fear the worst. (March 26, 2003)
Evangelicals Plan to Minister to Iraqis' Needs—Physical and Spiritual | Evangelism efforts will join relief work, say Southern Baptist Convention and Samaritan's Purse. (March 27, 2003)
Speaking Out: Where Do We Go From Here? | Now that the bombs are falling, we'll need to repair Iraq—and our nation's moral standing. (March 21, 2003)
CT Classic: Weeping over Baghdad | Desert Storm cost Iraq thousands of lives. At its conclusion, a Christianity Today editorial called for the church to deal with the living souls that remained. (March 21, 2003)
Keeping Their Heads Down | Vital but dwindling Christians face many pressures. (Nov. 8, 2002)
Have something to add about this? See something we missed? Share your feedback here.
Our digital archives are a work in progress. Let us know if corrections need to be made.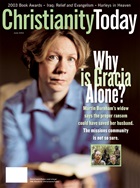 This article is from the June 2003 issue.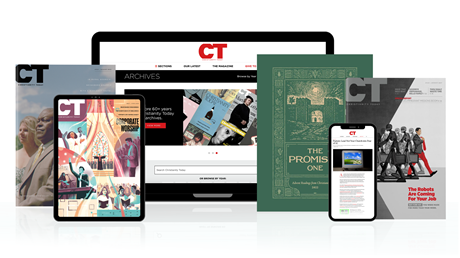 Annual & Monthly subscriptions available.
Print & Digital Issues of CT magazine
Complete access to every article on ChristianityToday.com
Unlimited access to 65+ years of CT's online archives
Member-only special issues
Subscribe
No Strings Attached
No Strings Attached