Family sues church for $2 million after persecution simulation
Harry Sherrer, pastor of Forest Hill Baptist Church in Maryville, Tennessee, says an "Underground Church" program on March 23, 2002, was meant to help the church's youth better understand the situation of persecuted Christians around the world.
But one family says it ended up being "a dangerous, cult-like event that was unlawfully and deceptively conceived, sponsored, promoted and supervised by Forest Hill Baptist Church, its pastor, its deacons, its youth director and several of its members." In effect, the persecution simulation became persecution itself.
According to The Daily Times of Maryville, youth group members were told to meet at a member's home before the service, then were taken to the church together. But on the way to the church, they found the way blocked by emergency vehicles with their lights and sirens on. The students were let out of the car and told to "sneak the back way" into the church. When they finally got into the sanctuary (after being "accosted by 'men dressed in dark clothes,'") the lights were out and one of the adult leaders was crying. As they began reading the Bible by flashlight, something sounding like a gunshot came from outside. The kids hid, and several men "dressed as soldiers with gas masks on" rushed in. Then things really started getting crazy.
The members were blindfolded and handcuffed, put into a truck, and driven away. Then they were told they had "one chance to deny Christ, or you will be killed." When they refused, another gunshot sound went off and they were soaked with water (apparently meant to simulate the blood spatter of another loyal youth member). That's when the youth whose family is suing began screaming and crying, and was released.
Still, says the lawsuit, that wasn't the end. She allegedly received "serious, painful and permanent [physical] injuries" to her wrists and knee, and "serious, severe and permanent mental and emotional injuries" that left her with nightmares and bad grades.
Sherrer (not to be confused with satirist Harry Shearer) says the family is alone in its feelings about the event. "Everyone else involved was impressed by the whole activity. It was a very positive event," he told The Daily Times. "We are saddened that members of this family feel wronged by our church."
The pastor also talked to local television station WVLT, explaining that there was no yelling or abuse at the event. The students, he said, "had no real reason to be afraid. They received plenty of instruction about what was going to happen. In fact, I didn't notice any of the young people being afraid."
Um, not that Weblog is taking sides in this suit (though many other bloggers are), but Pastor Sherrer might want to reconsider that argument. If there was no reason to be afraid, what was the point of the exercise?
Forest Hill is certainly not alone in conducting this kind of simulation. Weblog's old youth group ran a similar, albeit much, much milder exercise during a camp, and this week's episode of NPR's This American Life included a few similar stories (go to "note three"). Worth noting, however, is that Youth Specialties has removed its "Underground Church Simulation" page in the last few days. (Open Doors USA still has a simulation kit, however.)
Related Elsewhere
Suggest links and stories by sending e-mail to weblog@christianitytoday.com
Check out Books & Culture's weblog, Content & Context.
See our past Weblog updates:
June 13 | 12 | 11 | 9
June 6 | 5 | 4 | 3 | 2
May  29 | 28 | 27
May 23 | 22 | 21 | 20 | 19
May 15 | 14 | 13 | 12
May 9 | 8 | 7 | 6 | 5
May 2 | 1 | April 30 | 29 | 28
and more, back to November 1999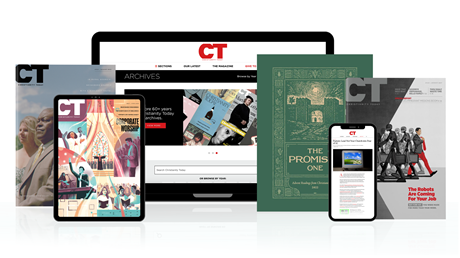 Subscribe to Christianity Today and get access to this article plus 65+ years of archives.
Home delivery of CT magazine
Complete access to articles on ChristianityToday.com
Over 120 years of magazine archives plus full access to all of CT's online archives
Subscribe Now
A Creative Youth Group Activity That Will Get Your Church Sued
A Creative Youth Group Activity That Will Get Your Church Sued