Congress enacts first abortion restriction since Roe v. Wade
After a U.S. House of Representatives vote last night (roll call), the federal government will finally ban partial-birth abortions, or what some abortion rights supporters call "dilation and extraction."
"After eight long years, Congress will finally send the Partial Birth Abortion Ban Act to a president willing to sign it," House Majority Leader Tom DeLay told The Washington Times. "The debate over the rights of the unborn will continue, and new battles will be fought. But in the meantime, the American people will take this one stand … on behalf of the innocent."
Actually, notes The Washington Post, it's not just the debate over the rights of the unborn that will continue. Opponents of the bill "have vowed to challenge the measure in court, noting that three years ago the Supreme Court struck down a similar law in Nebraska."
But the Family Research Council has a briefing on how the language in H.R. 760 explicitly fits with the Supreme Court's 2000 Stenberg v. Carhart ruling. "It will be imperative that Attorney General John Ashcroft mount a vigorous defense of the law," FRC President Ken Connor says in a separate press release. (The FRC also has a briefing on partial-birth abortion myths,
In talking to the Chicago Tribune, however, the National Right to Life Committee seems to say that H.R. 760 is inconsistent with the logic of Stenberg v. Carhart. But that's okay, says Douglas Johnson, the group's legislative director. "We hope that by time this bill gets to the Supreme Court, there will be five justices who don't adhere to that extreme position," Johnson said. "Sometimes justices change their minds. Sometimes the composition of the court changes. Anything can happen."
Despite the looming court battle, both sides of the abortion debate agree that this is huge news. "It is monumental in that it represents the first real restriction on any form of abortion enacted into law in 30 years," Connor told the Associated Press.
NARAL Pro-Choice America president Kate Michelman agrees: "President Bush and anti-choice leaders in the Congress have crossed the Rubicon towards rolling back Roe."
The Senate passed a similar bill back in March, and President Bush has vowed to sign it. "Passage of this important legislation is a shared priority that will help build a culture of life in America," Bush said yesterday. "I urge Congress to quickly resolve any differences [between the House and Senate bills] and send me the final bill as soon as possible so that I can sign it into law."
Concerned Women for America and FRC had a run-up press releases yesterday; expect reaction releases today. The American Center for Law and Justice already has a reaction release posted. Newspaper opinion pieces on the bill include:
DNC: What prolife Democrats?
Among the 282 members of the House who voted for the partial-birth abortion ban were 62 Democrats, but the Democratic Party would apparently prefer to deny their existence. Roll Call,a newspaper covering life on Capitol Hill, reported Monday that the Democratic National Committee website links to "279 political and advocacy organizations, labor unions, religious groups and government agencies." But Democrats for Life has been shut out. (The organization has republished the article for free, which isn't available at the Roll Call site without a subscription.)
Last month, 17 House Democrats wrote to DNC Chairman Terry McAuliffe, challenging the group's exclusion, which they say is "ostracism," and contradicts the party's platform, which said, "We respect the individual conscience of each American on this difficult issue."
"Despite all the prattling about 'diversity,' 'openness,' 'inclusiveness,' and other such politically correct twaddle, it is clear that no difference of opinion on abortion will be tolerated," the FRC's Connor said about the news. "Prolife Democrats are victims of abortion apartheid. … No wonder the increasingly marginalized party continues to lose power, influence and elections."
More articles
India and its conversion laws:
Persecution and violence:
Religious freedom and discrimination:
Missions and ministry:
Sexual ethics:
Same-sex marriage:
Church and state:
Politics and law:
Holy Land:
Interfaith relations and other religions:
Related Elsewhere
Suggest links and stories by sending e-mail to weblog@christianitytoday.com
Check out Books & Culture's weblog, Content & Context.
See our past Weblog updates:
June 4 | 3 | 2
May  29 | 28 | 27
May 23 | 22 | 21 | 20 | 19
May 15 | 14 | 13 | 12
May 9 | 8 | 7 | 6 | 5
May 2 | 1 | April 30 | 29 | 28
April 25 | 24 | 23 | 22 | 21
and more, back to November 1999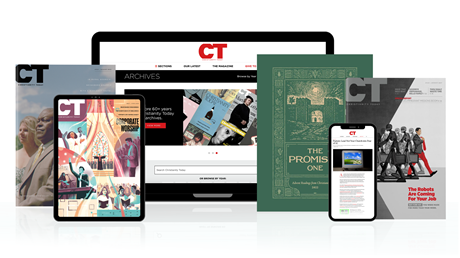 Subscribe to Christianity Today and get access to this article plus 65+ years of archives.
Home delivery of CT magazine
Complete access to articles on ChristianityToday.com
Over 120 years of magazine archives plus full access to all of CT's online archives
Subscribe Now
House Votes to Ban Partial-Birth Abortion
House Votes to Ban Partial-Birth Abortion