Life in heaven sounds downright boring, if some descriptions are to be believed. In my boyhood, psalms were sung very slowly in church, and I thought heaven was like that—a place where one sat on hard benches all day long and sang Dutch Psalms. I was not enthralled. Huck Finn thought heaven was a place where a person would "go around all day long with a harp and sing, forever and forever."
This future life is often seen as an eternal existence without bodies. Also, it is thought of as "above," somewhere off in space, far removed from this earth—an escape, in fact.
Some hymns suggest this (and people often learn more of their theology from hymns than from sermons). "We're marching through Immanuel's ground / To fairer worlds on high" (Isaac Watts). Heaven is "Where the harps of angels ring, / And the blest forever sing" (H. E. Blair). And this heaven is a place of rest, we are told; work is restricted to these present evil days. "Be not aweary, for labor will cease some glad morning; / Turmoil will change to infinite peace, some glad morning" (Charlotte Homer).
Are we then to spend eternity in space, disembodied spirits who flit from cloud to cloud, plucking golden harps in an endless day off? We can agree with the element of truth in these teachings: Paul tells us that when he dies he will go to be with Christ (Phil. 1:23), who has now been taken up into heaven (Acts 1:11). And he also says that this state is "away from the body and at home with the Lord" (2 Cor. 5:8).
But, and here is the critical point, this will be a temporary existence—one where we shall eagerly await the resurrection of the body to take place on the last day, at Jesus' second coming.
Resurrected bodies are not intended just to float in space, or to flit from cloud to cloud. They call for a new earth on which to live and to work, glorifying God. The doctrine of the resurrection of the body, in fact, makes no sense whatever apart from the doctrine of the new earth.
The Bible teaches such a new earth on which God's people will live eternally. The Old Testament reveals that the ultimate destiny of man is an earthly one. In Isaiah 65:17 we read that the final state of the universe will involve a new earth: "Behold, I will create new heavens and a new earth" (see also 66:22). This vision of the future is continued in the New Testament. Peter tells us that we look forward to a new heaven and a new earth in which righteousness will dwell (2 Pet. 3:13). From the last book of the Bible we learn that those purchased by Christ's blood from every tribe, language, people, and nation will some day reign forever on the earth (Rev. 5:9-10). And we remember the words of Revelation 21:1, "Then I saw a new heaven and a new earth, for the first heaven and the first earth had passed away."
This last passage, in fact, adds a crucial fact: in the final state, heaven and earth will have merged! "I saw the Holy City, the new Jerusalem, coming down out of heaven from God." (Rev. 21:2). The "new Jerusalem" stands for the entire glorified church of God. This church, in John's vision, does not remain in a "heaven" far off in space, but it comes down to the renewed earth; there redeemed will spend eternity in resurrection bodies. So heaven and earth, now separated, will then be merged: the new earth will also be heaven, since God will dwell there with his people. Glorified believers, in other words, will continue to be in heaven while they are inhabiting the new earth.
Will the new earth be totally other than the present earth (annihilation followed by re-creation), or will it be the present earth renewed and purified? I favor renewal for the following reasons:
Paul's argument in Romans 8. Paul tells us that the creation waits in eager expectation for the revealing of the sons of God so that it may be liberated from its bondage to decay (vv. 20-21). He is saying that it is not some totally different universe but the present creation that will be set free from corruption.


The analogy between the new earth and the resurrection bodies of believers. The differences between our present bodies and our resurrection bodies, breathtaking though they will be, will not take away the continuity: it is we who shall be raised, and it is we who shall always be with the Lord. By way of analogy, we would expect that the new earth will not be totally other than the present earth, but will be the present earth wondrously renewed.


The defeat of Satan. If God would have to annihilate the present cosmos, Satan would have won a great victory, for then Satan would have succeeded in so devastatingly corrupting the present universe and the present earth that God could do nothing with it but blot it out of existence. But Satan was decisively defeated. God will reveal the full dimensions of that defeat when he renews this very earth on which Satan deceived mankind, and finally banishes from it all the results of Satan's evil work. God will maintain his creation. There will be continuity as well as discontinuity between the present earth and the new earth.


Edward Thurneysen writes of this new earth, "The world into which we shall enter in the Parousia of Jesus Christ is therefore not another world; it is this world, this heaven, this earth; both, however, passed away and renewed. It is these forests, these fields, these cities, these streets, these people, that will be the scene of redemption. At present they are battlefields, full of the strife and sorrow of the not-yet-accomplished consummation; then they will be fields of victory, fields of harvest, where out of seed that was sown with tears the everlasting sheaves will be reaped and brought home" (Zwischen den Zeiten, 1931, p. 209).
As if anticipating the question, "Will life on the new earth be boring?" the Bible points to much activity there. The author of Hebrews says Abraham looked forward to the city with foundations whose architect and builder is God (11:10). And the apostle John says, "I saw the Holy City, the new Jerusalem." (Rev. 21:2). These passages describe the new earth in terms of a city and a city usually bustles with activity.
We read, for example, in Revelation 22:3, "The throne of God and of the Lamb will be in the city, and his servants will serve him." We learn from the same book that new songs will be written on that new earth (5:9), and that new songs will be sung (14:3). According to the parable of the talents, the master's reward to the faithful servants is this: "You have been faithful with a few things; I will put you in charge of many things" (Matt. 25:21, 23, NIV).
"Being in charge" or "ruling over" (KJV) many things suggests a busy program of administrative activity. And in what is commonly called the parable of the pounds, the king rewards the servant who made ten pounds by placing him in authority over ten cities, and the servant who made five pounds is given authority over five cities (Luke 19:17, 19). In these two parables, the reward promised consists not of idle rest but of service. In the latter parable the type of service implies a kind of life as busy and active as that of a mayor on this earth. Can you imagine being mayor of ten cities?
Startling and breathtaking are the words of Revelation 21:24 and 26: "The kings of the earth will bring their splendor into [the Holy City]. … The glory and honor of the nations will be brought into it." Kings in those days were more than political rulers; they were the representatives and bearers of the cultures of the nations over which they ruled. John is here speaking about the cultural and artistic contributions of various national groups which shall then have made their home in the new Jerusalem.
Two interpretations of these words have been suggested. One holds that some of the actual cultural products of various ethnic groups will be found on the new earth: paintings by Rembrandt, sculptures by Michelangelo, music by Bach. This view, however, seems to be ruled out, since the Bible teaches that the first earth will then have passed away (Rev. 21:1), and that the earth and the works that are on it will be burned up (2 Pet. 3:10). A more likely interpretation is that in the life to come various types of people will retain their unique gifts. These gifts will develop and mature in a sinless way, and will be used to produce new cultural products to the everlasting glory of God's name.
In the resurrection we shall retain our individuality, but in a heightened way. This means that we shall not only still possess the gifts God gave us, but that our potential for exercising these gifts will then be realized to the full—as it never was in this life. Using the analogy between the talents of a child and the fully developed gifts of an adult, Abraham Kuyper suggests that in the life to come we will retain the seeds of our present gifts, but God will then give to what is developed from those seeds a new form that will be in harmony with the everlasting glory of his kingdom (Gemeene Gracie, I, 461).
The fact that not only kings but nations are mentioned implies that the various cultural contributions of different ethnic groups will then no longer be in competition with each other, but will harmoniously enrich life in the Holy City. Christ, who is the lamp of that city, will then draw all these cultural products into his service, for the glory of his Father (see When the Kings Come Marching In, Richard Mouw, pp. 55, 63).
In the beginning man was given the so-called cultural mandate—the command to rule over the earth and to develop a God-glorifying culture. Because of man's fall into sin, that cultural mandate has never been carried out in the way God intended. Only on the new earth will it be perfectly and sinlessly fulfilled. Only then shall we be able to rule the earth properly.
The possibilities that now rise before us boggle the mind. Will there be "better Beethoven" on the new earth, as one author has suggested? Shall we then see better Rembrandts, better Raphaels, better Constables? Shall we read better poetry, better drama, and better prose?
Will scientists continue to advance in technological achievement, will geologists continue to dig out the treasures of the earth, and will architects continue to build imposing and attractive structures? Will there be exciting new adventures in space travel? Shall we perhaps be able to explore new Perelandras? We do not know. But we do know that human dominion over nature will then be perfect. Our culture will glorify God in ways that surpass our most fantastic dreams.
This all means a lot for us now. If there is continuity as well as discontinuity between this earth and the new earth, we must work hard to develop our gifts and talents, and to come as close as we can to producing, in the strength of the Spirit, a Christian culture today. Through our kingdom service, the building materials for the new earth are now being gathered. Bibles are being translated, peoples are being evangelized, believers are being renewed, and cultures are being transformed. Only eternity will reveal the full significance of what has been done for Christ here on earth.
A scintillating future awaits us—not a future of disembodied existence (though this will be an earlier part of it), but everlasting life in glorified bodies on the new earth. Compared with the immeasurable span of eternity, this present life is but a passing moment, a fleeting sigh.
We look forward eagerly to that new earth, which will far surpass in splendor anything that we have ever seen before.
This article originally appeared in the September 20, 1985, issue of Christianity Today. At the time, Anthony Hoekema was professor of systematic theology emeritus, at Calvin Theological Seminary. The article is adapted from his book, The Bible and the Future (Eerdmans, 1982). Hoekema died in 1988.
Related Elsewhere
Other stories appearing on our site today include:
Harleys in Heaven | What Christians have thought of the afterlife and what difference it makes now.
The Believer's Final Bliss | The regeneration of man requires that old things must pass away and all things become new. By John Murray (July 7, 1958)
The Glories of Heaven | While heaven will be glorious, the greater glory will consist in our transformation. By Stanley C. Baldwin (May 22, 1964)
The Hope of Heaven | Have Christians forfeited their rightful anticipation of eternity? By L. Nelson Bell (May 24, 1968)
Illusion or Reality? | Heaven is a place. There is a city we are going to see and walk in. By Edith Schaeffer (Mar. 12, 1976)
Article continues below
Heaven Can't Wait | I have seen the electrifying results of what can happen when the reality comes alive. By Philip Yancey (Sept. 7, 1984)
What Will Heaven Be Like? | Thirty-five frequently asked questions about eternity. By Peter Kreeft (from Tough Questions Christians Ask, 1989)
The Eternal Weight of Glory | If only we could have the positives of earthly life without the negatives. By Harry Blamires (May 27, 1991)
Afraid of Heaven | We do not yearn to be near God because we do not find sin utterly repugnant or goodness rapturously attractive. By Kenneth Kantzer (May 27, 1991)
Other related articles include:
Hell's Final Enigma | Won't heaven's joy be spoiled by our awareness of unsaved loved ones in hell? (April 24, 2004)
Christian History Corner: How the Early Church Saw Heaven | The first Christians had very specific ideas about who they would meet in the afterlife. (August 9, 2002)
What's a Heaven For? | C.S. Lewis saw belief in heaven not as wishful thinking, but as thoughtful wishing. (Oct. 26, 1998)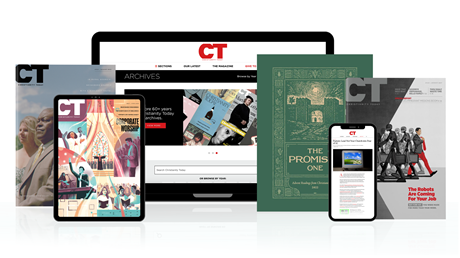 Annual & Monthly subscriptions available.
Print & Digital Issues of CT magazine
Complete access to every article on ChristianityToday.com
Unlimited access to 65+ years of CT's online archives
Member-only special issues
Subscribe
Heaven: Not Just an Eternal Day Off
Heaven: Not Just an Eternal Day Off