Last summer, Newsweek ran a cover story on Americans' perceptions of heaven and hell. Finishing up the piece, the author quoted a 14-year-old vacation Bible school counselor that heaven is "whatever you dream it." It may be just one more case of bad journalism, but for a venerable tradition like VBS—established to teach children the Bible and to mature them as Christians—the quote couldn't have been more embarrassing. Buried in the article as it was, though, the quote seems to have attracted little attention.
Many of our readers won't need an introduction to VBS. But for those who do, vacation Bible schools are typically offered by churches once every summer, starting usually on a Monday and finishing up that Friday. They center around a single theme, involve kids in games and crafts, and—most importantly—seek to teach biblical truths. Christian youth are encouraged to invite their neighborhood friends who otherwise would never bother with church. In many communities, the week of summer fun is anticipated with rising excitement.
But, as one of our readers recently asked Christian History, how did VBS become so popular, and who was the inspiration behind it?
Unofficially, it's possible to trace the roots of VBS as far back as the 1870s, when the Methodist Episcopal Church offered summer Sunday school institutes to the general public near Lake Chautauqua, New York. In 1873, Bishop John H. Vincent proposed the movement should include educational and cultural programs, and soon other Christian groups across the country followed suit with their own summer retreats, many of them offering services for children.
Vacation Bible school as we know it today got its start more than 20 years later on New York City's East Side. Mrs. Walker Aylette Hawes of the Epiphany Baptist Church noted a rapid increase in the number of immigrant children in the slums. In July 1898 she rented the only place available—a saloon—to run a Bible school for six weeks during the summer. Hawes structured her program around worship music, Bible stories and Scripture memorization, games, crafts, drawing, cooking, etc. The school caught on: Hawes was presiding over seven separate schools by the time she retired from her work in 1901.
Dr. Robert Boville, who worked for the Baptist Mission Society, picked up where Hawes left off, and the movement grew to include 17 schools by 1903. Fours years later, schools opened in Philadelphia and Chicago, and in 1911, Boville established the Daily Vacation Bible School Association as a national organization. In 1923, he left to promote VBS internationally and founded the World Association of Vacation Bible Schools.
If Boville is responsible for establishing VBS as a movement, Standard Publishing in Cincinnati takes the credit for popularizing it. The publisher created a full-scale VBS program in 1923, divided it by grade level in 1948, introduced a single-theme concept in 1952, and by 1987, offered more than 120 tools for churches wanting to run a VBS. In 1998, the publisher reported that more than 5 million children attended VBS programs every year.
It's interesting to note that VBS is not only an American phenomenon. One of many worldwide examples is the VBS pioneered by the South India Bible Seminary. In 1952, the seminary's staff and students introduced VBS to 75 children in Kovilpatti, Tamil Nadu. Four years later, seminary students designed their own course, and in 1961, over 33,000 students enrolled in 100 VBS centers across the country of India. Explosive growth continued through the 1970s, totaling 1,420,000 students by 1980. The Mar Thoma church became so enthusiastic it sponsored a missionary VBS venture into Kuwait in 1984, beginning with 750 students and 60 teachers.
In the 1970s, critics suggested the movement had exhausted its potential. History, it seems, is on the side of VBS.
Steven Gertz is editorial coordinator of Christian History. More Christian History, including a list of events that occurred this week in the church's past, is available at ChristianHistory.net. Subscriptions to the quarterly print magazine are also available.
Related Elsewhere
Christian History Corner appears every Friday at ChristianityToday.com. Previous editions include:
The African Lion Roars in the Western Church | Anglican liberals are fretting, conservatives rejoicing, and all are scrambling to their history books: whence this new evangelical force on the world scene? (June 27, 2003)
How John Wesley Changed America | His 300th birthday should be a red-letter day on this side of the ocean. After all, we're all Wesleyans now. (June 20, 2003)
Did Eric Rudolph Act in a "Tradition of Christian Terror"? | A historian considers the evidence of the Crusades and the Inquisition (June 13, 2003)
The Ancient Rise and Recent Fall of Tithing | Is yet another time-honored Christian practice fading from view? (June 6, 2003)
When World Leaders Pray, Part II | Tony Blair's spin-doctors worried when he recently "outed" himself as a Christian. But what impact has Christianity really had on our leaders? (May 29, 2003)
Article continues below
The Day the Ransoming Began | A gripping new book details the first American missionary hostage crisis, over 100 years ago. (May 23, 2003)
When World Leaders Pray | Some observers are upset with Tony Blair's recent public avowal of faith. But what impact has Christianity really had on our leaders? (May 16, 2003)
Got Your 'Spiritual Director' Yet? | The roots of a resurgent practice, plus 14 books for further study. (May 2, 2003)
Missionary Tales from the Iraqi Front | The modern Anglican mission to Iraq met with initial success, but its story sounds a cautionary note. (April 25, 2003)
The Goodness of Good Friday | An unhappy celebration—isn't that an oxymoron? (Apr. 17, 2003)
Top Ten Entry Points to Christian History | Some enjoyable ways to get the most out of the work of church historians. (Apr. 11, 2003)
Top Ten 'Starter Books' | Get rooted in the Christian past with these riveting reads of primary sources. (Apr. 4, 2003)
Top Ten Reasons to Know Christian History | War reports deluge us every hour. Why should we read "old news?" (Mar. 28, 2003)
Saint J. R. R. the Evangelist | Tolkien wanted his Lord of the Rings to echo the "Lord of Lords"—but do we have ears to hear? (March 14, 2003)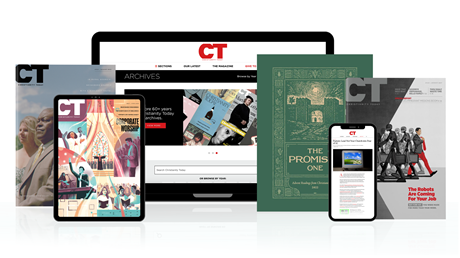 Annual & Monthly subscriptions available.
Print & Digital Issues of CT magazine
Complete access to every article on ChristianityToday.com
Unlimited access to 65+ years of CT's online archives
Member-only special issues
Subscribe
From Beer to Bibles to VBS
From Beer to Bibles to VBS