The abuse of abuse
Militant Hindus in India are taking a page from the Chinese government: if you can't attack someone purely on the basis of religion alone, make up sexual abuse clams against them.
Inside the Jinzhou Prison in Hubei Province, Pastor Gong Shengliang, head of the South China Church, is bleeding internally, has lost his hearing, and is experiencing regular beatings. Chinese officials regularly harassed him simply for leading an illegal church, then created false charges of rape and assault—which all international observers agree are wholly bogus.
In 1999, a Hindu mob attacked the jeep where Australian missionary Graham Staines and his two young sons were sleeping. The three were burned alive as the Hindus shouted anti-Christian slogans.
Now 17 men are standing trial for the murders. The proceedings have been marked by several outrageous claims by the defense, but yesterday it took a particularly evil turn. Hemalata Karua, a 32-year-old woman from Machhagar, Keonjhar, testified yesterday that Staines tried to molest her when she and her husband attended an evangelistic "jungle camp" in Manoharpur.
"He entered and asked me to close my eyes and meditate," Karua said. "As I was meditating he laid his hands on my body, I protested but he continued to persuade me, saying physical relationship with him would benefit me." When she screamed, Karua said, Graham fled. Twenty days later, she claims, Staines's wife, Gladys (who is still working in the country) approached her to express regret and to ask that she not tell anyone about the incident.
In an interview with the Australian Broadcasting Corporation, Gladys Staines said the claim was "completely baseless and false."
"Mr. Graham Staines was a morally upright man," she said. "He was totally against sexual relations outside of marriage and he was careful in his actions so he would not be falsely be accused of such. He never visited women in their home as accused by Ms Hemalata Karua. I have never met Hemalata Karua and neither Mr Staines nor myself have visited her village or tried to convert her to Christianity as she has alleged."
The Indian woman's testimony is suspect on several other fronts as well. She claims that Staines told her to convert to Christianity "to avoid financial difficulty" (though she says she was never offered money to convert) and that Staines ordered her to eat meat as part of her conversion process. Both of these claims are clearly bogus, but they'll surely enrage militant Hindus who read them.
Let's be clear: there is plenty of abuse going on in India—but Christians are the target, not the perpetrators. "At least 50 instances of attacks or atrocities against Christians have been reported in Karnataka in the past six months, and the 'relentless persecution of Christians' has assumed alarming proportions," The Hindu, a national Indian newspaper, reports today. (The All India Christian Council website has more information on these attacks.)
Likewise, Christians in Gujarat are being besieged by so-called "surveys," despite promises from the government to keep such harassments at bay.
India is becoming one place in the world where Christians and Muslims can agree on issues of religious freedom. An Associated Press report notes that both faiths agree that militant Hindus are terrorizing them, and that the National Minorities Commission isn't doing much about it.
Give us back our atheist pastor, says church
Remember Thorkild Grosboel, the Lutheran pastor from Taarbaek, Denmark, who was suspended for saying in a magazine interview, "There is no heavenly God, there is no eternal life, there is no resurrection"?
The story gets even stranger—now hundreds of his church members have gathered to protest his suspension. "If there is no place for our pastor in this Church, then there is no place for many of us either," the head of the parish council, Lars Heilesen, said, according the Australian Broadcasting Corporation.
Another group, which the ABC only identifies as "fighting corruption and abuse of power in Denmark" has filed a police complaint against the Lutheran Church, saying it violated the Danish constitution and the European Convention on Human Rights in suspending Grosboel.
But the saddest news of all comes from a study in the religious newspaper Kristelig Dagbladet, which says that 90 percent of Danish pastors agree that God does not exist. Weblog has its doubts about the research methodology, but given how wacky this story is becoming, it's not wholly out of the question.
More articles
Persecution and violence:
Politics and law:
First Amendment:
More church and state issues:
Post-war Iraq:
Interfaith relations, evangelism, and other religions:
Missions:
Sex and marriage:
Church life:
History and artifacts:
Crime:
Clergy sex abuse:
Ten Commandments:
Education:
Catholicism:
Money and business:
Holy Land:
End Times Prophecy:
What Would Jesus Drive? campaign:
Other stories of interest:
Related Elsewhere
Suggest links and stories by sending e-mail to weblog@christianitytoday.com
Check out Books & Culture's weblog, Content & Context.
See our past Weblog updates:
June 12 | 11 | 9
June 6 | 5 | 4 | 3 | 2
May  29 | 28 | 27
May 23 | 22 | 21 | 20 | 19
May 15 | 14 | 13 | 12
May 9 | 8 | 7 | 6 | 5
May 2 | 1 | April 30 | 29 | 28
and more, back to November 1999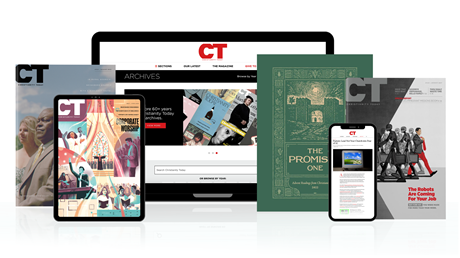 Subscribe to Christianity Today and get access to this article plus 65+ years of archives.
Home delivery of CT magazine
Complete access to articles on ChristianityToday.com
Over 120 years of magazine archives plus full access to all of CT's online archives
Subscribe Now
Bogus Claims of Abuse Leveled Against Martyred Missionary
Bogus Claims of Abuse Leveled Against Martyred Missionary