Last fall I spent a day with church-going Christians in Sweden, a distinct minority these days.
I mentioned that although many Swedes had abandoned the church, their society continued to live off the moral capital accumulated during centuries of faith. Honesty, peacefulness, generosity, prudence, justice—the Vikings were not noted for such qualities before their conversion.
"What would Sweden look like if we used up our moral capital?" one woman asked. I recommended she visit Russia, the next stop on my trip, for an answer.
There, brilliant leaders with a thoroughly materialistic outlook on life set into motion an experiment on a huge scale. They shuttered 98 of every 100 churches and killed 42,000 priests. Some cathedrals they turned into museums of atheism; village churches they converted into apartments or barns.
An irony played itself out, though, as a society committed to social and economic justice accomplished just the opposite. "With the best of intentions, we ended up creating the greatest monstrosity the world has ever seen," a shaken editor of Pravda told me. Official archives detail the deaths of at least 25 million people at the hands of their own government. A massive economy collapsed of its own incompetence.
By many standards, Russia today finds itself among the world's developing nations. Russian men have a life expectancy of 59. The birth rate has fallen so precipitously that the U.N. is forecasting Russia's population may sink to only 55 million by 2055. Seventy percent of Russian marriages end in divorce, and, according to conservative estimates, the average woman has had four abortions.
Visitors today comment on the scarcity of smiles, rudeness on the subways, the fear of crime, the quantity of alcohol consumed. Russian politicians complain about the lack of honesty and charity, and even commission foreign organizations to teach the Ten Commandments in the schools.
In St. Petersburg I attended a Christian booksellers' convention, a tiny gathering held in an abandoned factory district. The day before, I had visited the Hermitage Museum, where one stunning room displays 25 Rembrandts, including The Return of the Prodigal Son. I watched schoolchildren being ushered through the museum. They would stop at paintings of biblical scenes, which their teachers would attempt to explain.
Talking with the booksellers, I recalled the story of Philip and the Ethiopian eunuch from Acts 8, in which Philip climbed in the chariot and asked, "Do you understand what you are reading?" That's the task of Christians in Russia, I concluded. The vocabulary already exists: in the novels of Tolstoy and Dostoevsky, in the great art at the Hermitage, and in the icons prominent in every church. Someone simply needs to climb in the chariot and explain.
Western missionaries in Russia face daunting problems, many of them stemming from the Russian Orthodox Church's hostility to any imported religion. After a spurt of missions activity following the fall of communism, religious interest among Russians faded. Yet, of all the statistics coming out of Russia, the most astonishing to me is a poll in which 66 percent of Russians identify themselves as Christians—this despite the most determined attempt in history to obliterate faith.
I met some of the new wave of Christians emerging in that part of the world. One college student began investigating the major world religions during the days of perestroika. "Then I read the gospels and was touched by Jesus. I felt so sorry for him!" She came under the tutelage of Alexander Men, an extraordinary Orthodox priest killed by an ax in 1990 under suspicious circumstances. Now Anna directs a small Christian publishing company.
A single mother told me she had no interest in religion until her severely disabled daughter began attending a church camp. When the girl desired confirmation, the mother agreed reluctantly to attend her daughter's first Communion. "I stood in line, nervous, resistant, with the other parents. And there I got a direct revelation. 'My body is broken for you,' God said. 'Not just your daughter, but you.' "
In Moscow I asked my translator how he had come to faith. He knew the communist propaganda was false, he said, so he bought a book touted as an exposé of religion. Since the atheistic author seemed most scornful of Baptists, he went to a Baptist church and there was converted.
After I had listened to discouraging stories from missionaries, and then met these scattered individuals, another Bible scene came to mind, that of the prophet Elijah cowering in a cave, frightened by opposition and discouraged by the apparent lack of results. God reminded him, "Yet I reserve seven thousand in Israel—all whose knees have not bowed down to Baal." Elijah promptly left his cave and recruited Elisha.
Related Elsewhere
For more articles on Russia, see Christianity Today's World Report.
Previous Yancey columns for Christianity Today include:
Article continues below
Jesus' Sword | Longing for peace in tumultuous times. (Jan. 7, 2002)
Guilt Good and Bad | The early warning signs. (Nov. 11, 2002)
God's Funeral | What will keep faith from nearly disappearing in America? (Sept. 3, 2002)
Sheepish | Feeling autonomous and proud? Then ponder the lives of sheep. (July 2, 2002)
Servant in Chief | Jimmy Carter's journey from the White House to building houses.(May 28, 2002)
Why Do They Hate Us? | How to turn the Baywatch syndrome into the Jesus syndrome. (March 27, 2002)
Honest Church Marketing | We enhance our 'image' by offering the world a realistic picture of faith. (October 24, 2001)
Compassion Confusion | We should serve the needy even when it has bad political consequences. (August 28, 2001)
Fixing Our Weakest Link | Evangelicals should be more "needful of the minds of others." (July 13, 2001)
Replenishing the Inner Pastor | Churches should take greater interest in their shepherds' spiritual health. (May 14, 2001)
Beyond Flesh and Blood | I used to disdain biblical talk of "invisible spirits." No more. (Mar. 27, 2001)
God at Large | A look around the globe reveals a God as big as we want him to be. (Jan. 31, 2001)
Humility's Many Faces | Everyone I've looked up to has shared one trait. (Dec. 4, 2000)
Getting a Life | The most fully alive persons are those who give their lives away. (Oct. 16, 2000)
Yancey's Where is God When it Hurts, Special Edition and Soul Survivor: How My Faith Survived the Church are available on Christianbook.com.
Have something to add about this? See something we missed? Share your feedback here.
Philip Yancey
Philip Yancey is editor at large of Christianity Today and cochair of the editorial board for Books and Culture. Yancey's most recent book is What Good Is God?: In Search of a Faith That Matters. His other books include Prayer (2006), Rumors of Another World (2003), Reaching for the Invisible God (2000), The Bible Jesus Read (1999), What's So Amazing About Grace? (1998), The Jesus I Never Knew (1995), Where is God When It Hurts (1990), and many others. His Christianity Today column ran from 1985 to 2009.
Previous Philip Yancey Columns:
Our digital archives are a work in progress. Let us know if corrections need to be made.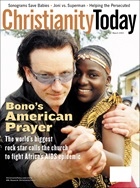 This article is from the March 2003 issue.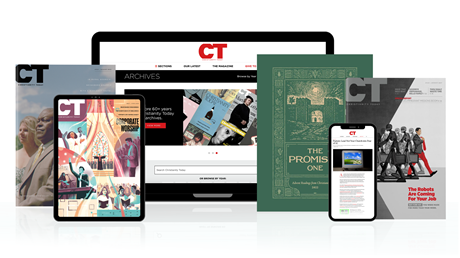 Annual & Monthly subscriptions available.
Print & Digital Issues of CT magazine
Complete access to every article on ChristianityToday.com
Unlimited access to 65+ years of CT's online archives
Member-only special issues
Subscribe
Perestroika of the Spirit
Perestroika of the Spirit