Will Iraq war lead to religious retaliation around the world?
As military action begins in Iraq, several news outlets report that Muslims in the U.S. fear retaliatory attacks. "If it's a quick war where not a lot of people get killed, we may be all right; but if it goes badly and lots of people are dying on both sides, all bets are off regarding an anti-Muslim backlash," Council on American-Islamic Relations  (CAIR) spokesman Ibrahim Hooper told the Newhouse News Service.
CAIR says there have been six attacks against Muslims in the last three weeks. But police in at least one of the cases aren't ready to call it a hate crime. (World magazine this week devotes its cover story to criticizing CAIR, saying it attacks Christianity and "sometimes seems to have trouble deciding exactly which side it is on" in the war against terrorism.)
Such fear from Muslims isn't limited to the U.S. If anything, the Australian Arabic Council is even more certain than CAIR that there will be attacks on its community. "We received a 400 percent increase in racial attacks … after September 11 and this is a more direct involvement," said chairman Roland Jabbour, adding that he had "no doubt" that Australian Muslims would be vilified and attacked now that military action in Iraq has begun.
 Other Muslims aren't so worried. "I'm not concerned about safety here," William Abdullah, a leader of a mosque in Montgomery, Alabama, told the Advertiser. "I don't see any reason to be concerned about it because we haven't been bothered by anyone."
So far, no Christians have announced that they'll go on a rampage to attack and kill Muslims wherever they may be found. However, some Muslim leaders have called for retaliation.
In response, the U.S. Commission on International Religious Freedom is asking the State Department "to remind foreign governments of their responsibility to protect the lives and freedoms of members of minority religious communities."
"The Commission is concerned that extremists have tried to portray military action against Iraq as part of an alleged U.S. attack on Islam, and that retribution will be sought against Christians, Jews, and others throughout the Islamic World, as well as in the West, who are perceived as having some affiliation or affinity with the United States or its coalition partners," says a letter to Colin Powell. The commission says the threat is particularly acute in Pakistan.
The All Pakistan Minorities Alliance agrees. "We are very afraid of retaliation by Islamic militants if there is a war in Iraq. We are appealing to the government for more security for Christians," the group's spokesman said in a call for more security. The group says the government isn't doing enough to protect Christians. "There is much more they can do: Stop the mullahs (Islamic clerics) from making speeches over the mosque loudspeakers and more keenly observe the activities of those organizations that the government has banned," said the spokesman.
Presbyterian high court says leader "acted improperly," but wasn't required to call special assembly
Fahed Abu-Akel "acted improperly … when he 'implored [the Requesters] in the name of Christ and for the good of the Presbyterian Church (USA) to reconsider [their] decision' to call for a special Assembly," the denomination's Permanent Judicial Commission ruled yesterday. Nevertheless, the commission dismissed a complaint against the moderator and said he did not have to call a special assembly to enforce a ban on practicing homosexual clergy members.
The court said Abu-Akel had the "right and responsibility" to confirm signatures on a petition calling for the special assembly, and that signatories had the right to change their mind. But the moderator's impassioned pleas for them to do so "had the appearance of seeking to undermine the rights of commissioners," the commission said. When presented with the petition, the court ruled, Abu-Akel was "obliged to cease advocacy of a particular position and act with impartiality."
Paul Rolf Jensen, who argued that Abu-Akel had violated church law, called the decision "a tremendous victory—not a total victory, of course, but one we celebrate." He also called for the resignation of Stated Clerk Clifton Kirkpatrick to resign. "He has lost the confidence of the evangelicals in our church," Jensen said.
Reaction to the decision is available from Presbyterian News Service, The Presbyterian Outlook, and The Layman. Expect Presbyweb to have some in its today's posting, too.
More articles
Religious response to war with Iraq:
Templeton prize awarded to Holmes Rolston III:
Politics and law:
Missions and ministry:
Clergy sex abuse:
Other stories of interest:
Related Elsewhere
Suggest links and stories by sending e-mail to weblog@christianitytoday.com
See our past Weblog updates:
March 19 | 18 | 17
March 14 | 13 | 12 | 11 | 10
March 7 | 6 | 5 | 4 | 3
February 28 | 27 | 26 | 25 | 24
February 21 | 20 | 19 | 18 | 17
February 14 | 13 | 12 | 11 | 10
February 7 | 6 | 5 | 4 | 3
and more, back to November 1999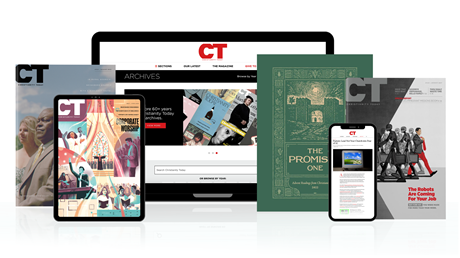 Annual & Monthly subscriptions available.
Print & Digital Issues of CT magazine
Complete access to every article on ChristianityToday.com
Unlimited access to 65+ years of CT's online archives
Member-only special issues
Subscribe
"Weblog: Will War Breed Hate Crimes Against Muslims, Christians, or Both?"
"Weblog: Will War Breed Hate Crimes Against ...