With bombs hitting Baghdad 15 hours a day, Dominican priest Yousif Touma and the Christian community in Baghdad are terrified.
"We deal with the fear with our faith, but even Jesus was afraid on Holy Thursday. It is normal to be afraid," Touma said Tuesday by phone from Baghdad. "When we are together, it is easier, and when we know believers are praying for us, it is a little bit easier."
Touma urges Western Christians to both pray and donate money for humanitarian relief.
"Many people will be in need because our country is weak [after] 13 years of sanctions," said Touma, who edits a magazine called Christian Thought. "We want Christians to pray and make sure that nongovernmental organizations can bring supplies all over the country."
Few Christian relief organizations are working in Iraq at the moment. Many are coordinating their work through the ecumenical Middle East Council of Churches, based in Beirut, Lebanon. The MECC has 16 distribution centers across Iraq, with two or three employees each. The MECC is monitoring Iraq's borders with Jordan, Iran, and Syria, bracing for a flood of 600,000 refugees.
"MECC is preparing for all scenarios," said spokesman Samuel Rizk.
World Relief, World Vision, Church World Service, and Food for the Hungry are working at two camps in Jordan, one set up for Iraqi refugees, the other for Third-Country Nationals, who are fleeing Iraq for their home country. Relief agencies are planning for 60,000 Third-Country Nationals. Agencies are also preparing to enter Iraq, where food shortages are being reported.
Tor Valla, a water engineer with Norwegian Church Aid, a partner of the ecumenical Action by Churches Together, left Iraq just before the bombs started falling. On Tuesday he said he is eager to get back in, this weekend if possible. He hopes to move in through Kuwait after coalition forces have paved the way on the battlefield in the south of Iraq.
"Until now the humanitarian consequences of war have been minimized. In Baghdad, the water supplies and electricity [worked] satisfactorily as of Tuesday," Valla said.
There have been relatively few refugees so far. After the Gulf War in 1991, many refugees returned to Iraq, only to find their homes looted. Valla thinks that may be why relatively few have left their homes.
With American and British forces only a few miles outside Baghdad, Touma tells a story of traumatized children.
"The children are crying all the time, and they are with their families in their houses, which are not very new and not very well protected," Touma said. "In the popular quarter, many houses fell down over the inhabitants."
Touma said Iraqis fear the worst.
"We get a lot of information from the media, but I'm not sure of the truth of it," Touma said. "We are afraid that the war will be long. We are not afraid for our property; we are afraid for our lives."
Related Elsewhere
For more coverage on the current conflict, commentary and thought on just war, or Christian debate, see our CTWar in Iraq archive.
Additional accounts of Christians in Iraq include:
Peacemakers Seek to Show War from Point of View of Iraqi Civilians | Six Christian Peacemaker Team members remain in Iraq as bombs drop. (March 21, 2003)
Standing for Peace on the Eve of War | Christian group seeks nonviolent solution in Iraq. (March 12, 2003)
Keeping Their Heads Down | Vital but dwindling Christians face many pressures. (Nov. 8, 2002)
A downloadable Bible study on the implications of war with Iraq is available at CurrentIssuesBibleStudy.com. These unique Bible studies use articles from current issues of Christianity Today to prompt thought-provoking discussions in adult Sunday school classes or small groups.
Recent Christianity Today articles and commentary on the current war with Iraq include:
Weblog: Newspapers Miss the Real End-Times Story | Evangelicals believe this is the end, say papers. Oh really? (March 25, 2003)
CT Classic: The Ethics of Desert Storm | What Christianity Today said during the U.S.'s first war with Iraq. (March 25, 2003)
War Isn't Being Waged From the Pulpit | Most clergy avoid blanket statements on war. (March 24, 2003)
CT Classic: War Cry | As 1991's Gulf War began, a Christianity Today editorial said the church's best weapon was tearful prayer. (March 24, 2003)
What George Bush's Favorite Devotional Writer Says About War | "War is the most damnably bad thing," wrote Oswald Chambers. (March 24, 2003)
Speaking Out: Where Do We Go From Here? | Now that the bombs are falling, we'll need to repair Iraq—and our nation's moral standing. (March 21, 2003)
CT Classic: Weeping over Baghdad | Desert Storm cost Iraq thousands of lives. At its conclusion, a Christianity Today editorial called for the church to deal with the living souls that remained. (March 21, 2003)
War Could Reduce Holy Land's Christian Presence | Palestinian bishop fears current hostilities could continue a trend that sees Christians forced out of the area altogether. (March 21, 2003)
Weblog: Will War Breed Hate Crimes Against Muslims, Christians, or Both? | Plus: PCUSA court criticizes leader but dismisses charges, and other stories from online sources around the world. (March 20, 2003)
Weapons of the Spirit | Regardless of their positions on Iraq, Christians have much they can do. (Feb. 25, 2003)
Just War in Iraq | Sometimes going to war is the charitable thing to do. (Dec. 10, 2002)
Bully Culprit | Can a pre-emptive strike against the tyrant of Baghdad be justified? (Sept. 30, 2001)
Is Attacking Iraq Moral? | Christian leaders disagree, too. (September 4, 2002)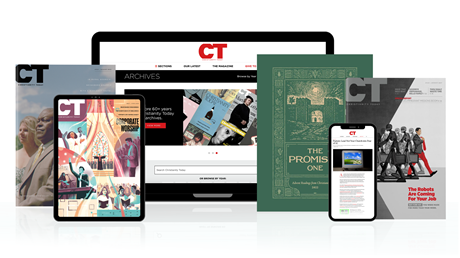 Subscribe to Christianity Today and get access to this article plus 65+ years of archives.
Home delivery of CT magazine
Complete access to articles on ChristianityToday.com
Over 120 years of magazine archives plus full access to all of CT's online archives
Subscribe Now
Relief Agencies Prepare to Help Iraqi Refugees
Relief Agencies Prepare to Help Iraqi Refugees