Senate guts faith-based initiative bill
Sen. Rick Santorum (R-Pa.), sponsor of the Senate's Charity Aid, Recovery, and Empowerment (CARE) Act, says he has abandoned all hope of passing the bill with provisions making it easier for religious groups to get government grants.
But such provisions were the whole point of the original bill. As The Washington Post reports, "The new plan leaves virtually nothing of Bush's original [faith-based initiatives] plan." Santorum now says he's willing to sacrifice the turkey if it means keeping a few tax-incentive trimmings.
Actually, Santorum used a different food analogy—and it's not the "half a loaf is better than none" that J.C. Watts used last year. "I would have liked to have gotten the whole enchilada, but in the United States Senate this year, you're lucky to get anything, and I'll take anything," he told the Associated Press.
House Republicans have also agreed not to vote on expanding government grants to religious groups and will only consider a bill with tax breaks.
But the now rather pointless bill is still under fire from several senators who say it "specifically should bar groups from using federal funds to proselytize" and "should expressly prohibit groups from getting tax dollars from discriminating against beneficiaries or employees of other religions," reports the Associated Press.
In other words, an effort to assist groups that want to help the needy might actually hurt them. With a Republican-controlled Congress, such provisions are unlikely to be added. But if they are, it's not worth a few tax incentives.
Response to Santorum's announcement is informative. Americans United for Separation of Church and State cried victory. "It's a huge break in the battle over this," said spokesman Joe Conn. "Frankly, they blinked."
Jim Towey, head of the White House Office of Faith-Based and Community Initiatives, shrugged it off. ""This is really more of a legislative strategy issue—what can you do now versus what can you do later," he said. "The President remains committed to ending discrimination against faith-based groups. … There are going to be debates this year on faith-based (issues). You can set your watch on that."
Woman may die for converting to Christianity—but not being a sacramentalist
This story is not a joke. A Christian Iranian woman is likely to be killed because Canadian immigration officials don't think she's a true believer.
Nancy (not her real name) says she became a Christian in 2000 while living in Tehran. Shortly thereafter, Iranian officials started questioning her husband about her church attendance. Fearing for her safety, she fled to Montreal, where her sister-in-law lives. There she was baptized by a Pentecostal minister. (She has more recently been attending Ascension Lutheran Church.)
But Canadian authorities have ordered Nancy to be deported back to Iran April 24, saying she's lying about being a Christian.
Judge Helene Panagakos, who is Greek Orthodox, said that Nancy's inability to identify more than one church sacrament and to give the name "Holy Communion" for the receiving of bread and wine revealed a "lack of knowledge of the most basic Christian concepts."
Hmmm. For one thing, she was baptized in a Pentecostal church: they're not sacramentalists! And calling the Eucharist/Lord's Table/Lord's Supper something other than "Holy Communion" hardly makes one a pagan.
"I know her better than all my other sheep. There's no way she's lying about these things," Ascension pastor Harold Ristau told The National Post. "It would be like finding out your sister's a transvestite." Nancy is only one of three Ascension members whose religious refugee claims have been rejected.
"The mentality is, all religions are the same anyway, so why on earth would somebody convert from Islam to Christianity and make their lives troublesome," he said.
"The Reverend may very well be satisfied that the claimant has converted to Christianity, however, given all that precedes, the panel is not," Panagakos responded. She also attacked Nancy for "abusing" Canada's refugee system.
But not only does the government of Canada say that Nancy isn't a real Christian. It also says she won't face any real consequences for converting if she's forced to return to Iran.
Immigration Canada agent Sylvie Duval said Iranian shari'ah law mandates the death of converts only on paper, and not in practice. "There is no serious reason to believe that her life would be endangered or that she might fall victim to torture or other cruel punishments," she wrote.
That's denied by almost every human rights organization in the world, as well as by the U.S. government. The deportation order "totally baffles me," Amnesty International official Gloria Nafziger told UPI. "It seems the attitude in this country is: The boat is full; there's no room for any more people."
More articles
National Day of Prayer passes the House:
Christian response to war:
End times prophecy:
Military chaplaincy:
Interfaith relations and other religions:
Life ethics:
Church and state:
Missions and ministries:
Church life:
Crime:
Catholicism:
Education:
Books and music:
Politics and law:
Science and health:
Sexual ethics:
Spirituality and faith:
Other stories of interest:
Related Elsewhere
Suggest links and stories by sending e-mail to weblog@christianitytoday.com
See our past Weblog updates:
March 27 | 26 | 25 | 24
March 21 | 20 | 19 | 18 | 17
March 14 | 13 | 12 | 11 | 10
March 7 | 6 | 5 | 4 | 3
February 28 | 27 | 26 | 25 | 24
February 21 | 20 | 19 | 18 | 17
February 14 | 13 | 12 | 11 | 10
and more, back to November 1999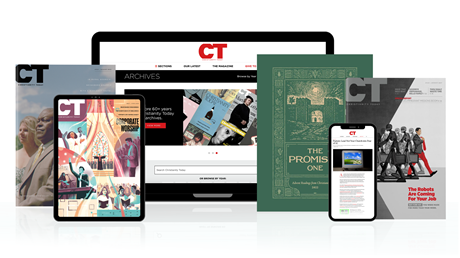 Annual & Monthly subscriptions available.
Print & Digital Issues of CT magazine
Complete access to every article on ChristianityToday.com
Unlimited access to 65+ years of CT's online archives
Member-only special issues
Subscribe
Faith-Based Initiative Bill Isn't So Faith-Based Anymore
Faith-Based Initiative Bill Isn't So Faith-Based Anymore