This article originally ran in the February 6, 1981 issue of Christianity Today.
Three more key members of Bill Gothard's Institute in Basic Youth Conflicts (IBYC) have left the organization in disagreement with Gothard's handling of moral and financial questions that have publicly engulfed the institute since last summer.
There were also these developments:
A long-time member of the board, who resigned in 1977, was reelected in November, only to find out in December that his reelection was ruled invalid. He believes the reasons are connected to the current troubles.


A group of field representatives who work for the institute are signing form letters that demand answers to five broad questions that have arisen from the turmoil.


Gothard has agreed to an independent audit of institute finances by the firm of Price Waterhouse and Company, a move many disaffected employees have been asking for. How extensive the audit will be is not yet known, however, nor is it known whether it will be available to the employees who have been asking the questions.


In short, although thousands of "alumni" and friends of the institute have been pleading and praying that the troublesome disclosures would cease so the seminars can continue untarnished, it is the present and former staff members themselves who are demanding answers to dozens of questions about how the large sums of institute money are spent. Gothard shuns publicity and so far has said very little publicly about the problems.
The institute holds weeklong seminars that are composed of 32 hours of lectures by Gothard, whose biblical principles on handling of problems have been helpful to many. His seminars regularly draw 5,000 to 10,000 people at a cost of $45 per person. Last year the institute took in some $8 million.
One of the most significant resignations from the institute was that of Samuel J. Schultz, who has been on the board since the beginning of IBYC. In carefully measured words, Schultz announced his resignation by saying, "After much prayerful evaluation and consideration, I came to the realization that I could no longer support IBYC or influence the future direction of the organization."
Schultz is a retired Wheaton College professor, an author, and a former editor of the Journal of the Evangelical Theological Society. He resigned in December because he said he was unable to win support for changes he believed needed to be made. They include:
Enlarging the board of directors from five members to nine, to ensure more independent judgment. Schultz believes the smaller board is dominated by Gothard even though Gothard has been on a technical leave of absence since July. In August the board voted to enlarge itself to nine, but Gothard has been delaying action on it.


Engaging a nationally recognized auditing firm to audit the books for present and past years. (Schultz made his statements before learning that a more limited audit is in the works.)


Having Gothard meet openly with staff members to discuss the many ethical and financial questions that have arisen.


Asked about his reaction to the changes Schultz has called for, IBYC board chairman Gustav Hemwall said, "If the implication is that he left because they're not being done, that isn't true. But if it isn't being done fast enough or if it's because he can't influence it the way he wants—these things are being done. The audit is in progress now. The enlargement of the board is in progress. Gothard has met with staff members time and again."
Schultz was also concerned that the institute might not have handled its millions of dollars in real estate investments properly, and he raised questions about the biblical basis for the seminar's chain of command (authority) principle, and whether the institute leaders practiced those principles themselves. He also stressed the importance of having the activity and leadership of the institute under the authority of the board of directors in order to ensure that its programs are biblically sound. Christianity Today was unable to get Gothard to respond to Schultz's resignation, or to the issues he raised.
Chuck Lynch, coordinator of the institute's ministry to pastors, also resigned on December 31. Efforts to reach him since then have been unsuccessful. In a brief interview before his resignation Lynch said only that he found some "things that are wrong" with the organization, and that Gothard's delay in allowing an outside audit created a "real credibility gap" among the employees. Last summer the board officially voted to have the audit performed, but Gothard did not respond immediately to the decision, questioning whether the expense was justified.
A third key person who resigned was Melvin Upchurch, who has been director of black ministries for the institute for the last five and a half years. Upchurch said his reasons for leaving were related to the current problems but he declined to give details. He did say that despite all the articles that have been written, "either people don't want see the truth or don't ask the right kinds of questions."
Edwin Brown, a physician on the medical faculty at Indiana University, is the former board member who was briefly reelected in November, but whose election was ruled invalid by board chairman Gustav Hemwall because Hemwall was not present for the voting. Brown and Gothard have known each other for a long time, and Brown lent his name to Gothard's first efforts to organize a seminar in 1964. Brown had been on the board 10 years when he left the country in 1977 to help the Saudi Arabian government establish a medical school. He resigned at Gothard's request.
Brown was disappointed when he was not asked to rejoin the board upon his return to the U.S. He said he learned just recently that among the reasons was the fact that Gothard objected to his beard, although Brown said he has had it since 1970. "I was astounded," he said, when he heard this.
The real reason, Brown believes, is the fact that he started questioning the institute's finances during several board meetings in 1977, just before he left the board. Specifically, the institute's lawyer had proposed then that the board consider how to reimburse Steve Gothard, Bill's brother, for about 350 acres Steve owned—which the institute was using—at the institute's 3,000-acre northwoods retreat in Watersmeet, Michigan.
Brown said he wondered how Steve Gothard could have had enough money to purchase the property in the first place since he was working for the institute. Brown asked about it, and said he was surprised to learn that Steve was earning close to $30,000 a year, which he said seemed like a lot for a young man in Christian work. Brown stated that the board was told at its next meeting that Steve would not be paid for the property, but that he was going to donate it to the institute. (Steve Gothard apparently was able to save most of his salary by having many of his living expenses paid by the institute.)
In reflecting on all this, Brown said that the board, as an entity, had learned nothing about the institute's finances in the 10 years he was a member of it. He said the board was not told what anyone on the staff (which numbered about 70 before the recent flood of resignations) was being paid other than Bill, whose $600 a month has been widely noted. Brown said that as a board, "All we did was rubber-stamp the recommendations of the president." A seminar brochure states that "All funds are carefully controlled by a board of directors … "
(The Institute has been audited over the last decade by the small Chicago certified public accountancy firm of Brabenec, Yasus, Tague and Company. The semi-retired partner who has reviewed the institute books said it was a shame it had to bring Price Waterhouse in, since "whatever problems they had certainly weren't in [the financial] area.")
Bill Gothard says that Brown's beard is not in accord with the institute's dress code. It does bear on why Brown was not asked to rejoin the board, he says, as well as the fact that the prior intention of the board was to elect either a lawyer or a businessman to the next vacancy.
The institute employs about 50 area committee coordinators who work with local volunteer committees in organizing the seminars. A number of these coordinators are circulating the letters that ask for answers to five questions, and some plan to present the questions to Gothard in a united front. Briefly, the employees are asking for: an outside audit, an indication that Gothard is ready to reach a "oneness of spirit" with the many disillusioned institute employees, an increase in the board to 9 or 11 members, a full financial disclosure of the amount of money spent to develop the northwoods property, and more say in whether to hold a seminar in a particular city. (One of the coordinators noted that last year the seminar committee in Los Angeles decided not to hold its seminar after news of the Gothard problems broke, but that the seminar was held anyway.) Officially, the institute says it won't hold seminars anyplace it's not invited.
The Gothard controversy erupted publicly last summer when it became known that Steve Gothard had engaged in sexual intercourse with a number of secretaries who had been working for him at the northwoods retreat (CT, Aug. 8, 1980, p. 46; Sept. 19, p. 56). Bill Gothard first became aware of the situation four years ago, and after determining that his brother had repented, allowed him to remain. But further episodes prompted his dismissal last summer. Many of the present and former employees expressed in interviews their anger or frustration that the situation was not resolved long ago. This is at the root of reasons why many are upset with Bill.
One area coordinator said, "This is an operation in which you've got a man who stands before thousands of people and says, This is how you deal with certain situations and problems; and then you've got a situation where these same problems come up in his own organization, and he approaches them from an entirely different perspective. He says basically not to cover up your sin, but I see all sorts of evidence to indicate that he hasn't been open." Gothard maintains that after the first episode was discovered and resolved four years ago, he knew nothing about the subsequent problems until last year, when Steve was told to leave.
Bill Gothard has apologized publicly for his failure to be aware of the sexual problems at the northwoods retreat, saying they were allowed to continue because he unjustly put the ministry ahead of his family. The relatively brief statement, however, has not seemed to calm the waters, because many who are or who have been part of the institute, such as Schultz, are questioning now how its money has been spent—particularly how much has gone to develop the northwoods retreat, with its lodge, cabins, and mile-long runway used for the Learjet (which Gothard has since sold).
Forms filed with the Internal Revenue Service for 1979 show that the institute apparently has spent $17 million on land and buildings. That includes the 3,000-acre development in Michigan as well as the 200-acre property at the Oakbrook, Illinois, headquarters. Total assets for the organization in 1979 were $24 million. IRS forms for tax-exempt organizations are available for public inspection.
Other questions revolve around large sums of money paid to departing employees. In two cases, employees were given $55,000 checks to reimburse them for the equity they said they lost because they sold their houses before coming to work for Gothard, and Gothard didn't want them to buy houses after they were in the institute's employ. Payments for such purposes are unknown elsewhere among Christian organizations—and in the business world as well. In another case, Gothard's brother-in-law, Phil Garvin, was given an $11,000 salary bonus to fix up his house.
The fact that employees had been asking to be paid for lost equity in their houses led to the board's decision last summer to require all departing employees to sign a legal form freeing the institute from all further responsibility to them after they left. This has brought more irritation to some employees, who question whether that is the biblical way to handle things; but relationships between Gothard and many of his staff and former staff have deteriorated to the point where such precautions are necessary. At any rate, it appears that the signing of legal forms will not be enough to shield the institution from the concern and the frustration of many of the people who have been closest to it.
This article originally ran in the February 6, 1981 issue of Christianity Today. At the time, Tom Minnery was assistant news editor for the magazine.
Related Elsewhere
Also available on our site today:
Exegeting Bill Gothard | Three Christian apologists evaluate the conference speaker's life and teachings.
A Matter of Basic Principles is available at Amazon.com.
The website for the Institute in Basic Life Principles gives more information on the organization. You can also learn about Bill Gothard's life and ministry at his official website.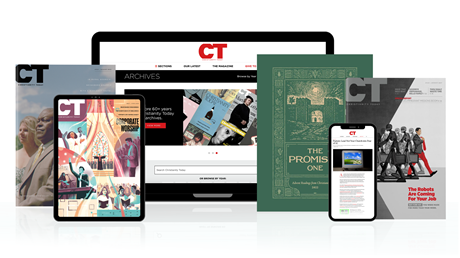 Subscribe to Christianity Today and get access to this article plus 65+ years of archives.
Home delivery of CT magazine
Complete access to articles on ChristianityToday.com
Over 120 years of magazine archives plus full access to all of CT's online archives
Subscribe Now
Gothard Staffers Ask Hard Questions
Gothard Staffers Ask Hard Questions