"God has ordered you to cut their throats." Reading editorials in the last few months, you would think that line comes straight from President George W. Bush. In fact, this bellicose statement came from Saddam Hussein in the first week of the Iraq War. Yet it is President George W. Bush who alarms pundits because he often uses religious language to discuss his policies.
Georgie Anne Geyer, writing in the Chicago Tribune of March 7, argued that the President's intention to invade Iraq "is based primarily on religious obsession and visions of personal grandiosity." In The Times (London) of March 1, Stephen Plant wrote, "Bush's supporters have inherited the idea of manifest destiny. For them war on Iraq is not about oil, it is America's next date with salvation."
Three typical complaints can be dismissed quickly.
Religion and rationality. On a recent McLaughlin Group broadcast, Eleanor Clift said she worried that Bush's "religiosity" doesn't allow "logical, rational thought," and Princeton University religion professor Elaine Pagels said, "Religious language … bypasses the brain and goes straight to the gut." It surprises us that, with Christianity's impressive intellectual tradition (consider Augustine and Aquinas), educated people are still saying such things. If one were mean-spirited, one might argue that secularism doesn't allow for logical, rational thought about religion.


Religion and debate. "When you use religious language you stifle debate," said C. Welton Gaddy, a Baptist pastor and president of the Interfaith Alliance, and an op-ed piece in

The New York Times

repeated the charge. Apparently such commentators have never seen the sparks fly at a denominational meeting or a theological society. And they are apparently not reading many newspapers, for religious language seems to be having the opposite effect. That strikes us as a good thing in a democracy.


Religion and alienating other faiths. "When he speaks in these terms," said Gaddy, "he leaves out whole segments of America." To be sure, a politician's language can needlessly alienate important constituencies, but in a pluralistic society, one hopes political leaders from various religious perspectives will use language that help us see their own deeper commitments. We don't have to agree with them, but we will be a smaller society if we tell everyone to leave their deepest convictions behind when they speak in the public square.


Can We Know God's Will?
One concern does deserve more comment. As historian Martin Marty put it in a March 10 Newsweek essay, many are fretting about Bush's "evident conviction that he's doing God's will." For some, this worry is grounded in a nihilism that assumes we are alone in history and cannot discern God's ways for the world.
Marty would agree, we think, that humans can discern God's will in broad outline—God is against oppression and for liberty, for example—and that in prayer we can often discern his leading about specific steps to accomplish that will. Granted, our sense of that leading can be mistaken, but it is the Christian's duty to discern God's will and act on faith, relying always on God's mercy.
Some worry that talk about God's will is a symptom of megalomania, a mad certitude that brooks no dissent. This diagnosis fits Hussein's rhetoric, but it is difficult to see how Bush fits this description. As E. J. Dionne, hardly a champion of Bush's policies, put it in a February New York Post column: "Can we please stop pretending that Bush's regular invocations of the Almighty make him some sort of strange religious fanatic? In this, he is much more typically presidential than he's painted, especially by our friends abroad."
Many critics don't understand the complexity of religious and specifically Judeo-Christian language. Through religious language, as Fuller Theological Seminary President Richard Mouw recently put it, Bush "has reintroduced into the culture the language of morality and moral distinctions." Even a critic like Pagels recognizes this value: "We need moral language to better understand horrific acts, such as the terror attacks of 9/11."
Yet that same language points beyond the world to the source of morality, a Creator who, according to the biblical tradition, stands above all human aspirations and opinions. In making religious/moral judgments, the speaker yields to a greater authority. In the Christian tradition, this tends to instill a clear perception of human fallibility. And thus Bush, in his State of the Union address, not only outlined his moral vision in foreign affairs but acknowledged that "we do not claim to know all the ways of Providence, yet we can trust in them, placing our confidence in the loving God behind all of life, and all of history."
This is not to defend all the President's speeches, or to pretend that some previous American forays into religiously tinged policies (some of those based on "manifest destiny," for instance) were not disasters. It is only to suggest that for political leaders to use biblical categories to describe their policies is hardly inappropriate. Bush is certainly not the first President to do so—though this tradition was only recently revived. Many have forgotten the nation's surprise when Bill Clinton began inserting religious allusions into his remarks.
Let's move from wringing our hands that Bush or any politician has a religious worldview, and stick to debating whether the specific policies that emerge from that worldview actually bring peace and justice to the world.
Related Elsewhere
Also appearing on our site today:
The Bush Doctrine | The moral vision that launched the Iraq war has been quietly growing in the president's inner circle.
Related Christianity Today articles include:
What George Bush's Favorite Devotional Writer Says About War | "War is the most damnably bad thing," wrote Oswald Chambers. (March 24, 2003)
Texas Pastor James Robison on the Life-Changing Faith of George W. Bush | The president of Life Outreach International talks about his friend's faith, the moral need of America, and his own conversion. (March 11, 2003)
Scrutiny of Bush's Faith Continues with Newsweek Cover Story (March 3, 2003)
Christian Leaders Respond to Bush's National Security Strategy | The White House outlines foreign policy in a changing world. (September 25, 2002)
Bush's Defining Moment | The President, facing a grief-stricken nation under attack, finds his voice and his mission. (November 2, 2001)
The Minister of 'Good Success' | Meet Kirbyjon Caldwell—megachurch pastor, real-estate whiz, community developer, and the President's spiritual confidant. (October 5, 2001)
A Presidential Hopeful's Progress | The spiritual journey of George W. Bush starts in hardscrabble west Texas. Will the White House be his next stop? (September 5, 2000)
Other related coverage includes:
Bush puts God on his side—BBC (April 6, 2003)
The footsteps factor—Kevin Phillips, Los Angeles Times (April 6, 2003)
Bush mix of God and war grates on many Europeans—Reuters (April 4, 2003)
Bush and God—Newsweek (March 30, 2003)
The Gospel According To Bush—Newsday (Feb. 16, 2003)
Bush's religious allusions cause stir—The Times-Picayune (Feb. 15, 2003)
In one month, a presidency is transformed—The New York Times (Oct. 11, 2001)
The 2,988 words that changed a presidency: an etymology—The New York Times Magazine (Oct. 7, 2001)
The gospel according to Dubya—London Evening Standard (Oct. 3, 2001)
The week that redefined the Bush presidency—The Washington Post (Sept. 23, 2001)
Article continues below
During his presidential campaign, Bush told Crosswalk.com that "My faith is an integral part of my whole being, that's what faith is … I find great comfort in the Bible and in prayer."
A Library of Quotations on Religion and Politics by George W. Bush was compiled by Beliefnet during his campaign.
George W. Bush's book, A Charge to Keep, is available on Amazon.com.
For more coverage on the current conflict, commentary and thought on just war, or Christian debate, see our CTWar in Iraq archive. For relevant articles on the war from news agencies around the globe, see CT's updated war links page.
A downloadable Bible study on the implications of war with Iraq is available at CurrentIssuesBibleStudy.com. These unique Bible studies use articles from current issues of Christianity Today to prompt thought-provoking discussions in adult Sunday school classes or small groups.
Recent Christianity Today articles and commentary on the current war with Iraq include:
Books & Culture's Book of the Week: Why We Are in Iraq | Michael Kelly, R.I.P. (April 7, 2003)
Faith and Fear on the Truman | How one Navy chaplain helps men and women face combat. (April 1, 2003)
Weblog: Freed Kenyans Thank God For Iraq Rescue | Plus: Franklin Graham defends Iraq ministry, and other stories from online sources around the world. (March 31, 2003)
CT Classic: War Cry | As 1991's Gulf War began, a Christianity Today editorial said the church's best weapon was tearful prayer. (March 24, 2003)
A Nation at War—And on its Knees | American Christians pray for peace, justice, and wisdom. (March 21, 2003)
Peacemakers Seek to Show War from Point of View of Iraqi Civilians | Six Christian Peacemaker Team members remain in Iraq as bombs drop. (March 21, 2003)
War Could Reduce Holy Land's Christian Presence | Palestinian bishop fears current hostilities could continue a trend that sees Christians forced out of the area altogether. (March 21, 2003)
Weblog: Will War Breed Hate Crimes Against Muslims, Christians, or Both? | Plus: PCUSA court criticizes leader but dismisses charges, and other stories from online sources around the world. (March 20, 2003)
Weapons of the Spirit | Regardless of their positions on Iraq, Christians have much they can do. (Feb. 25, 2003)
Have something to add about this? See something we missed? Share your feedback here.
Our digital archives are a work in progress. Let us know if corrections need to be made.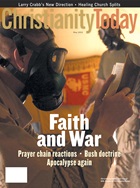 This article is from the May 2003 issue.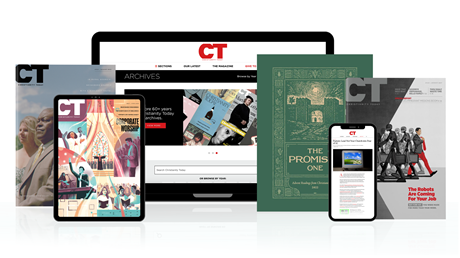 Subscribe to Christianity Today and get access to this article plus 65+ years of archives.
Home delivery of CT magazine
Complete access to articles on ChristianityToday.com
Over 120 years of magazine archives plus full access to all of CT's online archives
Subscribe Now
Free Speech for Politicians
Free Speech for Politicians