Death sentence thrown out because of jurors' use of Bible
The Bible saves lives. Just ask Robert Harlan.
In 1995 a Colorado jury convicted him of kidnapping, raping, and murdering 25-year-old Rhonda Maloney, and shooting a bystander who tried to help.
Friday, Judge John J. Vigil overturned Harlan's death sentence because jurors illegally used Bibles while deliberating and quoted a reference to "an eye for an eye."
The crimes Harlan committed, Vigil said, were "among the most grievous, heinous and reprehensible" he had seen in his 18 years as judge. "If any case merits the death penalty, there cannot be serious debate about this case being that case."
But while jurors can use their personal convictions in deliberations, they can't use texts that weren't introduced at trial.
"Jury resort to biblical code has no place in a constitutional death penalty proceeding," Vigil ruled. The quoted Levitical passages, he said,  "more than simply encourage jurors to follow the instructions of the court. … The biblical passages involved not only encouraged the death penalty but required that it be imposed when another life is taken.  The passages also directed jurors to take guidance from, and obey, the government. They left the jurors no discretion."
CBS News legal commentator Andrew Cohen sums up the reasoning:
Jurors in capital cases are supposed to act as the moral conscience of their community. And they are permitted to bring with them into the deliberation room whatever religious or spiritual beliefs they may have. That's what voir dire is for—to permit the judge, and sometimes the attorneys themselves, to ask potential jurors whether their religious beliefs may interfere with their ability to follow the judge's instructions as to the law of the case. But using your own personal religious beliefs as a moral compass to guide your decision in a capital case is one thing; using the Bible as an offensive weapon to cajole fellow jurors into voting for death is another.
The Associated Press says Harlan will be resentenced; the Rocky Mountain News says his sentence is commuted to life in prison.
In any case, Assistant Adams County District Attorney Steve Bernard promised to appeal the ruling to the Colorado Supreme Court.
"We respectfully disagree with the court's determination of the facts in this case," he told The Denver Post. "There was a statement about the presence of Bibles, but I don't think the testimony was clear that there was one there, and if so, if it was used, and if so, if it was read from."
"Prosecutors argued that the Bible reading was done for comfort or inspiration and was a harmless error in the face of the overwhelming evidence against Harlan justifying the death penalty," the Rocky Mountain News reports.
Harlan isn't alone. In 2000, the Supreme Court of Georgia and the 9th U.S. Circuit Court of Appeals overturned death penalties because prosecutors quoted Scripture. But that same year, Ohio's Supreme Court said such references didn't matter. The U.S. Supreme Court hasn't ruled, and in 1999 turned away a Nebraska case in which a judge quoted Scripture in sentencing.
The Prayer of Bruce
Instead of using one of those 555 phone numbers like you see in most movies, the creators of Bruce Almighty decided to use a more realistic-sounding phone number for God. It turns out the number was too realistic—it actually exists in many states—usually on mobile phones. Now the owners of those phones are getting inundated with calls for God.
"A lot of them sound very serious about this thing, and that's what I can't understand. How can they go to a movie and believe that's real?" Myrtle Hallman, who owns the number in Columbia, North Carolina, told The Charlotte Observer. "I can't conceive of grown-ups really thinking that's true."
The best story belongs to a guy actually named Bruce. He's not God, but he knows where to find him. Bruce MacInnes is pastor of Turner's Chapel Church in Sanford, North Carolina. "I had another call from a man who asked to talk to God," MacInnes told the Associated Press. "I told him if he was serious I would be happy to talk with him about God. I said if he wasn't serious he could just hang up. He hung up."
Hallman says she got through to someone. According to The State of South Carolina, she told someone who asked to speak to God, "You get down on your knees and you talk to God, and he'll hear you-because he's everywhere. He doesn't just live here, so get down on your knees. If I could get down on mine, I would, but I can't, and I think he understands that. God is supposed to hear us wherever we are."
More articles
Anglican leadership debates gay couples:
Presbyterian Church (U.S.A) General Assembly:
Interfaith relations and other religions:
Church and state:
Music:
History and artifacts:
Iraq:
Church life:
Missions and ministry:
Related Elsewhere
Suggest links and stories by sending e-mail to weblog@christianitytoday.com
Check out Books & Culture's weblog, Content & Context.
See our past Weblog updates:
May 27
May 23 | 22 | 21 | 20 | 19
May 15 | 14 | 13 | 12
May 9 | 8 | 7 | 6 | 5
May 2 | 1 | April 30 | 29 | 28
April 25 | 24 | 23 | 22 | 21
April 17 | 16 | 15 | 14
and more, back to November 1999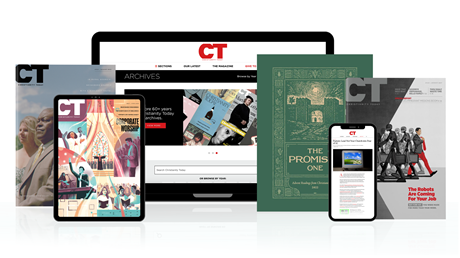 Annual & Monthly subscriptions available.
Print & Digital Issues of CT magazine
Complete access to every article on ChristianityToday.com
Unlimited access to 65+ years of CT's online archives
Member-only special issues
Subscribe
Don't Take Your Bible to Jury Duty
Don't Take Your Bible to Jury Duty