A HUGE HOWITZER sits at the entrance of Baghdad's Al-Yarmouk Hospital to guard it against looters. Some work areas of the 1,000-bed facility seem startlingly bare—except that there's no shortage of patients. One Iraqi man pleads for help to pay for an operation he cannot afford, and a middle-aged woman barges into the middle of a conversation, demanding to know why U.S. forces have failed to deliver peace and security.
The tension in the air and the overwhelming needs are typical of many medical centers in Iraq. But there's another factor in the mix that some predicted would make the situation even worse: workers from Samaritan's Purse, the humanitarian aid organization headed by evangelist Franklin Graham. This summer, its team of technicians has delivered several truckloads of medical supplies and installed medical equipment to replace what had been looted after the war broke out. The Americans also trained the Iraqi hospital staff.
Following Graham's description of Islam as a "very evil and wicked religion" shortly after September 11, 2001, some newspaper columns and TV talk shows speculated that field workers from Samaritan's Purse would be insensitive, and that their delivery of humanitarian aid would be just a veneer to cover efforts at conversion. Despite the controversy Graham's comments generated around the world, actual reporting on how the Samaritan's Purse staff is interacting with Muslim communities has been almost nonexistent. Have Samaritan's Purse's relief efforts indeed done more harm than good, as was so widely feared? Though Graham declined to comment, people on the ground did not hesitate.
'What Is Wrong With A Christian?'
Inside a small and nearly unfurnished office, the newly elected director of the Al-Yarmouk Hospital, Muslim Dr. Mahdi Jasim Moosa, says the religion of the staff or patients or aid workers simply doesn't matter. "What is wrong with a Christian? We are dealing with humanity—never mind [religion]," he says, adding that two of his surgeons are Iraqi Christians, and that Christians have been living in Iraq for centuries. As for Samaritan's Purse workers, he flips through a thick list of supplies and equipment they brought to outfit four operating rooms.
"They were very easy to work with," Moosa says. "Please, tell them we are so grateful. They said they would come back—and we hope they come back." Workers with Samaritan's Purse didn't preach or attempt to convert people, he adds.
Missing from almost all of the public debate about the Iraq mission is a look at the ministry's record for the past 18 months in Afghanistan, a situation similar to Iraq in many ways. If the presence of evangelical Christian aid workers in a war-torn Muslim country is a recipe for disaster, there should be signs of that.
Omar Ghafoorzai, a spokesman for the Afghan Embassy in Washington, said in April that he has "not heard any complaints" about the Samaritan's Purse operation in his country. "From what we hear, they are doing a good job."
The group runs "the best equipped hospital in all of northern Afghanistan," he added, and the situation is apparently so stable that the Samaritan's Purse director of operations for the country agreed to speak to CHRISTIANITY TODAY about his work there, his faith, and his evolving feelings about his Muslim neighbors.
Samaritan's Purse began working in Afghanistan in January 2002, and Ben Cuthbert moved to Kholm in July of that year. Most aid groups are based in Kabul or other larger cities, but Kholm is an isolated town on the edge of the Hindu Kush Mountains in northern Afghanistan. There are no international peacekeepers stationed there, so Cuthbert and his staff rely on the local community for security.
Before moving to Afghanistan, Cuthbert, 25, said he assumed he would have to be "extremely cautious" about his behavior, especially with regard to patriotic or faith issues. As he packed for the trip, he left out T-shirts with red, white, and blue slogans, thinking they wouldn't be appropriate in the aftermath of an American-led war.
When he went home for vacation a few months ago, the patriotic T-shirts came back with him—as gifts for Afghan friends who accept him as an American and as a Christian.
"We feel like we have a fantastic relationship with the people," Cuthbert said. "They have a real openness to people of other faiths, and the method we have here is to be who we are without apologies, but not in an obnoxious way." He quoted a passage from the book of Daniel about speaking "with wisdom and tact," and called that "an accurate description of how we see ourselves as guests in a foreign culture."
"I was surprised that I was able to speak openly about who I was without being persecuted or shunned by the community," Cuthbert said. "We have no overt evangelical strategy, and yet, at the same time, to be a Christian is to desire others to know. So to deny Christ, in my opinion, is to deny who you are and what you desire."
He said that after being isolated from the rest of the world by decades of war, Afghans are "very curious about the West, and with that comes a curiosity about religion. There's a real openness to discuss anything and everything."
While Cuthbert believes he has a divine mission to work in Kholm—an area that is 100 percent Muslim—he also thinks Afghans value his honesty about his different faith.
"I know that I cannot force someone to believe in Christ, but I also believe it is beneficial for anyone to have at least the opportunity to hear about faiths other than their own."
Cuthbert said the people of Kholm are getting "a chance to see whether the stereotypes they were taught about Christians are true, even in the same way that for me getting to interact with a Muslim is healthy." He said living in Afghanistan hasn't changed his belief system, but it has challenged his preconceptions about Muslims.
"I don't know if this is a reflection of their Islamic faith, but the Afghan people are extremely hospitable," he said.
Graham's critics have suggested that even discussing fundamental Christian beliefs in a Muslim society would be not only divisive, but also proof of a "hidden agenda" on the part of Samaritan's Purse.
But Cuthbert said he's simply being honest about who he is and letting individual Afghans decide if they want to know more about Christianity.
"The community knows who we are as Christians, and we have seen some people asking some very significant, faith-related questions," he said, calling that "a fantastic opportunity" based on the idea of freedom of religion, not coercion.
A CNN World
But some Muslims remain unconvinced. Ibrahim Hooper, a spokesman for the Council on American-Islamic Relations in Washington, was dismissive when told of the reception Samaritan's Purse has received from people in Iraq and Afghanistan.
"No one ever said that missionaries on occasion don't do good work," he said. "Hey, if I was a hospital director and someone came and gave me supplies, I'd be happy, too. But that person isn't necessarily looking at the big picture."
Hooper said Samaritan's Purse "will never establish a Bible reading room—what they do is they go in under the cover of work that by itself is needed and appreciated. They have their own secret agenda."
The Samaritan's Purse presence is still counterproductive, he said, and the needs of people in Iraq and Afghanistan would be better served if help were "delivered by organizations without an agenda."
"They're doing more harm than good," he said, adding that Graham has sought to explain but not apologize for his controversial remarks.
Bill J. Leonard, dean of the Wake Forest University Divinity School and the author of the recently released Baptist Way: A History, had cautioned earlier this year that Christian aid workers need to consider what message they're sending when they operate in the wake of an American military campaign. But Leonard said it's "very good" that the people helped by Samaritan's Purse workers are positive about the organization. Leonard believes that the controversy over Graham is flourishing in "a CNN world, where perceptions are developed by specific rhetoric," not necessarily by actual deeds.
Back in Iraq, the value of Samaritan's Purse seems to have been swallowed up by much larger forces. In travels through Iraq, Kuwait, and Jordan, I found that many people had heard of Graham's comments—and had in many cases lumped them together with broader suspicions about the Bush administration and the wars in Iraq and Afghanistan.
But it's also clear in the Middle East that such criticism and suspicion has far deeper roots than Graham's comments or even the events of the last two years. Large numbers of people still refuse to accept that the September 11 plot was actually carried out by Muslims, instead preferring to believe conspiracy theories involving Israel or the cia. America often gets blamed for every ill in Iraqi society, despite the overwhelming legacy of Saddam Hussein's reign of terror and mass murder.
And in Iraq few people are even aware that Graham's workers—who are based in Jordan—have been operating in the country. People on the street aren't worried about the comments Graham made many months ago; they're worried about jobs, about the lack of electricity, and the lack of security.
Christian Soldiers?
Samir Ahad, a member of Baghdad's John Calvin Presbyterian Evangelical Church council, said Iraqi Christians have a hard time answering some of the questions their Muslim friends ask. "They see all the [American] uniforms and the guns, and they ask us, 'Is this Christianity?' " Some critics suggested that the presence of Samaritan's Purse workers in Iraq might even jeopardize American troops, but the commanding officer based at the Baghdad hospital where the aid has been provided saw the situation in a broader context.
The Samaritan's Purse workers "would be a target in Iraq because they were American, not because of their religion," said Captain Scott Margolis, who is part of the Third Brigade, 1st Armored Division from Fort Riley, Kansas.
The Samaritan's Purse workers were "a great group of guys, and I know they want to do more," Margolis said, adding that he doesn't think their presence put his men in any additional danger.
Work at the Al-Yarmouk hospital may be off to a good start for the people there and for Samaritan's Purse, but Ahad and other members of the John Calvin Church council suggested that the focus should stay on humanitarian aid.
Ahad joked that during the last 50 years, all the missionaries working in Iraq have converted a total of "two Muslims." But the many schools and hospitals built by Christians to serve people of all faiths have made a difference and a lasting impression on people in the region.
"Preach with deeds, not words," Ahad said.
Kevin Begos has covered international relief projects as a correspondent for the Winston-Salem Journal and The Christian Science Monitor.
Related Elsewhere
For more information on Graham's work, see the sites of the Billy Graham Evangelistic Association and Samaritan's Purse
Other CT stories on Samaritan's Purse include:
The New York Times Criticizes Samaritan's Purse for Being Too Evangelistic | Franklin Graham's relief organization says newspaper got the story all wrong. (March 7, 2001)
Bad Ideas Have Consequences | The Times should have run a correction. Instead, it might change government policy. (April 18, 2001)
Evangelicals Plan to Minister to Iraqis' Needs—Physical and Spiritual | Evangelism efforts will join relief work, say Southern Baptist Convention and Samaritan's Purse (March 27, 2003)
Operation Christmas Child Oddly Criticized for 'Proselytizing' (Nov. 27, 2002)
Stories on Franklin Graham include:
Jesus Freak | Franklin Graham remains unashamed of the Name, despite public criticism. No generic prayers for him. (Dec. 02, 2002)
Graham's Current Events | In his fifth book, Franklin Graham examines why the name of Jesus is controversial. (Dec. 02, 2002)
Give Franklin Graham Some Slack—and Some Credit | The evangelist shouldn't be defined by his opposition to Islam. (August 23, 2002)
NOT Your Father's Evangelist | Franklin Graham has been groomed to wear his father's mantle. How does it fit? (April 5, 1999)
Have something to add about this? See something we missed? Share your feedback here.
Our digital archives are a work in progress. Let us know if corrections need to be made.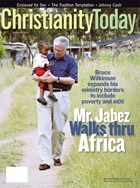 This article is from the November 2003 issue.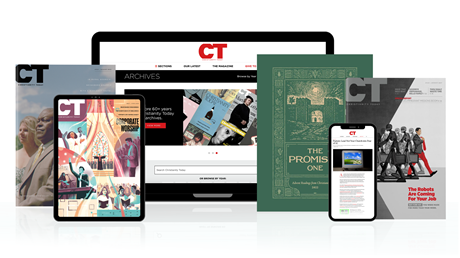 Annual & Monthly subscriptions available.
Print & Digital Issues of CT magazine
Complete access to every article on ChristianityToday.com
Unlimited access to 65+ years of CT's online archives
Member-only special issues
Subscribe
Iraq's Good Samaritans
Iraq's Good Samaritans