Whenever Jan Stravers came home from the mission field, she brought crafts made by the Philipino women she worked with to sell to the churches she visited. In fact, the crafts were from family businesses that the Christian Reformed Church missionary and her husband had helped to start, and her supporting churches were among their main clients. "When we would go on home service and speak to churches, I would bring baskets and wall hangings and knit things that the ladies made," she says. "I did really well at selling because I told them I know the people who made this—and it's keeping their families alive."
In the 10 years that the Straverses worked as missionaries in the Philippines, they saw how small businesses can provide food, education, clothing, and a hope for the future to the poor in developing countries. So, after retiring from the mission field 10 years ago, Jan Stravers jumped at the chance to run International Arts and Gifts, a South Holland, Illinois, store selling handmade products made by artisans in the developing world.
Stravers is not alone. Slowly, the idea has been catching on among Christians that fair trade is a unique way of supporting missions and providing jobs to the world's poor. Fair trade is a rapidly growing industry where companies like the Mennonite-run Ten Thousand Villages work directly with artisans in the developing world, offering better prices for handmade arts, crafts, and clothing. To be certified by the Fair Trade Federation, workers must earn enough to support their families, pay for education, and food. Fair-trade products must also be environmentally friendly and created under safe conditions, and the Western stores must commit to building long-term relationships with the workers. The idea is to treat workers with dignity by providing steady work.
Java for Jesus
Coffee dominates the fair-trade market, according to the Fair Trade Federation's 2003 report on fair-trade trends. It's also the killer app for Christian involvement: a growing number of churches and denominations are switching to fairly traded coffee as a way to help missions and raise funds. World Relief, an arm of the National Association of Evangelicals, along with Catholic Relief Services, Lutheran World Relief, and the U.S. Agency for International Development, is educating Nicaraguan farmers in such matters as soil conservation techniques, as well as providing low-cost seeds and equipment. The United States Agency for International Development provided $1 million for the program, in which 8,000 farmers were able to increase their income by 50 percent.
World Relief also works with churches and individual buyers in North America to sell the coffee. Churches then buy the coffee wholesale and often will sell it and use the profits to support missions. World Relief plans to sell 31,000 pounds of coffee this year.
Fair-trade coffee has dramatically helped Central American coffee growers, who are suffering from a one-two punch of low prices and drought. At the end of the 1980s, coffee growers received $1.20 per pound, according to the International Coffee Organization, but now coffee sells for 42 cents per pound—one cent less that the cost of production. USAID estimates that coffee producers in Central American last year lost about $1.5 billion, with 600,000 coffee workers losing their jobs. However, under the World Relief program and similar efforts, coffee growers receive $1.26 per pound.
Pura Vida has used the fair-trade principle since Chris Dearnley and John Sage founded the coffee company in 1998. The Seattle-based company mainly buys coffee from farmers in Costa Rica for sale to North American churches and individuals. As Harvard Business School graduates, Dearnley and Sage formed the company in order to fund ministry. Today, Pura Vida Partners, the non-profit organization into which profits are invested, operates several children's ministries in Costa Rica.
In an e-mail, Dearnley, who heads Pura Vida Partners' work with Cost Rican children, said one of Costa Rica's most prosperous regions just four years ago is now in crisis.
"In many families the children go hungry. This area of Costa Rica (San Ramon) used to be one of the most prosperous just four years ago," Dearnley said. "It has now become one of the most impoverished as farmers struggle to feed their families." Because of the price he receives from fairly traded coffee, Efrain, a Costa Rican coffee farmer, "is now able to send his 18 year old daughter Eugenia to college," Dearnley said. "Previously he was unable to pay for her bus fare, enrollment fee, and books. Now, his daughter is able to realize her dream of studying coffee farm administration and export. She is taking classes that are giving her skills that are very helpful to other farmers."
Money for mission
Bright Hope International, an evangelical humanitarian organization, similarly combines fair trade with relief and missions projects. A group of Indonesian men, one of 80 indigenous project partners Bright Hope works with, couldn't afford to attend Bible college and still provide for their families.
"The missionaries there came up with a way that their families could live by making beaded bells," said Sue Elworth, economic development director. Bright Hope then became the distributor. "If a woman could sell 20 beaded bells, which each take about a day and a half to make, she can feed her family for a month. While they're doing that, their husbands can be in school." The project was so successful that the mission group started a similar program with an eye toward evangelizing non-Christians workers.
Stravers has a similar project with an evangelistic bent. The former missionary volunteers with the Bible League to bring Bibles to a group of women in a closed Asian country. She then takes home quilts and magnets to sell in her fair-trade store. About half of the women who make the quilts are Christians, and they are able to share the gospel with their coworkers.
"I think it's a really powerful witness that we're all a family and that we care about them," Stravers said. "Hopefully they receive the message that this is done in love and in Christ's name."
Elworth got involved with Bright Hope after working as a buyer for the Montgomery Ward department store. Following the birth of her son, she helped to start a transitional housing program for single mothers, but Elworth wanted to get back into retail. She was struck by the degree to which a fair wage can change a person's life.
"We have some projects in India where the kids were sleeping in the street naked. And the people we're working with are teaching the teenagers skills, so they can go back out there and earn a living." Elworth said, "We can make a big difference. We feel like we touch over a quarter of a million people in a significant way. They're eating because of the work we do." Elworth is developing Bright Hope's wholesale division in order to make steady purchases and thus prevent "feast and famine" cycles in the areas where they work.
Leaps and bounds
Steady employment rather than sporadic assistance is a key aim of Ten Thousand Villages, started by the Mennonite Central Committee. By operating 70 stores nationwide, the company can make consistent purchases from artisans. Bright Hope, while operating only one retail store, is making a similar effort through online sales. Both companies sell products wholesale to their own stores as well as other fair-trade stores.
Though it is still a small industry, fair-trade stores have been growing steadily. In the tough retail sector, and during a recession, fair trade grew 37 percent in 2002, according to the Fair Trade Federation. Ten Thousand Villages has grown by more than 10 percent during each of the last four years.
"I see it growing among Christian young people," Elworth says, but most Christians are not aware of it, she says. Still, she adds, when they realize that purchasing fairly traded products will help poor workers, missionaries, and mission agencies, they are eager to help.
"Fair trade costs more," she said. "I could go out there and get the same item for a third less, but now that I understand what happens to the people who produce those, that they're basically hand-to-mouth if they're lucky, I say, 'If I could help people by doing it this way, why wouldn't I?'"
Still, says Ten Thousand Villages executive director Paul Myers, fair trade should not be an end in itself. "Rather it's something each of us practices every day," he says. "In other language, it is about 'loving my neighbor as much as myself.'"
Related Elsewhere
Also posted today is a CT Classic on Pura Vida.
Bright Hope International's web site offers more information on their work with the world's poor, as well as an online store.
World Relief has more information about their Mission Blend coffee.
Pura Vida's web site has information about its coffee and charity work.
Ten Thousand Villages has store locations and information.
Lutheran World Relief has more information about its work with World Relief, Catholic Relief Services, and USAID.
The Fair Trade Federation offers more information on fair trade.
Equal Exchange has an interfaith coffee program.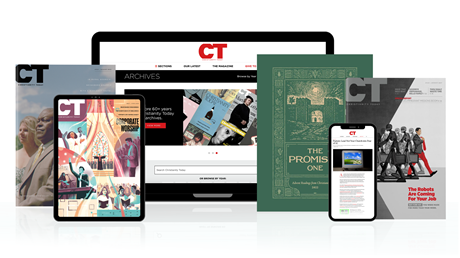 Annual & Monthly subscriptions available.
Print & Digital Issues of CT magazine
Complete access to every article on ChristianityToday.com
Unlimited access to 65+ years of CT's online archives
Member-only special issues
Subscribe
Compassionate Capitalism
Compassionate Capitalism