Roy Moore, now no longer the Ten Commandments Judge, predicts "battle is about to rage"
After the Alabama Court of the Judiciary removed Chief Justice Roy Moore from office yesterday for defying a federal judge's order, he told supporters that he's not leaving the spotlight.
"We fought a good fight," he said. "We kept the faith. But the battle is not over. The battle to acknowledge God is about to rage across the country."
In vague comments, Moore said he and his lawyers would in the next few days make a decision that "could alter the state of the country." Among the possible actions is an appeal to the Alabama Supreme Court, but Moore's lawyer, former state Supreme Court justice Terry Butts, suggested that Moore may again run for office. "I hope his fate will be decided sometime in the future by the voters of this state," Butts said.
So far, however, Moore hasn't made that decision. "I haven't decided on running for anything yet, I'm just trying to get over this latest episode in my life," he told NBC's Today show.
Moore's repeated statements that he will continue his battle was one of the reasons that the ethics court removed him. "The chief justice showed no signs of contrition for his actions," said Chief Judge William Thompson, reading from a summary of the unanimous judgment. "Anything short of removal would only serve to set up another confrontation that would ultimately bring us back to where we are today."
The court was careful to say that their decision was only over whether Moore should have obeyed a federal court order to remove the monument, not over Moore's beliefs on the root of law or on the importance of the Ten Commandments.
"Indeed, we recognize that the acknowledgment of God is very much a vital part of the public and private fabric of our country," the court said. "Here, however, we are faced with a situation in which the highest judicial officer of this state has decided to defy a court order. … Chief Justice Moore placed himself above the law … and no man in this country is so high as to be above the law."
"People have confused a federal court order with the rule of law," Moore said on James Dobson's Focus on the Familybroadcast today. "I was asked three times basically to deny God, and I could basically resume the duties of my office. And in fact I could not do that, would not do that, no matter if I lose every office."
Among the offices he may lose are any involving law in Alabama. The Southern Poverty Law Center says it will ask the Alabama State Bar Association to disbar Moore.
In any case, several papers report that the decision could provide a surge to the religious conservative movement (Pundits said the same thing about the passing of the partial-birth abortion ban. Are religious conservatives energized by any action, whether success or defeat?)
"This will be a new hill for evangelical Christians to charge up," Steve Jones, pastor of Southside Baptist Church, told The Birmingham News. "A lot of religious believers in our state are just looking for reasons to be called persecuted and oppressed, when really they're persecuting people who don't believe like them. It's going to raise the level of dialogue and anger and outrage. People are going to say that those who disagree with Moore are not Christians."
Actually, while Weblog has seen much criticism of Moore's critics, including Alabama Attorney General Bill Pryor, Weblog hasn't seen a single comment questioning Pryor's faith or those of the people on the Court of the Judiciary. (Their comments on religious commitment of U.S. District Judge Myron Thompson are a different matter.)
In fact, some are doing precisely the opposite. "Many side issues have divided the Christian community on this case, so we must remember that the true enemy here is the judicial tyranny that is forcing a secular religion on our public life and discourse," Concerned Women for America Vice President Michael Schwartz said in a press release. "That is the battle we need to focus on."
Religious conservatives, however, are voicing little doubt over Moore's commitments. "We love you, we respect you," Dobson told him. "The word drifted back in here to Focus on the Family this week that I was backing away from you. I gotta tell you that nothing could be further from the truth. I will stand shoulder to shoulder with you as long as I have breath in my body. … You're right. God knows it."
More Moore
The decision:
Reaction:
What's next:
Opinion:
More articles
Politics and law:
Persecution:
Afghanistan's constitution:
Interfaith relations:
Ecumenism:
Catholicism:
Gay marriage:
Sex and marriage:
Anglican woes:
Church life:
Missions & ministry:
Life ethics:
Crime:
Education:
Film:
Television:
Pop culture:
Books:
What hath the '60s wrought:
Other stories of interest:
Related Elsewhere
Suggest links and stories by sending e-mail to weblog@christianitytoday.com
Check out Books & Culture's weblog, Content & Context.
See our past Weblog updates:
November 13 | 12 | 11 | 10
November 7b | 7a | 6 | 5 | 3
October 31 | 30 | 29 | 28 | 27
October 24 | 23 | 22 | 21
October 17 b | 17a | 16 | 15 | 13
October 10 | 9 | 8 | 6
October 3 | 2 | 1 | September 30 | 29
and more, back to November 1999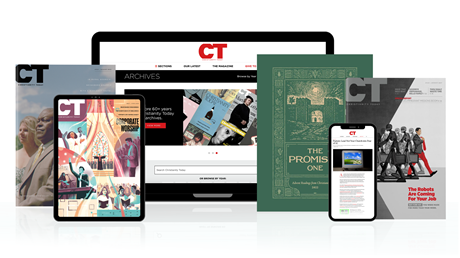 Annual & Monthly subscriptions available.
Print & Digital Issues of CT magazine
Complete access to every article on ChristianityToday.com
Unlimited access to 65+ years of CT's online archives
Member-only special issues
Subscribe
"Weblog: 'You Will Hear From Me Again,' Says Ousted Moore"
"Weblog: 'You Will Hear From Me Again,' Says Ousted Moore"