On July 20, Father Emil Salayta was preparing to board his flight at the Toronto International Airport for a return trip to the United States. Then a U.S. Customs official told him to step aside.
The Roman Catholic priest, a Jordanian based in Rome, represents the Catholic Church and the Latin Patriarchate in Jerusalem. He is also cofounder of the Holy Land Christian Ecumenical Foundation. HCEF is a nonprofit organization that raises support from American churches to encourage Christians to stay in the Holy Land.
During a five-hour interrogation by a pacing U.S. Customs inspector, Salayta was photographed, fingerprinted, and had his luggage searched. Then he was told that he had the wrong visa and could not reenter the United States. "As a Catholic priest, I was shocked," Salayta said. "I have never been treated this way, not even in Israel."
After a flurry of phone calls and lobbying by church officials, clergy, and members of the House and Senate, Salayta was allowed back into the United States 19 days later on the same visa—with the understanding that he would curb his public speaking to comply with visa restrictions.
With the resurgence of violence, the resignation of Palestinian Prime Minister Mahmoud Abbas, and the Bush administration-backed "road map" for peace in serious jeopardy, Christians in the region are facing tough new questions as they work toward their own, sometimes conflicting, definitions of peace.
Salayta said his public speaking engagements usually focus on how Christians in the Holy Land are suffering "because of the Israeli occupation."
"We're presenting the state of life of the Palestinian Christian and trying to help maintain their presence, not just by sending checks but by doing justice."
But some critics, such as David Parsons of the International Christian Embassy Jerusalem, a Christian Zionist organization, argue that Palestinian Christian advocacy groups such as Salayta's feel pressure to be mouthpieces for the Palestinian Authority.
HCEF president Rateb Rabie and others assembled for the annual Episcopal and Catholic Bishops Conference last January met with Palestinian Authority chairman Yasser Arafat. "His message to Christians was: Go back to your countries and ask them to put pressure on Israel," Rabie said.
But Parsons said Palestinian Christians have been "caught up in a theologically mandated struggle against Israel they want little to do with" and are afraid to speak out.
"It is simply too dangerous for them," Parsons said. "We know of and have assisted brave local Arab Christian clergy and believers who have had to flee for their lives for telling the truth about the relentless oppression they endure from the Muslim majority."
Hurdles to peace
The Palestinian Authority's obligation to clamp down on terrorists and dismantle militant groups is one of the key requirements of the road map. It also requires Israel to freeze all settlements in the West Bank and Gaza Strip and dismantle illegal outposts erected since March 2001. It calls for establishing a Palestinian state as early as 2005.
Israeli officials say they are waiting for the Palestinian Authority to follow through—and that if it doesn't, Israel will continue targeting militant Islamic leaders. But widespread support for Hamas and for Yasser Arafat's Fatah party has made such crackdowns difficult for the Palestinian Authority, which has instead been pushing for the release of thousands more Palestinian prisoners while struggling with Arafat for control of Palestinian security forces.
"One is too many to be in prison," Rabie said. He argues that if Israel must keep prisoners responsible for anti-Israeli violence, then Israel should "give something in return."
Backers of Israel say releasing terrorists and their collaborators is morally repugnant. A Hamas-sponsored suicide bombing in August killed 21 people—including six children—on a bus in Jerusalem. A cease-fire announced on June 29 has been called off, and Israeli officials now say Hamas leaders are targets for "liquidation."
Despite the heightened tensions, Christians on both sides say Christian unity can and should prevail. David Zadok, a Jewish Christian elder at Grace and Truth, a Reformed Baptist church just outside Tel-Aviv, said the church has continuing relationships with Arab Christians in Israel.
The Holy Land Trust-Palestine is a Bethlehem-based nonprofit that advocates nonviolent resistance to Israeli occupation. Director Sami Awad said both sides need "a respect[ful] understanding and compassion for each other" based on peaceful resistance that demonstrates Christ's love.
"The issue of Palestine is going to continue to challenge us more than any other conflict in the world," says Fahed Abu-Akel, a Palestinian American Christian and former moderator of the Presbyterian Church (U.S.A.). "Unless we say to Israel, 'We love you; we will continue to support you and believe in your security, but what you are doing to the Palestinians is wrong and must stop,' we will have no credibility."
Related Elsewhere
Organizations mentioned in this article include The Holy Land Christian Ecumenical Foundation, The International Christian Embassy Jerusalem, and Holy Land Trust-Palestine
Previous Christianity Today articles on the conflict in the Holy Land include:
How Evangelicals Became Israel's Best Friend | In the last 50 years, Israel has needed all the friends it can get, and evangelicals have been loyal and productive supporters. (October 5, 1998)
Hard Line on the Road Map | Can Condoleezza Rice put pressure on the nation she admires? (Aug. 22, 2003)
Palestinian Christians, Strangers in a Familiar Land | They've called the Holy Land home for centuries, but they've never actually governed themselves. (August 8, 2003)
Speaking Out: Israel's Anti-Family Values | Christians should be outraged by a law thwarting Israeli-Palestinian marriages (Aug. 4, 2003)
Roadblocks and Voting Blocs | Today's evangelicals are committed to peace—not just security—for Israel. (August 1, 2003)
'U.S. Credibility Hangs on Whether It Can Do Justice for the Palestinians' | A Palestinian Christian and former PCUSA moderator talks about his faith and critiques Bush's road map to peace in the Middle East. (August 1, 2003)
Opinion Roundup: The Evangelical View of Israel? | Evangelicals are more diverse on the Israeli-Palestinian conflict than we are led to believe. (June 11, 2003)
A Middle Way in the Middle East | A third theological path through the Israeli-Palestinian thicket. (April 11, 2003)
Crackdown Hits Churches | Mideast Christians torn over tough Israeli tactics at churches (May 5, 2002)
Holy Land Tourism Plunges | Visits to Israel fall 45 percent as violence escalates. (March 13, 2002)
Activists well acquainted with terror | "Jerusalem Women Speak" tour gains relevance for audience members struggling with new fears. (September 27, 2001)
Palestine's Christians Persist Despite Pressures | With escalating violence in Israel, ministries face a "sad and scary" situation. (September 19, 2001)
Strengthen Christian Presence In The Holy Land, Carey Pleads | Middle-East leaders asked to help tone down violence that has killed 650 in 10 months. (August 2, 2001)
Violence Puts Archaeologists Between Rocks, Hard Places | About half of the planned excavations in the Holy Land this summer have been canceled. (June 27, 2001)
Greek Orthodox Priest Falls Victim to Middle East Conflict | Monks worry they may appear as threats to each warring side. (June 21, 2001)
Article continues below
Pilgrimages Drop and Workers Lose Jobs as Middle East Violence Continues | Silence fills places normally crowded with pilgrims, reports British group. (April 11, 2001)
Holy Land Roadblocks | Christian pilgrims learn about Palestinians' everyday indignities. (Apr. 9, 2001)
Christian Zionists Rally for Jewish State | More than 600 Christians from around the world flock to Jerusalem to show solidarity with Israel as peace process collapses. (Apr. 9, 2001)
Between a Rock and a Holy Site | Muslims have stepped up their efforts to take control of places revered by Jews and Christians. (Feb. 13, 2001)
The Peace Regress | What's behind the current outbreak of hostilities in the Holy Land? (Jan. 11, 2001)
Conflict in the Holy Land | A timeline of trials for the most contested piece of real estate in the world. (Jan. 11, 2001)
Between the Temple Mount and a Hard Place | Palestinian Christians want both peace in their villages and justice for their Muslim brothers. (Dec. 5, 2000)
Christmas Plans for Bethlehem Scrapped | Escalating violence cancels millennial celebration in town of Christ's birth. (Dec. 1, 2000)
Latin Patriarch tells Israel to Surrender Lands to Palestinians | Catholic leader says Israel will never have peace unless it "converts all of its neighbors to friends." (Nov. 1, 2000)
Israelis and Palestinians Pay Tribute to Pope's Pilgrimage to Holy Land | Though some at grassroots remain unappeased, leaders of both groups are full of praise. (March 29, 2000)
West Bank Squeezed by Warring Majorities (Nov. 16, 1998)
Jerusalem as Jesus Views It (Oct. 5, 1998)
Temple Mount on Shaky Ground? | (April 6, 1998)
Have something to add about this? See something we missed? Share your feedback here.
Our digital archives are a work in progress. Let us know if corrections need to be made.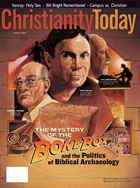 This article is from the October 2003 issue.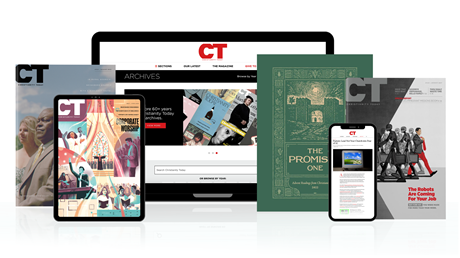 Annual & Monthly subscriptions available.
Print & Digital Issues of CT magazine
Complete access to every article on ChristianityToday.com
Unlimited access to 65+ years of CT's online archives
Member-only special issues
Subscribe
Uneasy Unity
Uneasy Unity